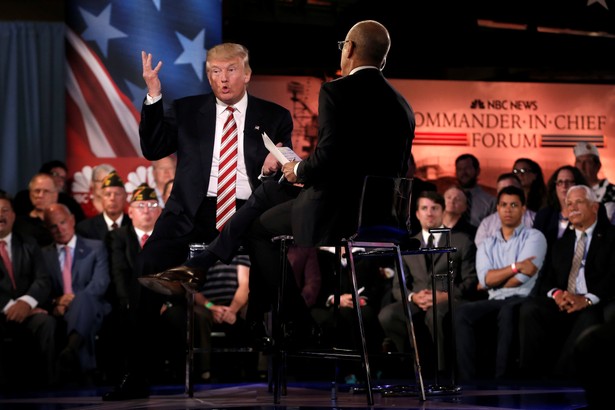 I've just now watched the hour-long "Commander-in-Chief Forum" on NBC, moderated by Matt Lauer. Three points that deserve note for the record:
1. Iraq. Donald Trump led off by claiming, falsely, that he opposed the war in Iraq before it began, and that this is an important sign of his good judgment:
TRUMP: Well, I think the main thing is I have great judgment. I have good judgment. I know what's going on. I've called so many of the shots. And I happened to hear Hillary Clinton say that I was not against the war in Iraq. I was totally against the war in Iraq. From a — you can look at Esquire magazine from '04. You can look at before that.
This claim is false. It is not true. It is a fantasy or a lie. Donald Trump keeps saying it. It keeps being false.
There is absolutely no public evidence, whatsoever, of Donald Trump having given any caution about invading Iraq before the war began. By contrast, there is evidence of his saying before the war that the invasion might be a good idea. For reference, a piece I did back in February. And this damning one from BuzzFeed about the same time, with audio of Trump talking with Howard Stern about the war. See this from Vox too. Even NBC's own fact-checking department called Trump out on the lie just after the forum.
First depressing aspect: that Trump is still just proudly blasting out a lie.
Second, more depressing aspect: that NBC's Matt Lauer did not even pretend to challenge him—not even by saying, "Wait a minute, why should a 2004 Esquire article matter, when that was a year after the war began?" Lauer, what were you thinking? If you knew this and didn't say anything, why on Earth not? And if you didn't know it, what were you doing in this role?  
***