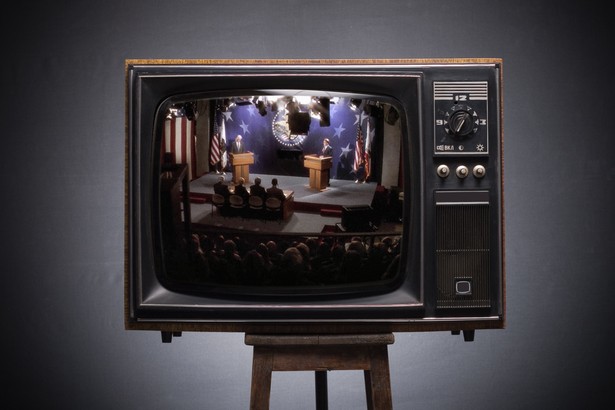 This week's presidential debate! It was … something, right? (Joe Biden summed things up well, I thought, when he told Jimmy Fallon last night, "I've never quite seen anything like that.")
Since presidential debate season is upon us (this Tuesday will feature the veep debate, and the following Sunday will bring the second Clinton/Trump face-off), this time around we're taking a slight detour from films: For our next Political Theater segment, we'll watch … "Game On," the debate episode of The West Wing. (This is the first one, to be clear, the one that aired in 2002—not the experimental live debate between Santos and Vinick that would follow in 2005.)
"Game On" finds President Bartlet running against the George W. Bush-esque Governor Ritchie, and the episode contains, for my money, everything I love to hate—and hate to love—about The West Wing: blithe partisanship, broad-brush treatments of complicated public policies, optimistic institution porn, characters delightfully pranking each other.
Here's a preview:  
We'll be watching "Game On" on Monday, 10/3, starting at 6:30 p.m. East Coast time. If you're free to watch it at the same time, please join in! I'll tweet some initial thoughts about the episode then. ("Game On" is streaming on Netflix—it's Episode 6 of The West Wing's Season 4—and available for purchase for $2-3 on Amazon, iTunes, and other platforms.) But, as before, watch it whenever is good for you, and join in the conversation whenever you'd like—via Twitter (I'm @megangarber), or via hello@theatlantic.com.
Looking forward to watching/chatting/catharting with all of you, and to reveling in the pageantry of this unprecedented election season. Game on.