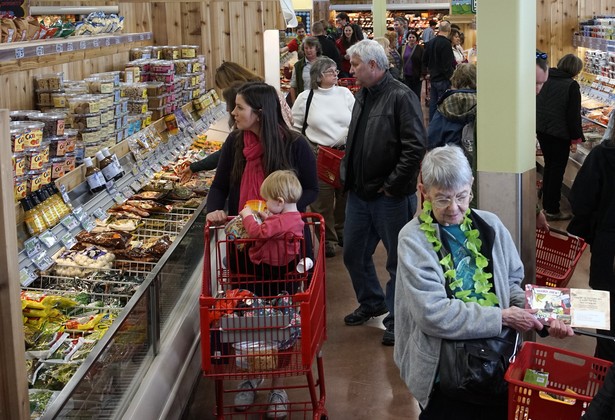 Alana's recent piece on the racist history of Portland, Oregon, my hometown, cites a controversy that I remember:
One incident captures how residents are failing to hear one another or have any sympathy for one another: In 2014, Trader Joe's was in negotiations to open a new store in Albina. The Portland Development Commission, the city's urban-renewal agency, offered the company a steep discount on a patch of land to entice them to seal the deal. But the Portland African American Leadership Forum wrote a letter protesting the development, arguing that the Trader Joe's was the latest attempt to profit from the displacement of African Americans in the city. By spending money incentivizing Trader Joe's to locate in the area, the city was creating further gentrification without working to help locals stay in the neighborhood, the group argued. Trader Joe's pulled out of the plan, and people in Portland and across the country scorned the black community for opposing the retailer.

[Local historians] say that during that incident, critics of the African American community failed to take into account the history of Albina, which saw black families and businesses displaced again and again when whites wanted to move in.
A reader pushes back with a little more background:
In this particular case that was a local black developer who had long been very active in the Albina neighborhood community who had gone through a quite lengthy negotiating process to develop that piece of land. [RIS note: The developer, Majestic Realty, was in fact based in California, but had hired a local minority-owned company, Colas Construction, as general contractor.] That piece of land, by the way, was a large, undeveloped brownfield that sits along a primary commercial corridor that had been vacant for over a decade, and it STILL sits there fenced off and growing weeds. There was no notable "neighborhood opposition" to the Trader Joe's development UNTIL The Portland African American Leadership Forum [PAALF], a group virtually unheard of in the community until they challenged the TJ's development.
I wasn't living in Portland when the Trader Joe's deal fell through, but I remember the vacant lot. It's located at Alberta Street and Martin Luther King Jr. Boulevard, a busy thoroughfare that in the 2000s used to be lined with fast-food restaurants, parking lots, water-stained buildings, roadside bars—more of a street to funnel people through than one to build community over, and one where my parents were skeptical of a teenage girl waiting for the bus. In 2013, according to an interactive map by The Oregonian, that intersection (represented by a green dot below) was in the heart of a food desert, with a significant number of low-income residents living more than half a mile from the nearest supermarket:
That food-desert data makes this particular case—of a supermarket being shut out—feel like a loss. Whatever the problems in the process of opening this lot for development, Trader Joe's could have brought affordable groceries to the area. From The Oregonian:
Grayson Dempsey, an 11-year King resident who can see the vacant lot from her window, said she tried offering her support at neighborhood association meetings, but her voice was drowned out by the opposition. "I moved here when there were gunshots out the window," Dempsey said. "I appreciate that (PAALF) is trying to talk about the origins of gentrification. That's really essential, but they can't stand up and say, 'As residents of the King neighborhood, this is what we want.' The residents of the King neighborhood want this to happen." …

"We shouldn't leave lots empty in the name of preserving the neighborhood," she said. "Are we preserving the vacant lot history or do we want to bring it back to a vibrant neighborhood where people know their neighbors and feel safe walking around?"
Fortunately, it's looking now like the controversy will have a happy ending.