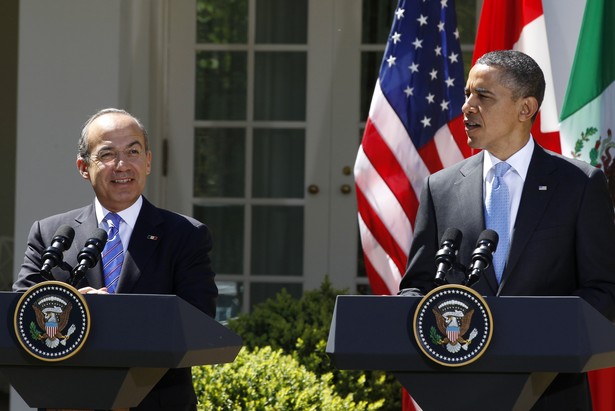 In the Trump Time Capsule series, I have noted once or twice, or a million times, that "responsible" Republicans like Paul Ryan and Mitch McConnell are embarrassing themselves and their party by continuing to stand with Donald Trump as potential Commander-in-Chief.
Jorge Guajardo, a Mexican citizen who on his Twitter feed has been mercilessly mocking Trump for his anti-Mexican remarks and other excesses (and whose Twitter photo shows him with Khizr and Ghazala Khan in Philadelphia), now argues that indirectly Ryan and McConnell might still serve a higher national good.
Guajardo is well connected in Mexican politics; he was involved in the campaign of Mexico's former president, Felipe Calderon, and then served under Calderon as Mexico's ambassador to China. (That is where my wife Deb and I became friends with him and his wife Paola; they have also served as guest writers in this space.)
Here is Guajardo's case for what Ryan and McConnell have done—and could and should do:
When I was in China, I witnessed a lot of things and thought I had seen them before in Mexico. The thought has come back, but this time in the U.S.

A little background: In 2006, President Calderon won the presidency with a vote difference of 0.6 percent. Since before the election day, his leading competitor, Andres Manuel Lopez Obrador (known in Mexico as AMLO) had been questioning the validity of the electoral process (even though it was run by an independent agency, approved with unanimous support by all parties, and every voting place had representatives from all major parties).

It was no surprise that AMLO did not concede after his defeat, calling on his followers to engage in civil disobedience, famously saying, "to hell with the institutions." It was him or bust. His followers did a weeks-long sit-in in Reforma (Mexico City's major thoroughfare), and his party's legislators tried to overtake Congress so that Calderon could not be sworn (through complicated maneuvering, Calderon managed to sneak into Congress and be sworn-in as AMLO's legislators booed).

Fast forward ten years and go to the U.S. Trump is starting to make a case that the election will be rigged. He has NEVER acted big—not in victory, not in hard times, not in tragic times—so I doubt defeat will show us a new side of him. Most likely he'll claim the election was rigged, fail to concede, and so on.

And here's how Paul Ryan and Mitch McConnell can play a bigger role if they keep standing by him.