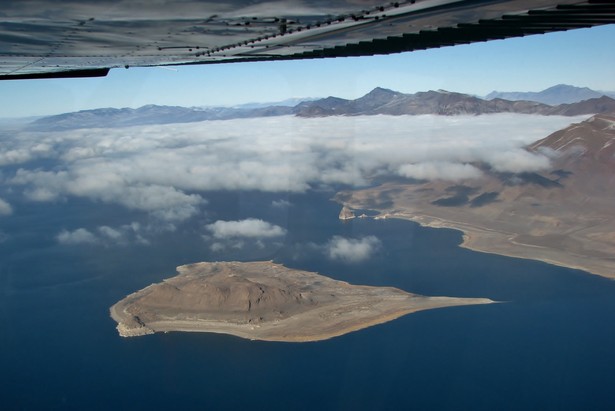 Another reader with another amazing view adds another state to the series:
I see on your site that you don't have a photo taken in Nevada. This is Pyramid Lake, about 30 miles north of Reno. The lake is out in the middle of the desert.  I took the photo from a 1955 Cessna 180. (Sorry about the reflections in the window.)
Coincidentally I'm headed out to that part of the Nevada desert in less than a month, to attend Burning Man for the first time. If you happen to have a good aerial photo above Black Rock City, please send it our way.
Another funny coincidence: The only two photos of Pyramid Lake available in the Atlantic archives are this one from 1867 and the one seen to the right, which was captured by an Atlantic reader and posted by a friend I'm going to Burning Man with—in a blog post about the spirituality of shrooms.
Here's a bit more about the lake:
Pyramid Lake is fed by the Truckee River, which is mostly the outflow from Lake Tahoe. The Truckee River enters Pyramid Lake at its southern end. Pyramid Lake has no outlet, with water leaving only by evaporation, or sub-surface seepage (an endorheic lake). The lake has about 10% of the area of the Great Salt Lake, but it has about 25% more volume. The salinity is approximately 1/6 that of sea water. …

Pyramid Lake was used as a stand-in for the Sea of Galilee in the 1965 biblical film, The Greatest Story Ever Told. Also, in 1961, part of The Misfits was filmed nearby.
If you're one of the misfits who's attended Burning Man and have any good anecdotes or advice to share, please drop me a note. Update from reader Jim, who has tons of helpful advice:
Reserve a cheap bike at the Walmart in Reno and leave it with someone when Burning Man is over.