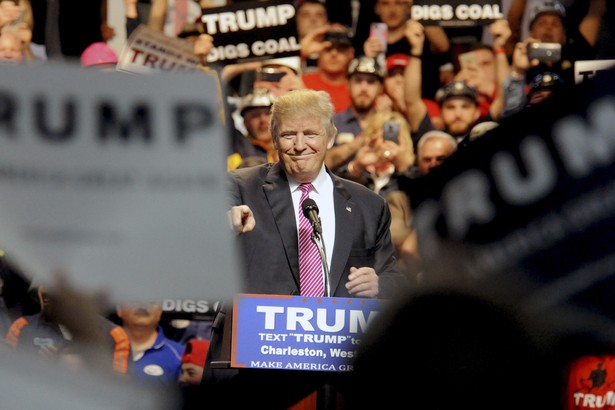 It's His Party Now
It finally happened: With Ted Cruz and John Kasich both out after the Indiana primary on Tuesday, Donald Trump is the presumptive Republican nominee for the President of the United States. "Where were you the night Donald Trump killed the Republican Party as we knew it?" Molly asked.
So what does Trump's triumph mean? First off, there's rest of the party to consider: In a new cheat sheet, we're tracking where the GOP's elders, opinion makers, and others stand on Trump. And what about Congress? "His unpopularity with the general public could drag down Republican congressional candidates across the country, hand control of the Senate," Russell wrote, "and maybe even the House to Democrats, and cost [Paul Ryan and Mitch McConnell] their August job titles." Uh-oh.
And just who will be Trump's vice-presidential pick? David Graham is analyzing the options in another cheat sheet.
Don't Call It a Comeback
Better watch out, SUVs: A soccer-mom staple is on the rise. After a sales dip in the early 2000s, minivan sales are seeing a huge surge this year. (Back in 2014, the crossovers were king.)
And even Silicon Valley is in on the minivan bandwagon; Google announced Tuesday it will partner with Chrysler to produce 100 self-driving minivans. Adrienne reflected on the "brilliant move" by the tech giant, noting "Google's interest in self-driving minivans has to do with building public trust, a hurdle facing the developers of driverless cars that's arguably even greater than the remaining technological challenges." In other words, Google's aiming to prove the new technology is safe enough for parents, and therefore safe enough for everyone.
Child's Play
"At 10, I didn't speak English," Juleyka recalled. "I wore hand-me-downs. I was skinny and had unruly curly hair. I loved books and cartoons. I was determinedly awkward and naively blunt. All of that would have been disastrous for the average kid. But it was a toxic outer skin for a new kid from an old country in a city full of strangers. That's why I decided, instead, to be Optimus Prime."
How do the toys, books, and television shows we encounter as kids influence our identity as adults? We're exploring that in our special project on "Childish Things."  So far, writers such as Juleyka have looked at the deeper consequences of everything from choose-your-own-adventure books to Maurice Sendak to Rugrats. Go ahead, let the nostalgia sink in.
Thinking Outside the Major Cities
Though city-folk might like to imagine they're at the center of the universe, not everyone lives in a mega-metropolis. In response to this month's cover story on the cash-poor middle class, Anne Trubek details her decision to "[opt] out of coastal madness to live a low-overhead life." She adds, "Many of my friends and colleagues live in East Coast cities and make twice or, with spouses included, quadruple what I do, but they, like [Neal] Gabler, worry much more about utility bills than I do."
Trubek isn't alone in settling outside of the city; many millennials are doing the same. Last week, Derek noted that the average 29-year-old "despite the story of urban renewal, is more likely to live outside of a dense urban area like Brooklyn or Washington, D.C." (A reader testified to that.)
Five Things You Shouldn't Miss
Talk Back
We're still looking for readers to weigh in on:
Email your responses to hello@theatlantic.com.