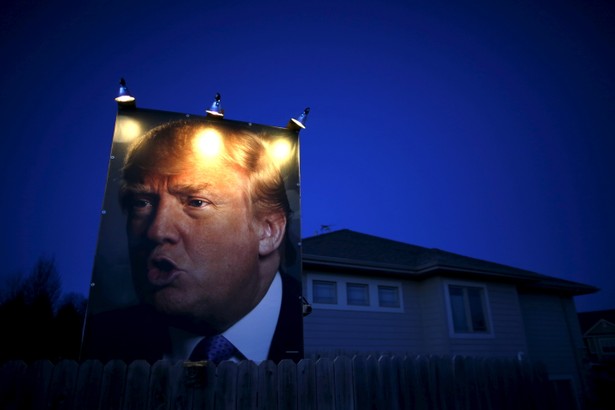 A new and evolving weekly feature reviewing our coverage across The Atlantic. (Composed by Caroline and reader comments added by Chris.)
The Republican Divide Deepens
It's official: Sarah Palin is Team Trump. The conservative magazine, National Review? Erm, not so much.
Yoni's team examined the meaning of it all. David Graham outlined Trump and Palin's "natural affinity," while David Frum called the endorsement "a bet on the triumph of identity over ideology." Molly argued that Palin "correctly sensed that there was a segment of the Republican base that wasn't being served by party elites" as early as 2008. And Peter addressed her "circle of victimhood." A reader gauges the reaction of the talk radio right:
Michael Savage TRASHES Palin endorsement:

Hannity, Limbaugh and Levin are not all at happy with Trump, either; Sean Hannity on the radio leaned in favor of Cruz and not Trump and said that liberalism had ruined New York; Rush Limbaugh said that Trump was making a strategic mistake going after Cruz; and Mark Levin said that Trump need to cut the crap out when it came to going after Cruz personally.

Wacko @glennbeck is a sad answer to the @SarahPalinUSA endorsement that Cruz so desperately wanted. Glenn is a failing, crying, lost soul!

— Donald J. Trump (@realDonaldTrump) January 21, 2016
In case you missed:
Trouble in Tinseltown
Spike Lee and others announced a boycott of the Oscars after it was revealed the awards show has an all-white nominee list for the second consecutive year. Readers questioned the move. On Friday, the Academy announced it would double the ranks of minority and female members by 2020. A reader comments:
For the 20 acting awards this year:

How many Hispanic people were nominated?
How many Asian people were nominated?
How many (openly) LGBT people were nominated?

My point in asking this: Why is it always so binary with black people?

Is the Academy the problem? Minority actors get just 15% of top roles—and 15% of nominations https://t.co/45WH6Sofrc pic.twitter.com/l0nIeuTLc0

— The Economist (@EconCulture) January 23, 2016
The week brought about another celebrity death: Eagles lead singer Glenn Frey passed away Monday. In the wake of several high-profile deaths, Megan covered how social media allows for "a return to age-old, communal forms of mourning."
In case you missed:
In the Shadow of Davos
As the world's One Percent convened in Switzerland, Bourree covered the pessimism at World Economic Forum. Still, a new report says the richer keep getting richer.
Meanwhile, Alana looked at more economically vulnerable populations; she covered the plight of factory workers in Juarez, Mexico, and examined whether the Trans-Pacific Partnership does enough for workers rights.
In case you missed:
When the Weather Outside Is Frightful
As the East Coast hunkered down for a very snowy weekend, Rob tackled what qualities make a historic snowstorm ... well, historic, and why the National Weather Service LOVES ALL-CAPS. Joe covered that pre-storm grocery rush.
Earth might be cold, but it's certainly no match for a possible ninth planet lurking at the edge of our solar system.  
In case you missed: