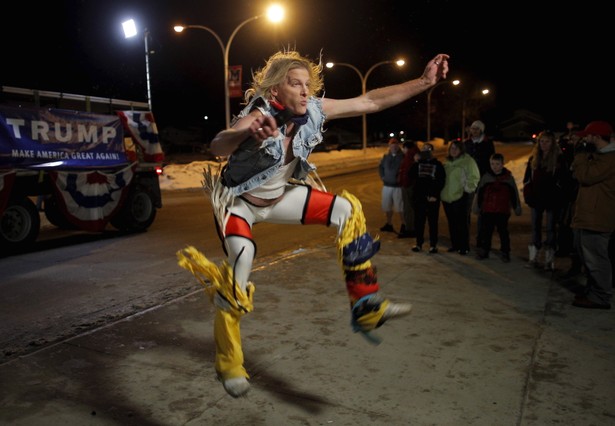 A new and evolving weekly feature reviewing our coverage across The Atlantic. (Composed by Caroline and edited, with reader comments, by Chris.)
The Final Sprint to the Iowa Caucuses
First of all, what's a caucus? Priscilla explains. On the brink of the election's opening contest two days from now, candidates began their closing arguments. On Monday, the three Dem candidates participated in a town-hall forum, while on Thursday, the GOP candidates (minus Trump) met on the debate stage for the last time before voting begins. A reader notes: "Turns out the donations Trump claimed go directly to vets don't go to vets at all, but to his personal foundation!" Another reader, Jim Elliott, digs deeper:
According to Forbes, between 2009 and 2013, the Donald J. Trump Foundation distributed $5.5 million to 298 charities. That's an average of $18,456 per charity. Which, normally, would be fine—micro-targeting non-profits for specific projects is pretty much how foundations roll. During that time, $57,000 went to seven veterans' organizations, an average of $8,142.86 per group Also, according to The Daily Caller, Trump gave at least $100,000 of his own money to the Clinton Foundation during that time frame.

Trump is known, in charitable giving circles, as the "0.00013% man." As in, that's how much of his wealth he donates annually, making him among the most miserly of rich people in the U.S.
Given Trump's continued ability to divide Republicans, David Frum wondered if the GOP elites will finally let go of some their cherished policies. And David Graham examined how "Sanders, like Trump, is a threat pointed directly at the party establishment."
Elsewhere in politics, in case you missed:
​Looking abroad:
It seem odd that introducing higher levels of criminality and a population that lacks the language and job skills to meaningfully contribute to German society is described as "leadership." It's a case of moral grandstanding as a replacement for a clear evaluation of national self interest.​
The Academy—and Mattel—Move to Diversify
The Academy of Motion Picture Arts and Sciences announced actions to "prune Academy members who no longer actively work in the film industry, while doubling voters of color and female members over the next four years." Meanwhile, Barbie got a makeover: Mattel announced new skin tones and body types for the doll. On the semantics of "diverse" and "diversity," Spencer has some thoughts. And David Sims looks at the variety of films at Sundance.
In case you missed our reviews from the world of entertainment:
Hard at Work or Hardly Working?
How do Americans feel about the economy? Not so great, Ron Brownstein reported. Meanwhile, Bourree explored slacking off at work—during good economic times and bad economic times—and the estimated cost of #Snowzilla. Elsewhere in economics:
The Mysteries of Mankind  
Did you know that humans are the only animals with chins? Ever heard of foreign-accent syndrome? Olga covered a new attempt to explain a mortality gap for middle-aged whites, while Lizzie Wade defended people who still believe the Earth is flat. Elsewhere, in case you missed:
Guns on the Ground Level
For our weeks-long special report on guns in the U.S., we wanted to make sure the personal element wasn't lost. So Caty asked readers to tell us about their earliest experiences with guns. The inbox was soon flooded and the broad range of responses fascinating. Many were nostalgic:
But many of the stories were tragic:
The latest article in the "Great Power" series (which you can peruse here) is Adrienne's on the man who invented machine guns. A reader emailed over another piece of hers:
Adrienne LaFrance asks, "Is there such a thing as a safe firearm?" It seems complex to answer, but it's actually pretty simple: Statistically, virtually every firearm is completely safe as far as accidental shootings are concerned.

Let me explain using numbers: Accidental gun deaths are fairly stable—about 500-800 per year. About 30 percent of American households have guns in them—[C.B. note: A 2004 Harvard study puts that figure at 38 percent] say 96,000,000 people exposed to guns in their daily lives. Which means that guns are completely safe in terms of accidental shootings to all but .0008 percent of people exposed to them. If we counted the whole U.S. population, then we are looking at .00025 percent. It's completely negligible.

And that's assuming that every single death is preventable by increased safety features, but the GAO estimates that only about 30 percent of those are preventable by safety features like trigger locks and load indicators. Most of those injuries, it seems, are "normal use" or "user error" injuries sustained when the gun is supposed to be usable.

By comparison, almost any other threat you would care to look up is far more dangerous. Prescription painkiller overdose alone kills about 16,000 people a year, or 363 times what accidental gun deaths do. Essentially, guns have to work an entire year to do the harm prescription drug overdose does in one day in terms of accidents.