Show

69

Newer Notes
This cartoon, originally published in August of 2010, has sadly retained its relevance—never more so than now, as Ben Carson likens some Syrian refugees to "mad dogs" and Donald Trump proposes special registries for Muslims …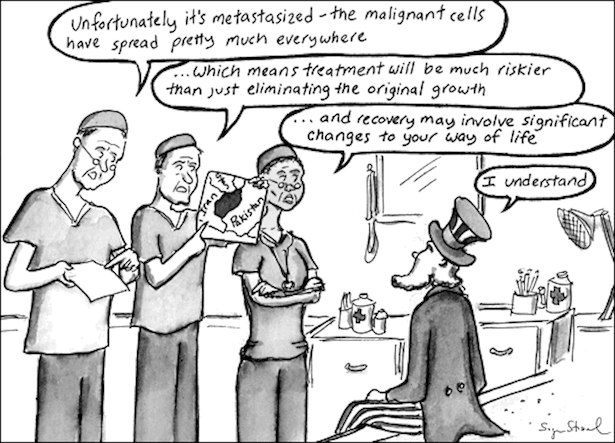 This cartoon originally appeared as "Bitter Pill" the week after the terrorist attacks of 9/11. Now, following the attacks of last week, France, too, must wrestle with these issues, as the United States—now facing newly issued threats, the growing challenges of encrypted communications, and the resettlement of a wave of Syrian refugees—also continues to do.
For another take from the Atlantic archives on the balancing of security and freedom, see "Just Asking," David Foster Wallace's thought experiment in the magazine's 150th anniversary issue:
What if we chose to accept the fact that every few years, despite all reasonable precautions, some hundreds or thousands of us may die in the sort of ghastly terrorist attack that a democratic republic cannot 100-percent protect itself from without subverting the very principles that make it worth protecting?…
In Destiny and Power, a new biography by Jon Meacham, former President George H.W. Bush has harsh words for for the men who served his son as Vice President and Secretary of Defense—referring to Cheney as  "iron-ass," and Rumsfeld as "an arrogant fellow." David has a full writeup of the book.
The criticism comes as some surprise, as Cheney had previously served in Bush 41's own administration as Secretary of Defense, and it was originally imagined that the two older men would maintain a connection. Below is the Sage, Ink cartoon that appeared following Bush 43's July 2000 announcement of Dick Cheney as his running mate:
This week, the House takes up consideration of a highway and infrastructure bill which, if passed, would be the first long-term transportation spending bill since 2005. Even the 2007 collapse of the I-35W bridge in Minneapolis, which killed 13 people and injured almost 150, failed to spur significant infrastructure spending, despite drawing widespread attention to the neglected state of many of America's bridges. Below is a Sage, Ink cartoon that originally appeared following the Minnesota bridge disaster.
This cartoon was originally posted in October 2013 as Boehner faced the dilemma of reopening the government and avoiding default on the national debt (thereby risking his speakership) or appeasing hard-line GOP lawmakers in the House and safely preserving his role.
Two years later, it again seems relevant as Boehner yields his position and negotiates a bipartisan budget deal on his way out, thereby avoiding a government shutdown and raising the debt ceiling until 2017—allowing his successor Paul Ryan to take over with, as Boehner puts it, "a clean barn." Russell has more:
The budget deal that John Boehner struck in his final days as House speaker is certainly a political gift to Paul Ryan, but you'll have to forgive Ryan for showing a lack of appreciation. "I think this process stinks," the speaker-in-waiting reportedly harrumphed as he walked into a meeting where Republicans were briefed about the 11th-hour agreement. "Under new management, we are not going to run the House this way."

Well played, congressman. Ryan offered no opinion on the substance of the two-year pact, which increases federal spending by $80 billion and raises the debt ceiling, but his harsh assessment of how it came together was a necessary bit of political theater aimed at the group of conservatives [House Freedom Caucus] who have been most wary of his ascension to the speakership.