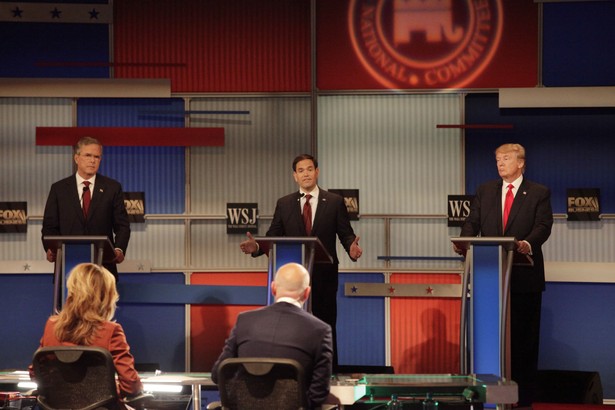 As usual, the crew liveblogged Tuesday night's GOP debate from Milwaukee, and you can read the whole thing here. David Graham's concise takeaway:
Who won? Fox Business Network, for one; Marco Rubio for another. It was a wonky night, with a few truly fascinating exchanges between the candidates and a couple notable gaffes, including one from Ted Cruz.
His full post-debate analysis is here, which begins:
Improbably, the greatest moment so far in the Republican debates came during a wonky discussion of tax policy.

It came as the GOP candidates debated in Milwaukee Tuesday night. The magical exchange kicked off with a question to Ben Carson about his tax plan, which he's said is based on Biblical tithing. Carson's answer was revealing: He made clear he'd eliminate all tax credits, including the earned-income tax credit and the home-mortgage-interest deduction, a significantly regressive change. Then Rand Paul and Ted Cruz both got tough questions about their tax plans, which are projected to create enormous revenue shortfalls. When neither man explained how they'd fill that hole in the deficit, moderator Maria Bartiromo pushed them on it. (Not that they offered much of an answer.)

Next, the moderators turned to Marco Rubio, asking him to defend his costly proposal for a child tax credit increase. Paul jumped in, asking Rubio how he could call himself a conservative when he would create a new entitlement and increase defense spending. Soon Cruz jumped in, agreeing with Rubio that defense spending was important. Then Carly Fiorina piped up, making a plea for zero-based budgeting.

It was a great moment—great as politics, and great as entertainment. The candidates were engaged in substantive debates about their respective ideas for the economy. The moderators sparked the conversation but mostly had the good sense to stay out things once the discussion had begun rolling. And the candidates were confronting each other directly—but on matters of policy, rather than picking on each other over picayune matters. If debates are intended to give voters a sense of the candidates' positions and personalities, those few minutes were as good as it gets.
You can the read the whole thing here, and we'll have more coverage in the morning. Here's a roundup of tweets and RTs from other Atlantic staffers during the debate, in rough chronological order:
Ben Carson just pivoted from media bias to Benghazi. Give him the nomination already, he's a pro.

— Molly Ball (@mollyesque) November 11, 2015
Ben Carson just said "Hillary Clinton" (a) with considerable distaste and (b) like it's only *allegedly* her name.

— Sophie Gilbert (@sophieGG) November 11, 2015
Sorry, Jeb, you still can't deliver 4 percent growth. https://t.co/OHqy3PECJI

— David A. Graham (@GrahamDavidA) November 11, 2015
Now Jeb is being out-alphaed by John Kasich on Jeb's core emotional issue.

— David Frum (@davidfrum) November 11, 2015
He said, "The explosion of natural gas." #GOPDebate pic.twitter.com/0j0BqJ0iUi

— Harrison Golden (@harrisongolden) November 11, 2015
The real enjoyment of these debates is imagining Mitt Romney at home fuming that he let Jeb Bush scare him out of the race.

— LOLGOP (@LOLGOP) November 11, 2015
Trump to the governor of Ohio: "I built an unbelievable company worth billions & billions of dollars, I don't have to hear from this guy."

— Molly Ball (@mollyesque) November 11, 2015
Great to hear the GOP crowd boo Trump for being boorish.

— Bob Cohn (@1bobcohn) November 11, 2015
Rand Paul is the most sarcastic presidential candidate I can think of.

— David A. Graham (@GrahamDavidA) November 11, 2015
"Obamacare isn't helping anyone," Fiorina says.

— David A. Graham (@GrahamDavidA) November 11, 2015
It's taken me a few repetitions to absorb that Carly Fiorina is not calling for 3-page tax returns, but a 3-page tax CODE. That's truly nuts

— David Frum (@davidfrum) November 11, 2015
Did Ted Cruz learn nothing from Rick Perry? Never try to list agencies for elimination in a debate!

— Molly Ball (@mollyesque) November 11, 2015
Trump is definitely giving a much more conventional front-runner debate performance, per that tax answer he gave praising opponents.

— adam nagourney (@adamnagourney) November 11, 2015
Trump claims that China would "come in through the back door" with the TPP, which they aren't part of.

— Matt Ford (@fordm) November 11, 2015
Fiorina says she didn't just meet Putin in a "green room," though she did. https://t.co/QWD2rCg5Wu pic.twitter.com/h5tzJhaA7X

— daveweigel (@daveweigel) November 11, 2015
Curious that Carly Fiorina so much better on foreign policy than economic answers.

— David Frum (@davidfrum) November 11, 2015
Damn, Rand Paul is right on the no-fly zone question too … Hate it when that happens

— David Frum (@davidfrum) November 11, 2015
You would think, from this debate, that the U.S. isn't currently bombing ISIS.

— Jeffrey Goldberg (@JeffreyGoldberg) November 11, 2015
I would like to hear Ben Carson talk at length about the Middle East.

— Jeffrey Goldberg (@JeffreyGoldberg) November 11, 2015
Wait, don't ring the bell! I want to know more about the Dead Horse Act.

— Jeffrey Goldberg (@JeffreyGoldberg) November 11, 2015
john kasich has had enough of your shit, i mean come on seriously can we get real here for a minute i mean god damn seriously come on

— Oliver Willis (@owillis) November 11, 2015
Trump is not self-funding his own campaign. he is spending money he raised via his website from small-dollar donors.

— Jonathan Martin (@jmartNYT) November 11, 2015
Each GOP hopeful: 1) Cut taxes by trillions of dollars 2) ??? 3) Go to my website. 3) Surplus!

— Derek Thompson (@DKThomp) November 11, 2015
I am very wary of "worst ever" analyses of any sort, but the past 15 minutes of this debate have been quite incredible economic illiteracy

— James Fallows (@JamesFallows) November 11, 2015
Debate speaking time: Trump – 9:03 Fiorina – 8:53 Kasich – 8:12 Paul – 7:58 Cruz – 7:53 Rubio – 7:08 Carson – 6:34 Bush – 6:32

— Scott Bixby (@scottbix) November 11, 2015
Initial post-debate analysis suggests that Jeb didn't help himself & the establishment shift to Rubio is about to pick up speed. #GOPDebate

— Frederick M. Hess (@rickhess99) November 11, 2015
Debate Ratings Rubio: on top Carly: back Cruz: base heat Bush: survived Carson: meh Trump: old man yells Rand: is his Dad Kasich: go. Away.

— Rick Wilson (@TheRickWilson) November 11, 2015
I think this is right, note-for-note, from @charlescwcooke pic.twitter.com/TgUtYtZFmc

— Derek Thompson (@DKThomp) November 11, 2015
Now a 3-way race. Rubio displaces Jeb w donors. Carson locked up evangelicals. Trump holds disgruntled blue-collars. All others, done.

— David Frum (@davidfrum) November 11, 2015
Gerry Baker too - good good job

— David Frum (@davidfrum) November 11, 2015
These debate questions have been great, but without even the threat of follow up, they're basically invitations for the candidates to stump.

— Derek Thompson (@DKThomp) November 11, 2015