Show

None

Newer Notes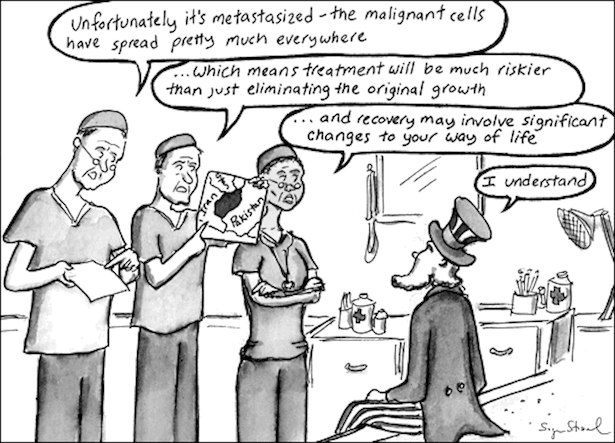 This cartoon originally appeared as "Bitter Pill" the week after the terrorist attacks of 9/11. Now, following the attacks of last week, France, too, must wrestle with these issues, as the United States—now facing newly issued threats, the growing challenges of encrypted communications, and the resettlement of a wave of Syrian refugees—also continues to do.
For another take from the Atlantic archives on the balancing of security and freedom, see "Just Asking," David Foster Wallace's thought experiment in the magazine's 150th anniversary issue:
What if we chose to accept the fact that every few years, despite all reasonable precautions, some hundreds or thousands of us may die in the sort of ghastly terrorist attack that a democratic republic cannot 100-percent protect itself from without subverting the very principles that make it worth protecting?…
This cartoon, originally published in August of 2010, has sadly retained its relevance—never more so than now, as Ben Carson likens some Syrian refugees to "mad dogs" and Donald Trump proposes special registries for Muslims …
This week, the Department of Homeland Security announced changes to its terror alert system, adding a new category of general "bulletins" to its existing program of specific "alerts."
How helpful Americans will find it remains to be seen, but it's unlikely to be considered more confusing than the old color-calibrated system, which was discontinued in November 2010. The cartoon below ran in 2002, when the then-new color alert system got its first adjustment to orange from yellow.
Hillary Clinton's bathroom break during Saturday's Democratic debate captured the attention of Republican frontrunner, Donald Trump, this week. During a speech in Michigan, Trump said her trip to the bathroom was too "disgusting" to talk about and said she was "schlonged" by Barack Obama in the 2008 primary.
The Donald has been known to make controversial comments, so it's only appropriate that the year would end with at least one more—this time targeted at the Democratic frontrunner.