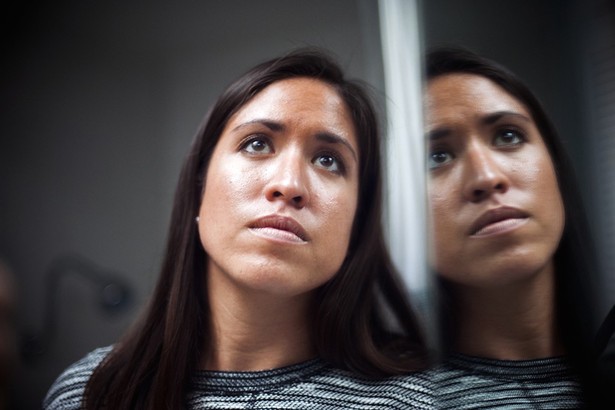 One of the central characters in Hanna's new cover story on the suicide clusters in Palo Alto is Taylor Chiu, who tried to take her own life as a high school freshman in 2002. From Hanna's piece:
Her first semester, Chiu got an F on a geometry test, which "totally traumatized me." Her relationship with her parents started to fray, "because it just took too much energy to speak in a polite tone of voice." She began to dread swim practice and even Girl Scouts and band, "but I didn't want to be a quitter." She remembers wishing that someone had broken up with her, or that she was anorexic, or that she had some reason to explain to her parents why she felt so sad. "I also felt like I was already saying that I was too stressed, and nobody—neither my parents nor my teachers—seemed to care or take me seriously." She didn't want to ask for a break, she said, because people would think she was lazy.

"But having a mental disorder? That's serious. People would listen to that." It would be, she thought, like a man being held back from a fight: He would never have to admit he couldn't win.
Taylor emails her thoughts on the cover story and her community's reaction to it:
This article is pretty monumental for me, in that I've never been open about my suicide attempt before this, not even to my closest friends and family. I just hope that the significance of my "coming out" means that people will really begin to listen to what I have to say.

Overall, I am pleased with the article. My criticism is slight, and it is only that I wish it had emphasized the optimism and hope that still exists in Palo Alto. Hanna's last sentence can read as optimistic, and I choose to see it that way, but it is vague and flippant enough that I expect it to be quite controversial. But that's journalism, and I understand that.

When my close friend and mentor Julia Tachibana asked if I would be willing to contribute to Hanna's piece, I was initially doubtful that anyone could bring a fresh perspective to the issue of suicide in Palo Alto. The scrutiny of Palo Alto's suicides began for me long before the first "cluster" in 2009. I was a sophomore at Paly when Steven Wertheimer, also a student at Paly, died of suicide on the tracks in 2002. He was the first student suicide by train that I'd ever heard of. Julia's brother Ben's death came shortly after that, and I cried through his memorial. What could Hanna say that hasn't already been said?

Indeed, Hanna covers the common themes—academic pressure, a culture of excellence, many attempts by city and school officials to control a complex situation, the ironic and controversial dysfunction of kids who "have it all," race, parenting styles, academic course loads, school schedules, the physical omnipresence of the train. She covers all the angles, and yet the criticism has already begun to roll in, as loud and intrusive as the train itself. Her denigrators claim she "oversimplifies", "sensationalizes", "stereotypes", "contradicts" and "invalidates"—and that she raises more questions than answers.

Let's consider for a minute the environment that Hanna navigated for months while researching this piece.