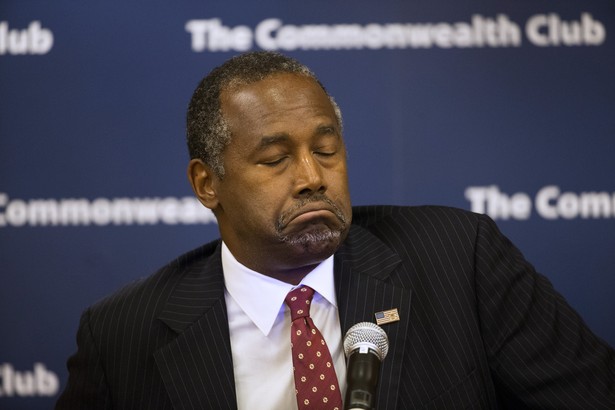 The candidate: Ben Carson. Third time today, doctor!
The gaffe: Here's the candidate, speaking about the Umpqua Community College massacre on Fox News on Tuesday: "I would not just stand there and let him shoot me. I would say: 'Hey, guys, everybody attack him! He may shoot me, but he can't get us all.'"
The defense: Who even knows? At least one person at the college did try to stop the shooter. Carson's answer on Wednesday was to double down on his argument: "I said what I would do. ... I would ask everyone to attack the gunman …. [I] "never saw a body with bullet holes that was more devastating than taking the right to arm ourselves away." On Thursday, he started talking about Nazis.
Why it matters (or doesn't): There's a large bloc of voters who think the answer to the UCC massacre is more gun control. There's a large bloc that thinks the answer is more armed "good guys." But who believes that the answer is to blame the victims? One survivor told CNN: "I'm fairly upset he said that. Nobody could truly understand what actions they would take like that in a situation unless they lived it."
The moral: When you shoot from the hip, sometimes you hit yourself in the foot.