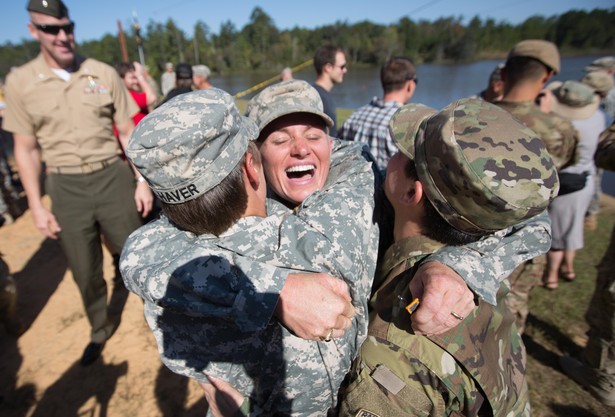 This morning, Major Lisa Jaster became the third woman to graduate from the U.S. Army Ranger School.
Jaster joins Captain Kristen Griest and First Lieutenant Shaye Haver, who earned their tabs from the elite training school this summer. Jaster, 37, graduated from West Point in 2000 and serves as an Army reservist, according to the Columbus Ledger-Enquirer in Georgia, where the school is based at Fort Benning. She has two children, ages three and seven.
When Griest and Shaye graduated in August, I wrote about what it takes to become an Army Ranger here. Spoiler: a lot.
Jaster's graduation is another marker along the road to making combat roles open to women, which the Pentagon wants to happen by January 2016.
Defense Secretary Ash Carter is reviewing recommendations submitted by the Army, Air Force, Navy, and Marines Corps on which jobs—if any—they think should remain closed to women. Last week, Carter told U.S. troops in Sicily that excluding half the population from military jobs would be "crazy."
Steve Russell, a Republican congressman from Oklahoma, would disagree, especially when it comes to who should be an Army Ranger. Russell, who served in the Army and graduated from Ranger school in 1987, has asked the military to publicly release documents about female students' performance in training to "ensure that our readiness is not sacrificed." Several female West Point graduates responded by submitting a Freedom of Information Act request for Russell's Ranger file.
The school has denied claims by some critics who say it altered standards or gave special treatment to its female students.