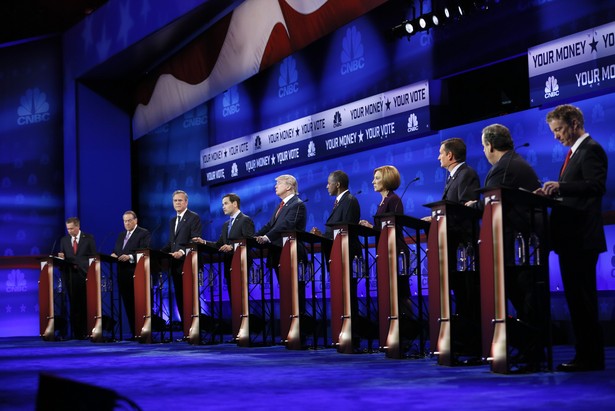 Last night, several readers flopped down on the couch, got ready to watch the presidential debate … and realized they didn't have CNBC—and couldn't find a way to watch it online. Here's the good news: We covered it in great detail if you need to catch up, and many people hated it anyway. But that frustration raises an interesting question:
@TheAtlQ does the public have a right to access live presidential candidate debates?

— Nate Eckman (@nathaneckman) October 29, 2015
Several other readers asked similar questions. And the answer is: Not really.
It's tempting to think about presidential debates sort of like a public utility—someone is providing them, but they just seem to be there as a service to voters. In reality, though, the debates are very much structures unto themselves. Thursday night, viewers could watch CNBC or stream the debate on CNBC.com—if they were cable subscribers with a login. Fox News, which broadcast the first Republican debate, did something similar (though I was able to listen to Fox radio online for the audio). CNN, which did the next two debates (one for each party), streamed both online.
But the primary debates are basically productions of the parties and whoever they choose to partner with. It was only in 1983 that FCC rules allowed networks and stations to sponsor debates and exclude candidates without breaking equal-time protections for all candidates. (The debates are considered "news events," and are therefore exempt.)
The Democratic Party has been in an internecine fight over the number of debates it has this year. The Republican Party, displeased with the process last cycle, asserted new control over the debates this year. The only restraints are what each party can get its candidates to agree to, and what they can convince media partners to sponsor and broadcast. There are no requirements about broadcasting to any particular group for free or not. Candidates have, on occasion, filed Federal Communications Commission complaints against news outlets demanding the right to debate, unsuccessfully.
What about the general-election debates: Surely those are a public utility, right?
In fact, no. They're run by the Commission on Presidential Debates, a nonprofit corporation created to run them, which has conducted every debate since 1988. The CPD's stewardship has not been without controversy. (Several groups—including, most prominently in recent years, Change the Rule—have assailed the commission for being overly restrictive in letting third-party candidates into the debates, effectively supporting a two-party duopoly.) But CPD's debates are covered by the White House press pool, so any members of the pool have access to the TV and radio feeds. The debates are broadcast without commercial interruption.
Reformers have complained that the old formats are too hidebound for the changing media landscape, though. Politico reported this summer:
Another top worry of debate reformers is that with millennials watching less TV in general, only young political junkies will tune in rather than a broader segment who would be most helped by seeing 90 minutes of the candidates going head to head. The idea is to make debates more social-media friendly, and to explore ways to bring YouTube, Facebook, Twitter, and Netflix into the fold.
CPD Co-Chair Frank Fahrenkopf admitted his organization needed to play some technological catchup. There have also been requests for the Federal Election Commission to take over the debates, which would be a major change.
For the time being, though, it's just as Ronald Reagan famously pointed out at a 1980 debate: "I am paying for this microphone!" As long as the parties, the networks, or the CPD are paying for the microphones, they have broad leeway to broadcast the debates (or not) pretty much as they like.