Pope Francis's Visit to the U.S.
Show Description +
For the first time in his papacy—and his life—Pope Francis is visiting the U.S. at the end of September. He's coming for the World Meeting of the Families in Philadelphia but will also make stops in Cuba, D.C., and New York. Scroll down to see our coverage.
Show

6

Newer Notes
Yesterday, John Boehner met the pope. Today, John Boehner announced he's resigning. #FrancisEffect?
Thursday was a big day for the pope, but maybe an even bigger day for John Boehner: The House speaker cried his way through Francis's speech before Congress and his greeting on the west lawn of the Capitol. This was the first time a pope has ever addressed the United States Congress, and the pope used the opportunity to discuss immigration, war, poverty, the death penalty, and the importance of family. A few political elders appeared to doze during the speech; others strained forward with frowns, trying to understand the pontiff's somewhat labored English.
As all this was happening, Molly and I had a little debate—Pope Francis: Democrat or nah? She argues that he has elevated issues that are particularly dear to American Democrats. I argued back that his worldview is much more coherent than most in American politics, defying the left/right U.S. political spectrum. Furthermore, it flows out of the gospel, not ideology.
Speaking of politics: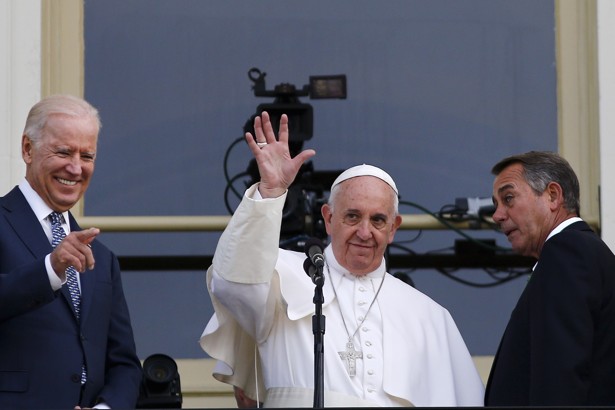 Molly has a piece up this morning pushing back on my argument that Pope Francis is not a 'progressive'—he's a priest. "Religion writers never tire of reminding us that, as revolutionary as Francis may appear, he actually believes the same things as previous popes," she writes. (True: still not tired.) "But what makes Francis different is really a matter of which Catholic beliefs he has elevated to the level of communal concerns—public policy—and which he has framed as individual choices."
She makes a persuasive argument: Francis has taken on issues that matter to U.S. Democrats, like climate change and immigration; he has pushed for government action on these issues, in both his writings and his speeches; and Republicans fear him, sometimes even using the "priest, not politician" line to put him down.
These facts may be true, but they still miss the broader point. In his speech to Congress today, Francis put forth a challenge to Republicans and Democrats alike, speaking on immigration, the environment, war, traditional families, and more. As I wrote in my article on the speech:
In a room where almost all Democrats voted to authorize the Iraq war more than a decade ago, it's hard for politicians of any party to take credit for authentically ending global war.  In a country which continues to be a leader in carbon emissions, it's hard for anyone to claim leadership on climate issues.
I have a personal policy of never Francisplaining to others, (a) because I'm Jewish and (b) because that's the single fastest way to end up looking like a dummie on the topic of this unpredictable and strong-willed pope. So instead, consider these ecumenical-ish thoughts:
During the pope's visit, he has met with the president, will address Congress, and will speak to the UN. But some of his most important meetings may be unscheduled. Crux reports that on Wednesday, Francis met with the Little Sisters of the Poor, who have challenged the so-called contraception mandate of the Affordable Care Act.
In July, the Tenth Circuit Court of Appeals ruled that the opt-out designed by the administration—basically, a short form that certifies that a group has a religious objection to providing insurance coverage for birth control—does not represent a burden on the sisters' religious exercise. But earlier this month, the Circuit Courts split on this question, meaning that the Little Sisters' case, or one similar to it, may be headed for the Supreme Court.  
The stop was not on the pope's public agenda, but Federico Lombardi, a Vatican spokesperson, briefed reporters on the visit on Wednesday evening. He said "the visit was 'connected' to the pope's remarks delivered earlier that day, in which the pope praised U.S. bishops for their efforts in defending religious liberty 'from everything that would threaten or compromise it,'" Crux reports.
I pedaled my bike to work this morning through the largest security operation ever mobilized for a single person. Pope Francis's visit is a National Special Security Event, a designation otherwise reserved for summits held by the UN, NATO, the WTO, the IMF, presidential inaugurations and funerals, State of the Union addresses, Olympic games, and Super Bowl XXXVI. Even by those standards, the pope's five-day tour of Washington, New York, and Philadelphia has mobilized coordination, counterterrorism, crowd management, crisis response, and traffic control (land, sea, and air) on a scale that is, in U.S. history, unexampled.
I read the warnings last week, imagining hordes, sirens, riot gear, choppers whapping overhead. Instead it was like the morning after snowfall.
Catholic ex-blogger Andrew Sullivan discusses the mass appeal of Pope Francis during a ranging discussion with Bob Wright, author of The Evolution of God:
Watch the entire hour-long episode here. Or check out some of these smaller chunks:
Andrew wrote an essay a few years ago exploring the question, "What Is the Meaning of Pope Francis?" Money quote:
Wikimedia

Since Francis' introduction of a reproduction of [a painting called "Mary, Untier of Knots"] in Buenos Aires, it has grown in popularity in South America, with the faithful praying in front of it for Mary to "untie the knots" in their own lives. What strikes me about it is how undoing knots conveys a way of being in the world. It begins with a recognition that life isn't easy, that a smooth and linear path is rarely given to us, that challenges keep presenting themselves. It is not so much the overcoming of these challenges that defines us, but the manner in which we tackle them.

It's possible to get extremely frustrated by knots, after all, as I remember each time I retrieve a set of iPhone earbuds from the black hole of a coat pocket.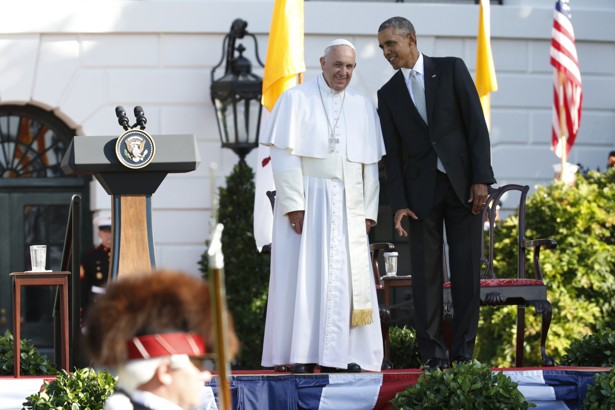 Yesterday, my colleague Emma wrote wisely about the dangers of viewing Pope Francis through a partisan American political lens. Yet even if the bishop of Rome isn't a politician, any speech he delivers on the White House lawn, with President Obama by his side and dozens of members of Congress in attendance, is bound to have political repercussions.
Partisans on both sides were hoping for something to bolster their causes, and in short remarks, delivered in careful, slow English, Francis offered something for everyone.
So Francis tosses one to conservatives with religious liberties and one to liberals with climate change, huh?

— David A. Graham (@GrahamDavidA) September 23, 2015
Conservatives were pleased to hear Francis's comments on religious liberty, a hot-button issue all summer: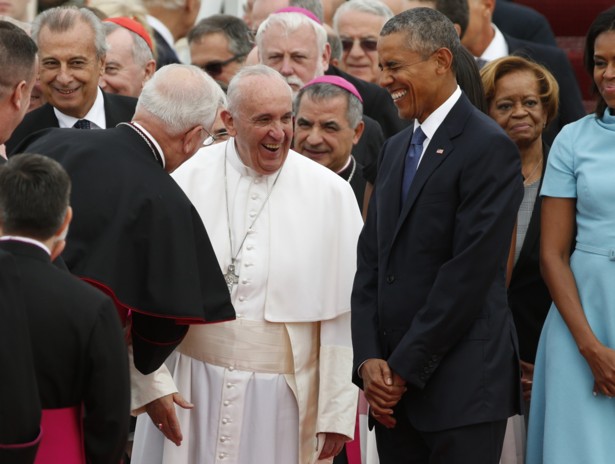 He made it!
For the first time in his life, Pope Francis is on American soil. He'll be in the country until Sunday, and we'll be following along as he travels through D.C., New York, and Philadelphia.
The first thing to remember: The pope is not a politician, he's a priest. While the American media tends to frame all stories in terms of battles between Democrats and Republicans, this trip is a chance to focus more on God than the GOP. One audience that will be particularly important for Francis is Hispanic Americans, who are moving away from the Church.
For the next 25 hours, I'll be offline—I've got some reflections here on what it means that the pope came to America on Yom Kippur. My Atlantic colleagues will be following the papal happenings in this thread—stay tuned.
Bonus: At the end of his Cuba trip, the pope gave a homiletic tribute to grandmas. Yep: Awww.
Updated at 8:30 p.m.
As pope stalkers of the world watched his flight path on the Alitalia website, the plane started making several loops over North Carolina on its way to Joint Base Andrews this afternoon:
In an earlier version of this note, I reported that the reason the plane started circling was that Obama and his entourage had been running late to the greeting ceremony. However, as a White House spokesman subsequently pointed out, the Pope deplaned at 4 p.m., precisely as scheduled, and the president was on hand to greet him. Others have meanwhile indicated that the Pope's plane took off early from Cuba, which would explain the flight pattern.
On Tuesday, Pope Francis will finish up his visit to Cuba and hop on a plane to the United States. At his last mass on the island, he celebrated the role of Mary in the Church, speaking at the Sanctuary of Our Lady of Charity of El Cobre in Santiago.
But what this really means is that the pope had an excuse to cheer on moms and grandmas. He gave them big ups for sustaining the country through periods of hard times over the last decades:
The soul of the Cuban people, as we have just heard, was forged amid suffering and privation which could not suppress the faith, that faith which was kept alive thanks to all those grandmothers who fostered, in the daily life of their homes, the living presence of God, the presence of the Father who liberates, strengthens, heals, grants courage and serves as a sure refuge and the sign of a new resurrection. Grandmothers, mothers, and so many others who with tenderness and love were signs of visitation, valor, and faith for their grandchildren, in their families. They kept open a tiny space, small as a mustard seed, through which the Holy Spirit continued to accompany the heartbeat of this people.
Grandmothers: the keepers of the tiny mustard seeds of soul. Now that's some lovely imagery.
On Tuesday, Pope Francis will land on American soil. (NB to all those who are clearing their throats and starting to say, in their best announcer voices, "Shepherd One is preparing to land": John Allen Jr. over at Crux points out that the plane isn't actually called that.) A lot has already happened on this trip, which started on Saturday in Cuba—if you're looking to catch up, here's what we've covered so far.
Last week, Jason Berry had a piece on how the Roman Catholic Church survived in Cuba, even through years of communism. Miriam Celaya pushed back on all the hype: "Many Cubans recognize that Francis's visit will not make a difference in their daily lives and problems," she wrote on Saturday. She's not the only one to protest Francis's visit; on Sunday, at least three people were arrested during the pope's mass in the Plaza de la Revolución. And speaking of dissidents, the pope met with Fidel Castro, who gave hope to track-suit-wearers around the globe: