The Global Refugee Crisis
Show Description +
Tens of thousands of people are fleeing civil war and unrest to find new homes in Europe—sometimes with tragic consequences. The U.N. estimates that more people have been displaced than at any time since World War II. Scroll down to see the stories on this topic.
Show

4

Newer Notes
The short answer: It's about $15,714.
The long answer: It's complicated.
Updated on September 10 at 2:51 p.m.
The White House says the U.S. will take at least 10,000 Syrian refugees in the next fiscal year, which begins October 1. That's after The New York Times reported this morning that the U.S. may take as many as 100,000 refugees worldwide next year, up from the current limit of 70,000.
That figure, reportedly revealed by Secretary of State John Kerry to lawmakers at a meeting Wednesday, comes amid a heated debate in Europe on how to distribute 160,000 asylum-seekers among the EU's member states.
The numbers are undoubtedly large, but they pale in comparison to the scale of the problem—and what other, sometimes much poorer, countries are doing in response.
The woman in the light-blue shirt:
Worst journalist of the year award goes to camerawoman who tried to trip a refugee so they'd be caught by the police. pic.twitter.com/2vRTYMLfmm

— DavidKenner (@DavidKenner) September 8, 2015
She was also caught on camera kicking a young girl. Hanna Kozlowska has details:
The incident happened in the town of Roszke in southern Hungary, close to the Serbian border, as refugees broke through a police line at a collection point. The woman has been identified as Petra Laszlo. The station she was on assignment for is affiliated with Jobbik, Hungary's far right party.
AFP correspondent Dave Clark notes:
Sacked now, apparently. Say one thing for neo-fascists, no lengthy disciplinary process
As we detailed for you this morning, German Vice Chancellor Sigmar Gabriel says his country will accept 500,000 asylum-seekers a year for the next several years.
But this does not mean all of those migrants will be allowed to stay in Germany. Here is EU data on Germany's record on first-instance decisions, which are decisions made in response to an initial asylum application:
Images like this of migrants trying—and sometimes dying—to reach Europe have drawn international attention to the crisis, along with criticism that countries are not doing enough. Here are some voices of European officials, citizens, and of the migrants themselves.  
European Leaders
Germany's Chancellor Angela Merkel's voice is a powerful one within the European Union. Her country has accepted more refugees than any other in the region, and on Monday, announced it would set aside 6 billion euros to help refugees.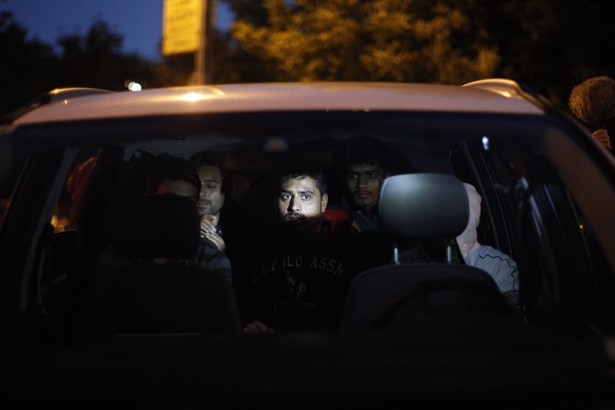 Over the past week, public attitudes towards refugees pouring out of Syria have begun to shift dramatically. Today, leaders in France, Germany, and Britain announced that their countries would step up their efforts to take in refugees:
President François Hollande of France announced on Monday that his country would take in 24,000 asylum seekers over two years, Britain said it would take in 20,000 refugees from Syria, and Chancellor Angela Merkel said Germany would set aside 6 billion euros, about $6.7 billion, to deal with the crisis.
Much of the coverage is about the massive scale of the dislocation: "waves" of asylum-seekers flowing into European countries in a "relentless stream." But journalists have also given us several powerful glimpses from the view of individuals affected by the crisis.
Updated on September 6 at 1:02 p.m. ET
Pope Francis wants European parishes to offer shelter to migrant families.
"Every parish, every religious community, every monastery, every sanctuary of Europe, take in one family," he said in today's Angelus at St. Peter's Square.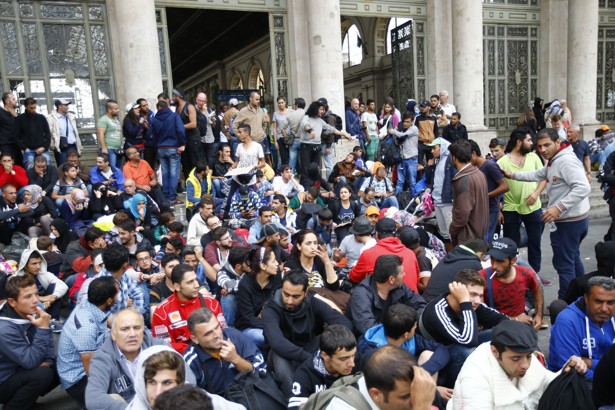 For now, at least. Thousands of migrants who were holed up in Budapest's Keleti railway station this week arrived at the Austrian border early Saturday, the AP reports. By the afternoon, 5,000 had made it to Austria and Germany.
The train station looks very different now, but hundreds more, fleeing their homes to escape war and poverty, are expected to cross into Hungary this year.
The number of migrants who have crossed the EU's borders this year: 340,000. The European Union's population: 508.2 million. (Incoming migrants are 0.067 percent of the total population).
Syria—which is in the midst of a bloody civil war—is the largest source for these migrants. The conflict has created 4 million refugees.
Of these, 1.9 million are in Turkey (population 75 million), 1.1 million are in Lebanon (population 4.4 million), 629,245 in Jordan (population 6.459 million).
The U.S. has about 1,500—though that number could increase. There are zero in the wealthy Gulf states, including Saudi Arabia.
Hungary's prime minister says the migrant crisis that has produced scenes of chaos and desperation at Budapest's Keleti station are "not a European problem. The problem is a German problem."
"Nobody would like to stay in Hungary," Viktor Orban, the prime minister, said at a news conference in Brussels. "All of them would like to go to Germany."
The boy was found today on a beach near the Turkish resort of Bodrum. He was reported to be one of at least 12 Syrians who drowned while trying to reach Greece.
The Syrian civil war has produced more than 4 million refugees. Nearly half of them are children. Here's the breakup from UNHCR:
The crisis is being described as the worst since World War II.
Just last month, 107,500 migrants crossed into Europe, and the U.N. estimates that the number of refugees and migrants crossing the Mediterranean this year exceeds 300,000. Nearly 2,000 landed in Greece overnight.
We decided to look at where the migrants are coming from and which EU countries they are going to using data for the first quarter of this year from Eurostat, the EU's statistical agency. Here's what we found: