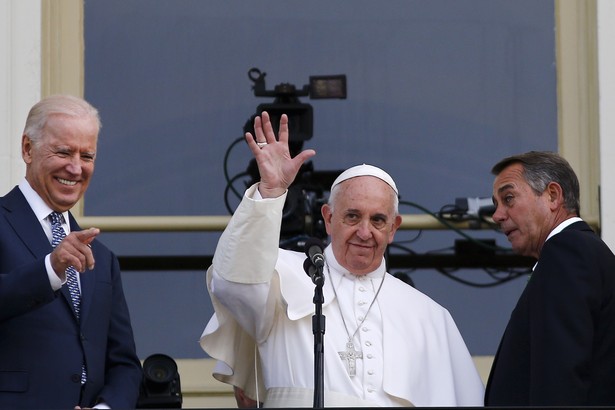 Molly has a piece up this morning pushing back on my argument that Pope Francis is not a 'progressive'—he's a priest. "Religion writers never tire of reminding us that, as revolutionary as Francis may appear, he actually believes the same things as previous popes," she writes. (True: still not tired.) "But what makes Francis different is really a matter of which Catholic beliefs he has elevated to the level of communal concerns—public policy—and which he has framed as individual choices."
She makes a persuasive argument: Francis has taken on issues that matter to U.S. Democrats, like climate change and immigration; he has pushed for government action on these issues, in both his writings and his speeches; and Republicans fear him, sometimes even using the "priest, not politician" line to put him down.
These facts may be true, but they still miss the broader point. In his speech to Congress today, Francis put forth a challenge to Republicans and Democrats alike, speaking on immigration, the environment, war, traditional families, and more. As I wrote in my article on the speech:
In a room where almost all Democrats voted to authorize the Iraq war more than a decade ago, it's hard for politicians of any party to take credit for authentically ending global war.  In a country which continues to be a leader in carbon emissions, it's hard for anyone to claim leadership on climate issues.
I have a personal policy of never Francisplaining to others, (a) because I'm Jewish and (b) because that's the single fastest way to end up looking like a dummie on the topic of this unpredictable and strong-willed pope. So instead, consider these ecumenical-ish thoughts: