Three Hours in a Bar Full of Bravo Fans
Lizzie and Kaitlyn down dubious "Pumptinis" at a live screening of the scariest show on television.
Sign up for Kaitlyn and Lizzie's newsletter here.
Kaitlyn: I saw a good tweet the other day that was like, "Watching Vanderpump Rules makes me so proud to be an American. We're incredible people. We lead amazing lives."
Lizzie and I have now watched this program for 10 years and we're happy to say it. A spin-off of Bravo's Real Housewives of Beverly Hills, the show was meant to follow the hot, mean employees of Real Housewife Lisa Vanderpump's West Hollywood restaurant SUR ("Sexy Unique Restaurant"). The first season was filmed before the rise of Instagram and the influencer—lightning in a bottle. Like no other people before or since, these deluded freaks were willing to fight, lie, cheat, steal, and generally humiliate themselves and one another on national television. They were all aspiring actors, models, and pop stars, and in the most tragic way possible. They were back-alley chain-smokers who treated Coors Light as a breakfast beverage and ordered Taco Bell for delivery despite living in Los Angeles. They were pathologically obsessed with the concept of "Boys' Night" and with bickering near walk-in refrigerators.
For viewers, the thrill was trying to keep up with the always-shifting alliances and contradictions in personality. Once, the guy who everyone claims is the nicest dumped a beer on his girlfriend's head to get her to stop talking. Later, the woman who everyone claims is the nicest obtained an audio recording of her boyfriend cheating on her and played it over the sound system at their housewarming party. Hero, villain—there has rarely been a difference. James Kennedy, a British DJ who used to refer to himself as "the white Kanye West" and once ended a relationship by spitting on a woman's apartment door, somehow became one of the most likable people in the group.
Sadly, however, there was no way to avoid the fact that being on an amazing TV show turned these broke, desperate people into rich, boring people. Inevitably, they stopped working at Lisa's restaurant, bought $2 million houses, and developed a certain level of interest in coming off as normal, which put Vanderpump Rules into a several-year slump from which it looked as though it might never recover. The ninth season was almost entirely about the cast learning to play pickleball.
Lizzie: We were ready to end the infinite pickleball game. We'd had a good run. We considered taking up new hobbies, like fermentation or sobriety. Until, of course, about three months ago, when it all changed. The slump was over. I assume if you have any interest in reading this at all, you already know what happened and I don't need to rehash it for you. But briefly, for my parents: One of the cast members (Tom Sandoval) cheated on his girlfriend of nine years (Ariana Madix) with another cast member and Ariana's good friend (Raquel Leviss), the seemingly harmless if somewhat one-dimensional former fiancée of the DJ (James Kennedy) who also dated Sandoval's ex-girlfriend (Kristen Doute), who, several years ago, accused Sandoval of cheating on her with Ariana. This all came to light in March, after Season 10 had wrapped, when Sandoval was playing a show with his cover band in L.A. His phone was dislodged from his pocket while he was doing splits onstage or something; it landed in Ariana's lap and revealed incriminating videos of him and Raquel. The rest, as they say, is herstory. (I'm kidding.)
The season was already in the can, but the cameras picked up again just in time to give us this: the second Season 10 finale, titled "#Scandoval," an episode shot and edited several months after the original Season 10 finale, in which the cast members discuss the fallout in the days immediately following the phone incident. For longtime fans of the show, it was an exciting new era. You have Sandoval, a 40-something man with a mustache who plays bongos in, from what I can tell, a Fountains of Wayne cover band; sees Coachella as sacred ground; and dresses like Gerard Way moonlighting as a magician. And you have Ariana, considered by fans to be one of the most "levelheaded" cast members; she doesn't contribute much to the drama pool, but is generally nice to everyone and doesn't dress like Criss Angel Mindfreak. It was easy this time to know who to root for. Not a "nice" thing to happen, but a pretty good storyline.
So the finale was kind of a big deal. I don't think Kaitlyn and I are normally the type of people who go to bars to "watch" things, but we figured we should be among other fans for this occasion. So we down-the-hatched over to Down the Hatch, a dive bar in the West Village that was hosting a live watch party.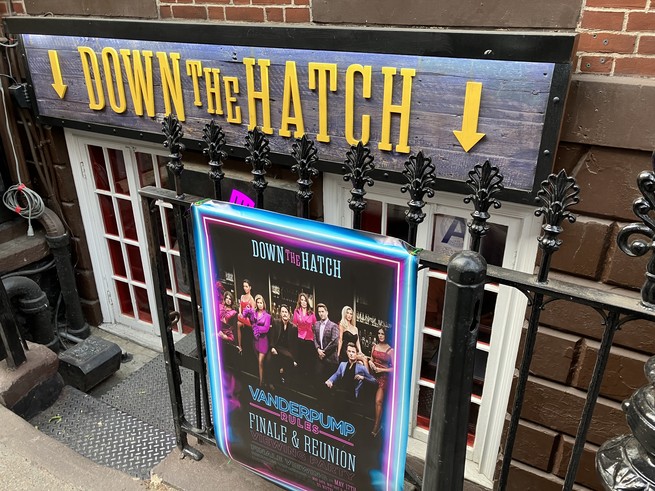 Kaitlyn: All day, I was wringing my hands trying to decide what time we should arrive at Down the Hatch in order to secure seating. The watch party had been advertised on Reddit, which is not normally where we source our invites, so I had no sense of the kind of crowd it might pull. Ultimately, Nathan and I got there two hours before the show started, and this was lucky because there was only one table in the whole place that didn't have a little Reserved sign on it. (Reserved for EMMA, Reserved for LAURA, etc.)
While we waited for Lizzie and Sam and Jamie, we took photos of a neon sign that read Hot Mess and ordered some rosé and a bunch of bar snacks. At least 13 different white blond women came up to us and asked if we were going to be using all of the stools we had. We were nice about it at first, and then, in the spirit of things, we got meaner: a flat "Yes, we are," with an implied "What do you think?" Jamie then texted that she wouldn't be able to come after all and sent a photo of a spider bite on the back of her hand. The lump was the size of a clementine, but she was trying to avoid taking a Benadryl, because to be sleepy on a night like tonight would be a fate worse than death.
Lizzie: I thought spider bites were something that happened in Australia, not Bushwick. Nathan had us all worried it was a "brown recluse," which is apparently a very poisonous spider. Now that I'm looking at photos of it, it looks like every spider I've ever seen. Something to dive into at another juncture.
Speaking of Nathan, earlier in the day he had texted me asking me to spray some "little seeds" he has germinating in his and Kaitlyn's living room. I was going to be feeding Kaitlyn's cat, Ghost, over the weekend anyway, he figured, so I could just spray the seeds while I was there. Sure, I'll spray the seeds, I said. But of course I worried. Spraying Kaitlyn's boyfriend's seeds while she's out of town? I brought it up to both of them as soon as I got to the bar. Let's just clear the air, okay? Nathan sent me a video with detailed instructions about how to spray his seeds and I have it on my phone; please look.
They laughed it off. I laughed too. I ate a chicken wing and finished my Hal's Grapefruit Seltzer. The crowd around the bar was approaching four rows deep.
Kaitlyn: I said, "I trust Lizzie completely. She's someone that is kind and sweet and loyal and just a delight since the day I met her."
Around 8 p.m., nearly every TV in the bar was switched over to Bravo, which was re-airing the previous week's episode of Vanderpump Rules ahead of the finale. (There was one "TV for men," Lizzie noticed, which was playing a wrestling match.) Things heated up instantly. "Trash!" a woman next to us screamed when Raquel appeared on-screen. A group of women in Barstool Sports merchandise confronted a couple of 40-year-olds making out in a corner booth and explained to them that they had actually reserved this seating for a very special event. By this point, it was standing-room only and the decibel levels were approaching "pop concert."
Sam arrived just in time to join us in a round of "Pumptinis," very loosely based on the cocktail sold at Lisa Vanderpump restaurants. Lisa's is, I believe, basically a raspberry cosmopolitan in a sugar-rimmed martini glass. The Down the Hatch version was lychee liqueur and vodka in a stemless wine glass. I found myself in one of those embarrassing situations where everyone else at the table thinks something is really gross but you kind of like it. To fit in, I said that the anemic canned lychees that had been tossed into the bottom of the drinks looked like the rabbit kidneys they make everyone eat in the movie Raw.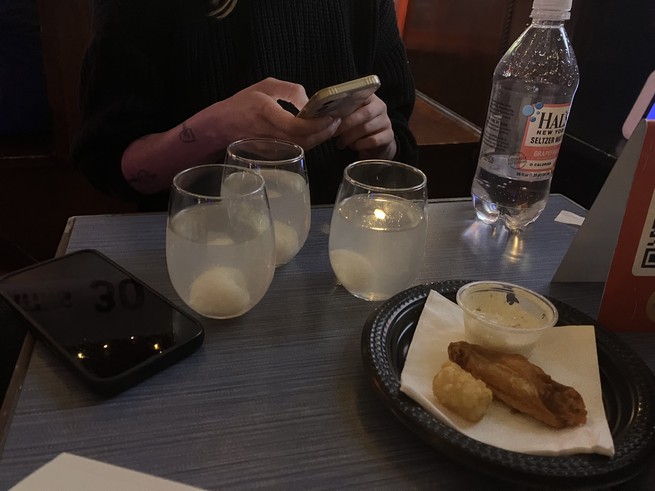 Lizzie: Sam asked if the lychees were hard-boiled eggs.
I don't think it's an exaggeration to say that the air felt electric. Everyone was hyped up and ready for the big event. At one point, a woman walked into the bar, fist pumping in the air, chanting "VANDERPUMP! VANDERPUMP! VANDERPUMP!"
Still, a few people had no idea what was going on. "Is this some big Bravo thing?" I heard a man ask his companion. He would have no choice but to figure it out. As the clock struck 9 p.m., the crowd dropped to near-silence in anticipation, the volume on the TVs got louder, and everyone selected one of the half-dozen screens to turn their body toward. Live from his NYC talk-show studio, Andy Cohen, semi-benevolent ruler of the Bravo Universe, reminded us that the Scandoval came to light during International Women's Month. Of all the months!
Kaitlyn: The editors were going for something new and special for this episode. After a quick montage of recent events, including Ariana's revelation that there are "evil, evil people in this world," they cut to a prolonged stretch of Los Angeles B-roll set to a demonic song that openly plagiarized "Steal My Sunshine." "The sun keeps on shining," a faceless man announced over and over. Yet it was raining in L.A. The rain fell on the street, and it fell on a crow sitting on a fence.
I respect the effort. They had to mix it up a bit because the episode could really only be a series of highly emotional but not-at-all spontaneous or organic conversations taking place in a procession of ugly living rooms. Tom Sandoval was carrying around a can of Squirt soda in nearly every scene he was in, suggesting that most of them were filmed during the course of one day or that he'd developed a serious Squirt-soda habit in the aftermath of the scandal.
Lizzie: I didn't even know they still made Squirt. I thought it was like Crystal Pepsi or Jolt. I wonder how the Squirt team feels, brand-marketing-wise, about the current most disliked cast member toting a hand-warmed can of their product around in every scene in the show's biggest episode in years like he's being paid to do it.
Because the news of the affair broke months ago, and every detail of the whole situation has already been documented on gossip blogs, Reddit, and the cast members' various podcasts, watching the episode felt more like a recap than a finale. But the crowd didn't care. They were there to have fun, yell at the screen, and see extended versions of the scenes we'd already seen in the trailer.
I told Kaitlyn it felt like one of those screenings where people rewatch a cult favorite for the sole purpose of "interacting" with the movie, you know, by throwing forks or toilet paper at the screen, or doing some kind of call-and-response thing with the actors. We gasped together; we laughed together. We furrowed our eyebrows at how many scenes there were of Sandoval crying.
Kaitlyn: It did feel a bit like a Rocky Horror Picture Show midnight screening, or the time I went to see the Mean Girls musical with my mom and people kept yelling the lines they knew from the movie. Those of us who follow Bravo-related Instagram accounts had already seen a preview clip of Ariana screaming "I don't give a fuck about FUCKING RAQUEL" dozens of times, so it was a familiar tune by the time it aired in prime time, and everyone sang (screamed) along.
My favorite part of the episode was when Scheana showed up to Ariana's house looking like a streetwear-brand-ambassador angel. She was all in white: white bucket hat, makeup free, opalescent four-inch square-tip nails. "She-Shu! She-Shu!" I chanted, wiggling on my stool. She'd brought a bottle of rosé and what appeared to be two packs of Camel Crush cigarettes, though the logo was blurred out and a bystander snuck them quickly out of her hand while she embraced Ariana.
Scheana, recalling how she had physically shoved Raquel away from her upon learning of the affair, started to tear up. Raquel was now telling people that Scheana had punched her in the face, which was "scientifically impossible," she explained, because of her four-inch square-tip nails. If she tried to make a fist and punch someone with it, she would either slice open her own hand or break her own thumb. "My hands don't work like that," she said.
My second-favorite part of the episode was when everyone gathered in James's apartment to watch him call Raquel (his ex-fiancée) and ask her, "How do you feel about what you've done and pretty much what's going on?"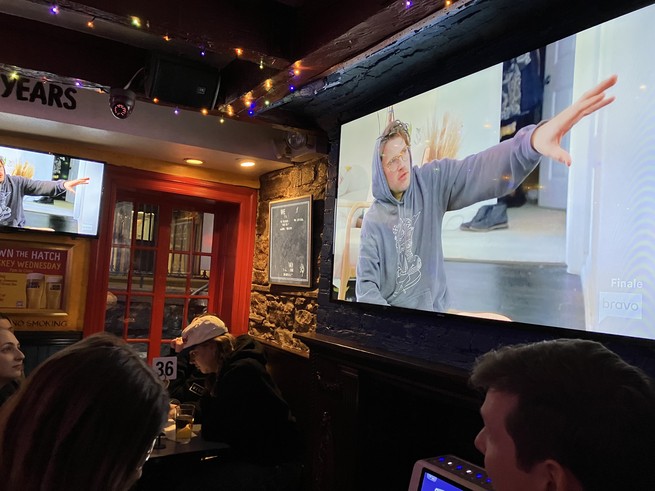 Lizzie: As the night wore on, the Pumptinis started to hit. The hushed silence that had taken over the room at the start of the episode was replaced by boos (whenever Sandoval was on-screen), cheers (whenever Ariana was on-screen), and side conversations (at least one about how Sandoval's presence was evoking a feeling of PTSD).
Kaitlyn: "I bow down!" someone shouted when Ariana walked into a bar called Grandmaster, wearing a nice dress. The crowd also went wild when she appeared in an Uber Eats commercial, singing Scheana's 2013 hit song, "Good as Gold," while auto-tuned to the highest heavens. Whenever Sandoval talked (and admittedly, everything he said was shocking), they would roar "Bullshit!" and "Liar!" and "Go to HELLLLLLLL!" (The outrage was at its loudest when Tom Sandoval suggested to his best friend, Tom Schwartz, who was sitting on a kitchen floor for some reason, that Ariana was at fault for not discovering his affair: "All she would have had to do was follow me.")
I was having fun, but the crowd-with-pitchforks, get-him-girl vibe was a little bit confusing to me. Do we come to this show for lessons in morality? Do we feel offended when the cast members deliver moments of shock and betrayal and demarcate the outer limits of what human beings are capable of doing to one another in full view of a television camera? I thought we loved it!
Lizzie: We should be loving it, and the cast members need us to love it too, because how else will they buy their next multimillion-dollar homes in Valley Village? I was also surprised by the force of the crowd's reactions. This season was a return to form for a show essentially predicated on the idea that everyone is a liar and everyone is trying to sleep with someone else. Sure, we had a pickleball intermission there, but we were back, baby!
Kaitlyn: With Vanderpump Rules, every sword is double-edged. The drama's returned, but it made everyone hate each other so much that it's not clear how they can continue filming a TV show together. The cast is now famous enough to advertise for Uber and pose for The New York Times. They're also famous enough to unfollow Lisa Vanderpump on Instagram in mysterious piques of rage—in other words, to bite the hands that feed. Eek! What will these monsters do next?
On Nobody Famous: Guesting, Gossiping, and Gallivanting, a collection of Famous People letters from the past five years, is available now from Zando Projects and The Atlantic.