Graduation Wisdom That Never Gets Old
Atlantic writers offer advice for managing uncertainty at any age.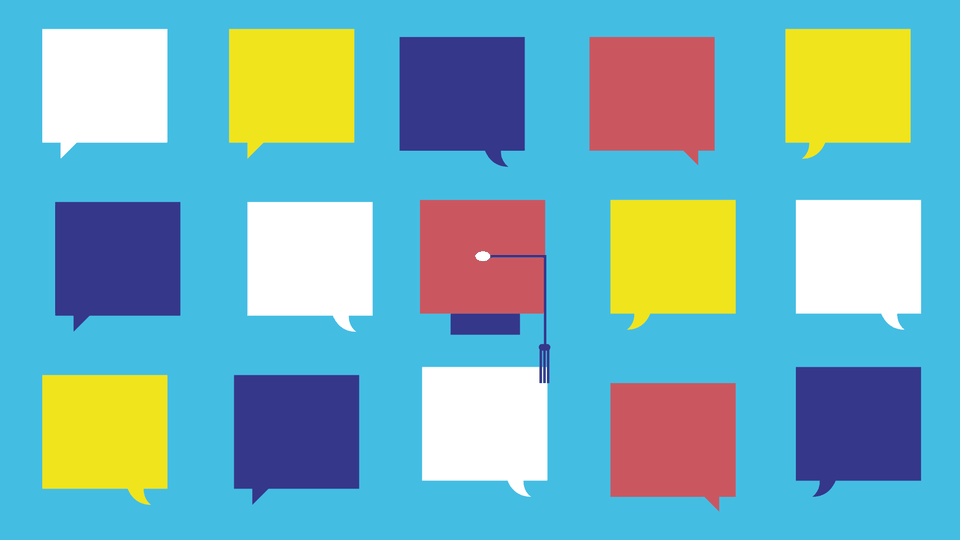 This is an edition of The Wonder Reader, a newsletter in which our editors recommend a set of stories to spark your curiosity and fill you with delight. Sign up here to get it every Saturday morning.
For decades now, America's college graduations have been defined by ritual. We fill the day with pomp and circumstance, with gowns, with special terms such as procession and regalia, with the recitation of many, many names. As my colleague Caitlin Flanagan wrote in 2020:
We want the day to be distinct, unmistakable, and linked to countless ceremonies of the past. No matter how many graduations I attend—and no matter how much of a hassle it is to get a parking space and catch the shuttle bus and find a seat—when the line of graduates finally appears and begins that last, long walk as college students, I feel like I might cry.
I can relate; I've even been known to well up during graduation scenes in TV shows or movies. These events are usually emotional for those watching their loved ones reach a milestone, but they can also be poignant for observers because of what they represent: simply, the end of a formative time of life and the start of a murky future.
With graduation season upon us, I revisited a collection of commencement addresses The Atlantic commissioned in 2020 for students who weren't able to attend their own graduations. What stands out to me in these essays by various writers and thinkers—and bear with me through a little commencement-address corniness here—is the certainty of uncertainty. Although the class of 2020 was facing new levels of the unknown, the experience itself has always been with us. As the former Atlantic staff writer Joe Pinsker noted, after asking 19 smart people for their graduation advice, all we can do is try to change our relationship with the unknown, using it as a tool to navigate what lies ahead.
---
On Graduation
You Thought You Were Free, but History Found You
By Caitlin Flanagan
The commencement speech you'll never hear (From 2020)
I didn't Have Any Graduation Wisdom. So I Asked 19 Smart People Instead.
By Joe Pinsker
What a novelist, a therapist, a Buddhist teacher, and others had to say to the class of 2020
The Only Career Advice You'll Ever Need
By Arthur C. Brooks
The contentment of being true to yourself comes through doing good work, and doing it with love.
---
Still Curious?
---
Other Diversions
---
P.S.
The 2023 graduation season brings with it another milestone: the end of the first semester of college in a world with generative artificial-intelligence tools such as ChatGPT. Our contributing writer Ian Bogost wrote a fascinating and sobering essay last week about the unfolding mess for students and professors.
— Isabel