A Silly Yet Sincere Movie to Rewatch
Entertainment musts from Yasmin Tayag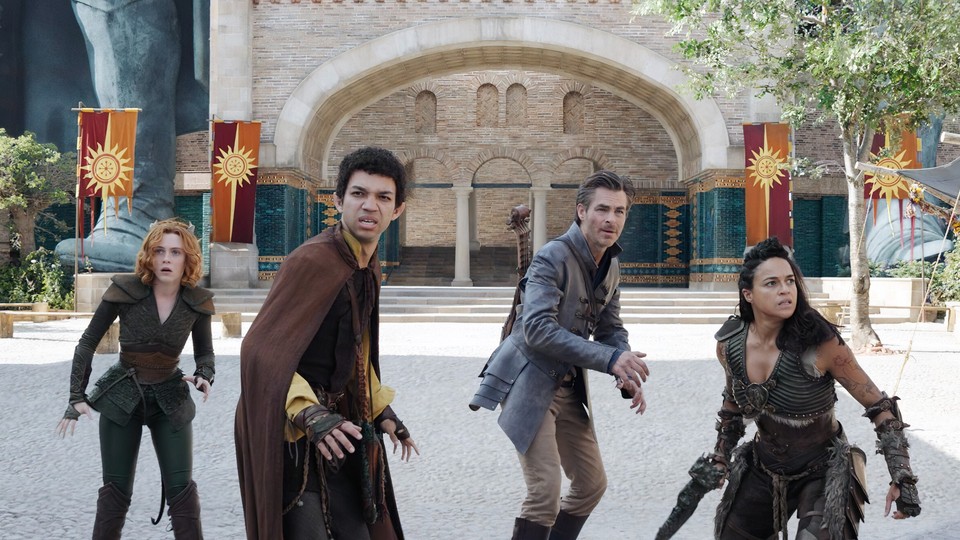 This is an edition of The Atlantic Daily, a newsletter that guides you through the biggest stories of the day, helps you discover new ideas, and recommends the best in culture. Sign up for it here.
Good morning, and welcome back to The Daily's Sunday culture edition, in which one Atlantic staffer reveals what's keeping them entertained.
Today's special guest is Yasmin Tayag, a staff writer who covers science and health. Yasmin recently reported on the rise of weight-loss drugs such as Ozempic as well as their cheaper, more potent alternatives; the broader implications of the ongoing Adderall shortage; and how climate change is making seasonal allergies worse. She's also preparing for the birth of her first child next month and, until then, conquering the 2000s indie-band reunion-tour circuit, self-soothing with the Instagram channel of a charming Italian chef, and giggling at the very thought of the new film Dungeons & Dragons: Honor Among Thieves.
First, here are three Sunday reads from The Atlantic:
---
The Culture Survey: Yasmin Tayag
The last thing that made me snort with laughter: About three years ago, some friends suggested that we try playing Dungeons & Dragons—mostly as a joke, given that none of us are typical game-playing types—but it took just one session for us to embrace it wholeheartedly. Our campaign lasted through much of the coronavirus pandemic, but we eventually succumbed to Zoom fatigue. With genuine melancholy, I laid Sabrina, my randy level-nine tiefling sorceress, to rest.
But last month, we reunited to watch the new film Dungeons & Dragons: Honor Among Thieves, which left us crying with laughter. The jokes are silly, but as my colleague David Sims put it in his review, they're also sincere—a crucial element to a good D&D session. Merely thinking of the name Jarnathan, bestowed on a huge and hapless eagle-man, still makes me giggle. The film was so much fun that I actually saw it twice—and it inspired my friends and me to start another campaign. My new character, C. Biscuit, a socially awkward druid centaur, is chafing at the bit. [Related: Ta-Nehisi Coates—The unlikely influence of Dungeons & Dragons (2011)]
The upcoming event I'm most looking forward to: As an aging Millennial, I've very much embraced the recent indie-sleaze revival. I grew up in Toronto, and bands such as Metric, Stars, and Broken Social Scene were the soundtrack to my coming of age. Of these artists, Feist was the queen: folksy with an edge, slightly mystical, a melodic genius. I'm seeing her live for the first time next weekend as she tours Multitudes, her transcendent new album about motherhood. [Related: Feist's Pleasure reworks the passage of time. (2017)]
A good recommendation I recently received: Newborns are top of mind for me these days; I'm expecting my first in about a month. Several friends with young kids have offered child-rearing wisdom for the modern age: Don't let them watch Cocomelon. Just don't. It's "drugs for babies," one told me. Having now YouTubed a few deranged clips, I see their point. Alternatives I feel better about are Rockabye Baby!'s lullaby renditions of the music of Drake and Lauryn Hill, which I think (or hope!) will be gentler on the baby—and me.
A YouTuber, TikToker, Twitch streamer, or other online creator whom I'm a fan of: Though I'm trying to spend as little time as possible on Instagram these days, I will always stop to watch the Roman chef Max Mariola cook in his dreamy outdoor kitchen. During the height of the pandemic, Searching for Italy, a CNN series about Stanley Tucci nearly orgasming over Italian meals, was my escape. Mariola is like Tucci turned up to 11. For him, even the humblest ingredients seem to rouse carnal pleasure. That he whispers, ASMR-like, in Italian—his recipes are shared like secrets—adds a frisson of excitement. In one video, while whipping up buttered anchovy spaghetti for guests who unexpectedly stay for dinner, he murmurs, "I didn't have anything in the house, but I'll always make you feel great!" Pantry cooking was never so racy.
Something I loved as a teenager and still love, and something I loved but now dislike: I recently made an obscure reference to the early-aughts emo band Dashboard Confessional in a dumb tweet about the failed SpaceX launch, and immediately regretted it. My feelings changed, however, when a colleague caught it—"are you a Dashboard person?" she Slacked incredulously—and then introduced me to a secret cadre of Atlantic emo-lovers. My people! In high school, bands such as Something Corporate, Yellowcard, and Taking Back Sunday supported me through suburban angst and adolescent existential ennui (and, as a bonus, taught me to play guitar, if badly). Listening to their songs at 36 has been a welcome reminder that I once had the capacity to feel so much, so earnestly—an ability I'm hoping to recultivate after spending most of this millennium (so far) mired in irony.
But not all earnestness ages well. Garden State and (500) Days of Summer were popular twee indie romances that tried to convince a generation that true love happened when navel-gazing weirdos discovered quirky-cool girls to allay their insecurities, usually in settings involving obscure music. Somehow as a young adult, the fact that those weirdos were relentlessly self-absorbed and cared little for their partners' personal well-being escaped me. That oversight now makes me cringe; fortunately, I've since learned that there's more to love than a shared fondness for The Shins. [Related: Is Dashboard Confessional still emo? (2018)]
A quiet song that I love, and a loud song that I love: In my attempt to see as many concerts as I can before giving birth, I recently went to see The Walkmen, another favorite band on a nostalgia tour. (Compression socks have helped with all the standing around.) They sounded as great as they did decades ago, but I was disappointed not to hear my favorite song, "Red Moon," a gorgeous, gentle ballad about missing someone, rich with mournful horns. "But the stars are cold / And the air is bright," the lead singer Hamilton Leithauser laments. "And I see you now / You shine like the steel on my knife."
More chaotic moods often take me to "Pain Killer," a sexy, boisterous song from the Danish punk rockers Iceage, featuring vocals from the elusive American pop star Sky Ferreira. Vigorous drums and angular guitars provide plenty of joyful noise, but it's the unexpected addition of horns—what can I say; I love that brass!—that elevates this track into glorious pandemonium.
Read past editions of the Culture Survey with Damon Beres, Julie Beck, Faith Hill, Derek Thompson, Tom Nichols, Amy Weiss-Meyer, and Kaitlyn Tiffany.
---
The Week Ahead
---
Essay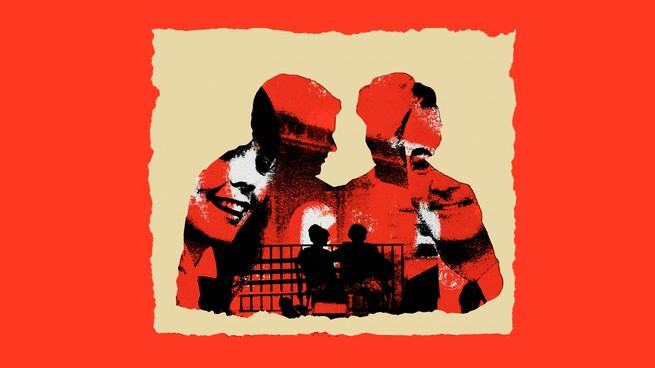 A Rom-Com That Seduces the Old-Fashioned Way
By Jane Hu
It is a truth universally acknowledged that a single, hot woman must be in want of a schlubby man who can make her laugh. This is, at least, the fantasy that romantic comedies have too often sold us, from Woody Allen's Manhattan to Harold Ramis's Groundhog Day to Judd Apatow's Knocked Up. In these films, what's most valued in a man is not his body—or even his bank account—but his winning personality. When it comes to romancing a woman, humor and a heart of gold turn out to be a foolproof strategy of seduction. And part of the comedy is that an average-looking man who tells good jokes is able to tell them all the way to the bedroom.

This familiar trope is also the opening setup to Curtis Sittenfeld's latest novel, Romantic Comedy, though Sittenfeld deftly toggles between deconstructing a well-worn genre and leaning into its most predictable beats. She does this, in part, by setting her novel in the entertainment industry—that producer of slick narrative arcs and neat archetypes—and, more specifically, by making her protagonist a professional comedian, someone whose literal job is to poke fun at the scripts that govern our desires.
---
More in Culture
---
Catch Up on The Atlantic
---
Photo Album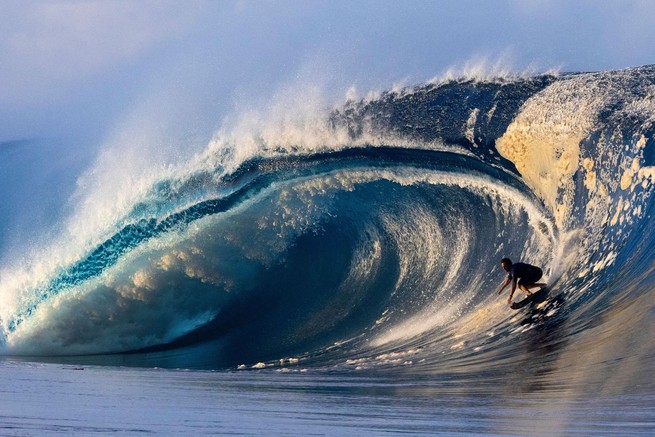 Check out snapshots of big-wave surfing in Tahiti, preparations for a coronation in London, moments from the Met Gala in New York, and more in our editor's selection of the week's best photos.