Weepy British Alt-Rock That Stands the Test of Time
Entertainment musts from Derek Thompson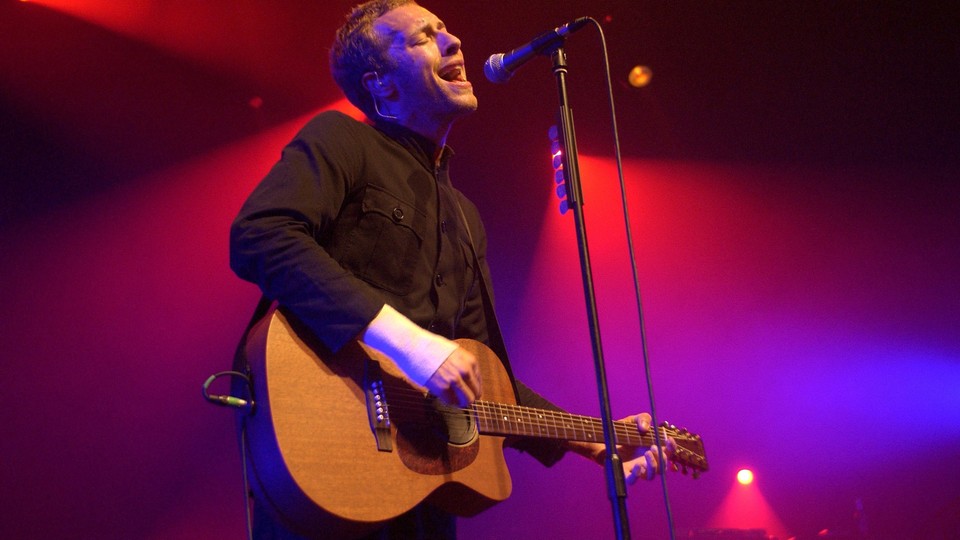 This is an edition of The Atlantic Daily, a newsletter that guides you through the biggest stories of the day, helps you discover new ideas, and recommends the best in culture. Sign up for it here.
Good morning, and welcome back to The Daily's Sunday culture edition, in which one Atlantic writer reveals what's keeping them entertained.
Today's special guest is the Atlantic staff writer Derek Thompson, the author of the new Atlantic Editions title On Work: Money, Meaning, Identity; The Atlantic's Work in Progress newsletter; and the 2018 best seller Hit Makers: How to Succeed in an Age of Distraction. Derek is also the founder and host of the news podcast Plain English With Derek Thompson. Derek is devoted to the early-2000s musical stylings of Coldplay, Fall Out Boy, and My Chemical Romance; wonders whether his sports-media consumption is something akin to gossip; and repeatedly finds himself "in slack-jawed awe" of a certain novel by the late Philip Roth.
First, here are three Sunday reads from The Atlantic:
---
The Culture Survey: Derek Thompson
A musical artist who means a lot to me: I have written at least five articles about Coldplay for The Atlantic. The fact that this sin against taste has not resulted in my firing speaks volumes about our magazine's sincere devotion to a diversity of viewpoints and perspectives. People sometimes ask me, with a hint of concern, "Do you really actually like Coldplay?" I do! Or, more specifically, I like the version of those guys that I associate with my teens and 20s.
An online study based on data from U.S. Spotify users determined that the average music listener stops discovering new music by their early 30s. Because it is apparently a fact of biology that I am too old to start sincerely caring about any new artist, I'm stuck with the taste of my foolish youth, which is an early-2000s affection for weepy British alt-rock. Coldplay got rich and happy and peppy-electronic in their middle age. This makes me glad for them but sad for their music, because I simply refuse to listen to Chris Martin write his 40th dance-synth ode to birds or stars. Gimme the good ole stuff: the spiders and shivers, the clocks and numbers and figures of turn-of-the-century, sobbing-into-their-Earl-Grey Coldplay.
A painting, sculpture, or other piece of visual art that I cherish: My favorite period of art history, which is also my favorite period of non-art history, is the late 19th and early 20th century. This is the period when just about everything was invented: cars, planes, cornflakes, aspirin, Coca-Cola, hamburgers, sneakers, and what we (well, art historians) think of as abstract art. The father of abstract art is typically considered to be Wassily Kandinsky, whose untitled 1910 work (now labeled First Abstract Watercolor) was for decades known as the first abstract painting. But in 2018, the Guggenheim Museum in New York City put together a truly extraordinary and rightly famous show establishing that an obscure and wondrous Swedish painter named Hilma af Klint was the true pioneer of abstract art. Her big, bright, psychedelic paintings offer a sort of rock-and-roll point of comparison with the soft jazz of Kandinsky's fuzzier and more muted style. Don't make me pick between them. They're both eternal and awesome. [Related: To understand art, think biology. (from 2019)]
Something I recently rewatched, reread, or otherwise revisited: Every year or so, I reread parts of Sabbath's Theater, by Philip Roth. If you've never read Sabbath's Theater, hoo boy. I guess I'd say buy it immediately and thank (curse) me later when, 30 pages into this psychic torture chamber, this moral house of horrors, this monstrosity of sesquipedalian human depravation, the question occurs to you: Is Derek … all right?
Well, look, I don't know what to tell you. We don't choose our taste; we can only rationalize it. What I would say, mid-rationalization, is that Sabbath's Theater is a writer at full throttle descending into the Mariana Trench of human nature and writing a symphony. I remember reading Isaac Asimov for the first time when I was 10 and thinking, I didn't realize writers were allowed to do that! That's me reading Sabbath's Theater every year: giggling, gasping, in slack-jawed awe over a book that keeps going way too far—and then just keeps going. [Related: Remembering Philip Roth, a giant of American literature (from 2018)]
The last debate I had about culture: This is more a point of frequent discussion than of contentious debate, but I have become fascinated by my own relationship to the NBA. I don't watch games during the regular season. I don't read much about basketball. But I consume hundreds of hours of podcasts about the NBA during the regular season and off-season. I've come to realize that my relationship to non-playoff basketball is essentially what one might call "gossip." So the NBA serves as an auditory reality show, which magically transforms into a visual sport in April. This is not a normal way to consume sports content! And yet, I've gathered that it is, for many, a common way to follow the NBA.
The upcoming event I'm most looking forward to: I like big, beautiful, brainy, bombastic blockbusters, and my favorite film directors are Christopher Nolan and Denis Villeneuve. So the answer to this question is pretty easy: I'm on pins and crysknife-needles for Dune: Part Two and Oppenheimer. [Related: The blockbuster that Hollywood was afraid to make (from 2021)]
A quiet song that I love, and a loud song that I love: Max Richter's recomposition of Vivaldi's The Four Seasons is my favorite music to write to. Take one of the most beautiful pieces of classical music and have a genius for cinematic grandiosity interpolate it, speed it up, slow it down, make it new. Spectacular way to start a day. As for loud, I like to work out to over-the-top angsty tenors screaming melodies over arpeggiating electric guitars. So we're talking Fall Out Boy, My Chemical Romance … you know, the Vivaldis of the 21st century.
[Related: Max Richter's soundtrack to dystopia (from 2016);
My Chemical Romance wore themselves out, and it was glorious. (from 2013)]
The last thing that made me cry: [This answer contains oblique spoilers.] A few years ago, I watched the end of Arrival alone at home. My wife walked in at the end of the movie to find me on the couch, absolutely bawling. A few weeks later, my wife watched Arrival alone at home, and, incredibly, I happened to walk in the door during the final scene to see her similarly bawling. This might raise some questions about the strange intimacy of our movie-watching habits. From the temporal perspective of the heptapods, we watched Arrival and cried together. [Related: The epic intimacy of Arrival (from 2016)]
Read past editions of the Culture Survey with Tom Nichols, Amy Weiss-Meyer, Kaitlyn Tiffany, Bhumi Tharoor, Amanda Mull, Megan Garber, Helen Lewis, Jane Yong Kim, Clint Smith, John Hendrickson, Gal Beckerman, Kate Lindsay, Xochitl Gonzalez, Spencer Kornhaber, Jenisha Watts, David French, Shirley Li, David Sims, Lenika Cruz, Jordan Calhoun, Hannah Giorgis, and Sophie Gilbert.
---
The Week Ahead
Renfield, a modern-day Dracula retelling in which the notorious vampire's loyal servant (played by Nicholas Hoult) attempts to break free from his self-obsessed boss (Nicolas Cage) (in theaters Friday)
72 Seasons, the first new album from Metallica in almost seven years (on sale and streaming Friday)
The Marvelous Mrs. Maisel, whose fifth and final season reveals the denouement of its titular comedienne's path to showbiz success (begins streaming Friday on Amazon Prime)
---
Essay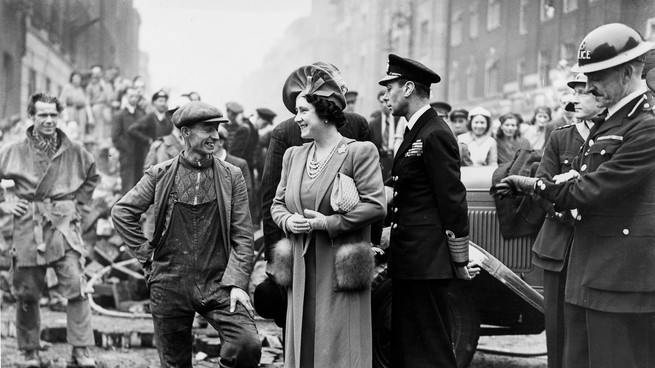 When the Royals Showed Their Human Side
By Sally Bedell Smith
Claiming that a single royal couple saved the centuries-old British monarchy might be going a bit far. But King George VI and Queen Elizabeth, by an accident of history and through personal qualities that earned the admiration and support of the British public, may have done just that during some of the most challenging times the country had ever seen. George VI had been crowned King just three years before the outbreak of World War II, and his and Elizabeth's nerves, perseverance, and courage would be severely tested during the conflict—especially when Britain itself became a battlefield. Nowhere is this more obvious than during the Blitz, when the monarchs broke with protocol and mingled directly with the people. Their actions during those days set the pattern for their leadership during the most critical year of the war.
---
More in Culture
---
Catch Up on The Atlantic
---
Photo Album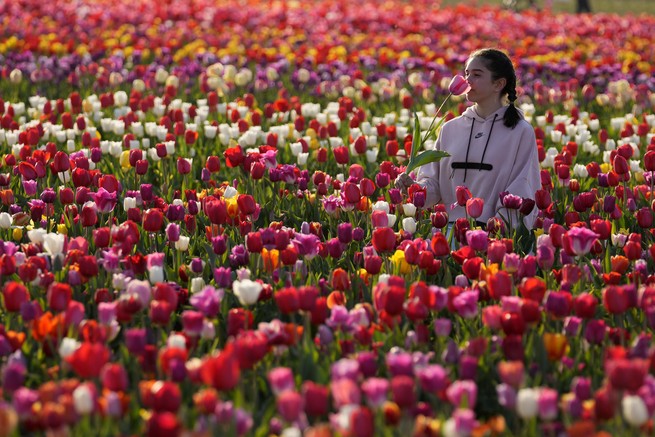 A Holy Week procession in El Salvador, a field of tulips in Italy, and much more in our editor's photo selections of the week.