The Best Cuisine on Earth
Readers argue in favor of their favorite menus from across the globe.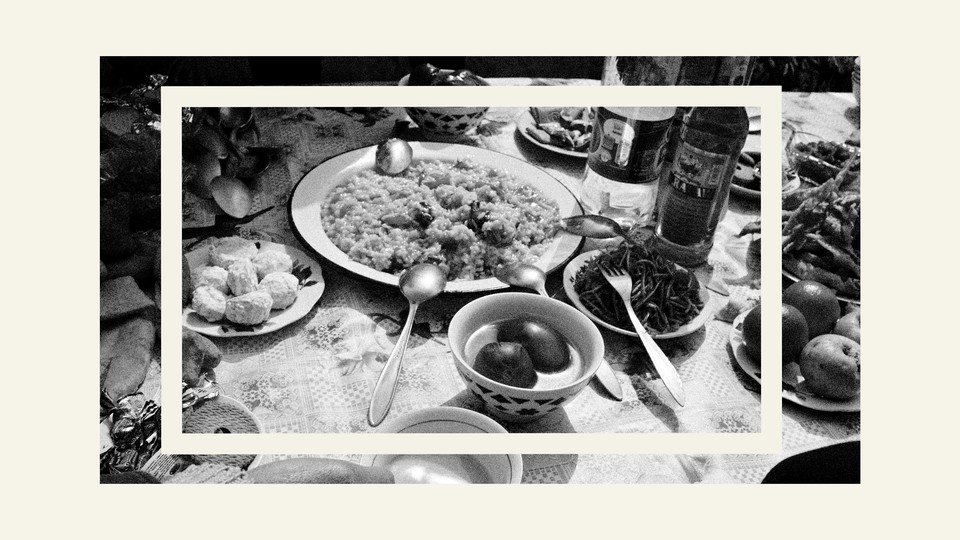 Welcome to Up for Debate. Each week, Conor Friedersdorf rounds up timely conversations and solicits reader responses to one thought-provoking question. Later, he publishes some thoughtful replies. Sign up for the newsletter here.
Last week, I asked readers to defend the proposition that their favorite cuisine is the world's best.
Rob wrote on behalf of a southeast-Asian standout:
The world's best cuisine cannot be one in which its greatest dishes are accessible only on rare or expensive occasions. Everyone should be able to enjoy a cuisine's must-try meals, regardless of their budget, nutritional needs, or level of adventurousness. For this reason, Vietnamese cuisine might be the world's best.

For one, you won't need a map or a Michelin star to find something good to eat when visiting Vietnam. The best meals are prepared and served on the street. The tables are usually made of cheap plastic and the stools are sometimes only 12 inches off the ground. You'll spend the equivalent of one to two American dollars, on a random sidewalk in Saigon, and it will be one the richest, most delicious meals of your life. Two, it's little wonder that Vietnamese food is so often named among the world's healthiest. The ingredients are fresh and the combinations are light. It's not so rich or heavy that it can be consumed only as an indulgence. Three, it's up to you to decide how you want it. While the chefs and cooks of other global cuisines may be often unwilling to deviate from tradition to appeal to popular or idiosyncratic tastes, the Vietnamese are much more accommodating. Low tolerance for anything spicy? Don't worry; you add your own chiles. Not sure if you're comfortable eating that? Start with a bowl of pho and a banh mi—a soup and a sandwich. And if you're clumsy with chopsticks, there's probably a fork at the table.

The world has so many incredible cuisines. Each can claim complex, satisfying, memorable meals. But Vietnamese is the best. Everyone can enjoy it.
Scott prefers the aquatic snacks of the United States:
My favorite cuisine is good old American seafood from all across the country: lobster, cod, and chowder from New England; blue crab and oysters from the mid-Atlantic; catfish, shrimp and grits, and she-crab soup from the South; grouper, mahi, and stone-crab claws from Florida; crawdads, seafood gumbo, étouffée, and blackened fish from Louisiana; gulf shrimp, ceviche, and black drum from Texas; cioppino, sushi, and fish tacos from California; Dungeness crab, fresh salmon, and geoduck in the Pacific Northwest; sautéed lake trout, perch, and walleye from the inland freshwater lakes … plus hundreds of others I missed.

All of it fresh, amazing, and delicious.
Mitchell revealed his pick reluctantly:
For the record, I'm the type of person who orders anything "drunken" on the Thai menu, reads Marcella Hazan's cookbooks for fun, and waits months for a reservation at Owamni, so picking a favorite cuisine feels almost like cheating on my significant other. (I feel like somehow the boeuf bourguignon I plan on cooking next weekend is gonna hear I didn't pick French cuisine, then promptly decide to scorch during the braise.)

Caveats aside, I love food from the Levant, specifically Lebanese cuisine. The reason for my adoration is the ingredients they use, combined with simple cooking methods and accessible flavors: pomegranate molasses, preserved lemons, za'atar, every herb under the sun (the region was central to the spice trade), hot peppers introduced from the Americas, lamb and other funky meats, fresh pita. I understand this is just a list of ingredients, but my mouth started watering just typing them. And even though these ingredients are all over the map, the cooking methods are straightforward: raw salads with olive oil and lemon; kofta cooked over hot coals; bulgur rehydrated with herbs in boiling water. And in the end, all the notes get hit—the raw garlic spice of toum; the bracing acidity of labneh; the sticky sweet crispness of baklava; salty olives from some of the oldest trees in the world.

But I guess it makes sense that one of the cradles of civilization would've ended up figuring out the best food. Ancient, fresh, complex, and simple—Lebanese cuisine checks all the delicious boxes.
Bekke's favorite cuisine is "down-home Midwestern farm cooking":
Perhaps this is due to my childhood experience with my grandmother's freshly slaughtered chickens, fried and served with homemade country gravy; fresh vegetables from her garden; homemade bread and jam. My great-aunt Rosa made the best chiffon pies (a childhood delight), and my grandmother and I spent many happy hours baking gingersnaps and other cookies. For years, my birthday preference was pecan pie, not cake. Even today, the foods served at family and community gatherings are always delicious, although not always the healthiest, and served in great abundance.

And, best of all, they're made with love.  
M.'s favorite cuisine belongs to an island:
I lived for several years in Japan—first with a family of wedding-kimono makers and then on my own in a working-class neighborhood in Tokyo. I prefer the food I found in the various food stands in Monzen-Nakacho to the upper-class cuisine I ate regularly during my first stay. My second visit I was a student at a university in Japan living on a small stipend. The last week of every month I'd be down to my last few hundred yen. I'd go to the ramen shop a block from my tiny apartment and order a plain bowl of noodles.

The owner asked me where I was from when he realized I could speak Japanese. What was I doing in Japan? he asked. It turned out I was studying at the same university his son was attending. I told him I had received a scholarship to study Japanese literature. From then on I was treated to bowls of the most amazing ramen I've ever eaten: miso ramen; tonkatsu (pork) ramen; shoyu ramen (soy sauce based). He put vegetables and various meat or seafood in my soup but charged me only for a simple bowl of ramen with nothing added. Eventually, he simply wouldn't take my money. Those noodles! All homemade.

I cannot make my miso ramen or soup taste anywhere near his, but I could live on Japanese food and be very happy: sushi—not the huge rolls at American Japanese restaurants but the nigiri and maki of Japan—are bite-size pieces of wonder; cold tofu and fried tofu; mackerel; unagi; Japanese curry; tempura. And even teriyaki—but not the sweet syrup found in too many places in this country. I make sticky rice with a small piece of salmon, nori, and some green tea in the bowl and I am happy.
Oscar's favorite is mine too:
Definitely Mexican. World-class. Complex. Nuanced. Accessible. Simple. Historical.  
Virginia defends the cliché answer with relish:
Things are typically cliché for a reason, and that is the case with French cuisine. It is my favorite for so many reasons, and not all of them have to do with the food items themselves.

I worked in the music industry for some 20-odd years and had the good fortune of attending the Marché International du Disque et de l'Édition Musicale, or Midem, held each year in Cannes. The company I worked for did it in style, putting us all in the legendary Carlton hotel and permitting us to fly in a day or two ahead and stay a day or two later. I took full advantage of that to soak up as much of the French Riviera as I could.

I fell in love with the total sensory experience of French cuisine. It moved beyond the incredibly creamy and rich silkiness of the yogurt served in glass jars, so thick and seductive as it slid past my lips first thing in the morning with a slight tang—just enough to rouse my sleepy mind delightfully. It went beyond the café crème served in china cups that might have been older than this country. It was so much more than the exquisite salade Niçoise at the café a few doors down. It is all those lovely ingredients prepared with intense attention to every little detail of every ingredient to offer diners' tastebuds a true feast. But it is also the complete sensory experience of dining in France.

Alongside the glasses of champagne, which are so aptly assigned the adjective sparkling, and the fluffy clouds of pastry, the French served up candlelight or a sunny sky, conversation or pensive hours, a view of the Mediterranean or 100-year-old candlelit stone walls adorned with quick sketches by Picasso and Matisse, among others, and a look of disappointed condemnation for an American woman who was silly enough to rush through a meal because she sat alone in a packed restaurant at lunchtime. That experience slammed home to me the importance to the French of savoring not only one's meal but, rather, the entire meal hour. Every minute of it, and with every sense. No one minds a woman dining alone. But they do mind her rushing through the meal.

After the disdain tossed at me by the staff during that rushed lunch of mine, I made sure to maximize every moment of my time in France each year to just absorb it all and enjoy it to the fullest. In one of my last years there, I had dinner with a colleague from New York I only saw once each year, at Midem, and she marveled at how brave I was to venture out of the hotel and go to restaurants alone, especially since my French was and still is very rudimentary and meager. I told her it had nothing to do with bravery and everything to do with a determination to not miss out on anything.

Whenever work sent us anywhere international, I ensured that I had a free weekend, during which I would visit a grocery store and walk around the local shops. But no matter where in the world I was, those experiences always brought to mind French cuisine, and I suppose they always will. I do not know if I will ever return to experience French cuisine in France, so I have learned to make the country's pastries and salads and I seek out its yogurt and champagnes whenever I can. And above all else, I slow down and savor every bit of the experience of those foods, from putting my hands into the flour mixture to the last sip of a hot café. The cuisine reminds me of one of the most important life lessons I've had—life is fleeting, but our senses can make each minute of it special if you will only let it.
Eden counters that we all know a neighboring cuisine is better:
There are so many cuisines to choose from that this question is tricky to answer. What can top the American breakfast, with its hearty scrambles, crispy bacon, and luscious French toast? Is there anything better than a hot, steaming bowl of pho with the thin slices of raw steak that cook in the rich, anise-tinged broth? What about tacos with crispy carnitas that melt in your mouth? Spicy curries, french fries, sushi, pastrami sandwiches, and fried chicken are all to die for.

However, one cuisine trumps all the rest: Everyone knows it is Italian food. When I read your question, the first thing that popped into my head was a pan full of cheesy, comforting lasagne. Risotto. Bolognese. Vongole. Cacio e pepe. PIZZA! Tell me you can live without pizza and pasta, and I will tell you that it is not a life worth living.
Miriam's choice is the cuisine of her ancestors:
Ashkenazi Jewish cooking is brown and beige. It's not fashionable or garlic-heavy, and it excludes lots of delectable things like pork, shellfish, and the combination of meat and dairy. Moreover, I discovered it only in my teens and 20s, after both my grandmothers had died. It is not the taste of my childhood. But it's haimish—it is the taste of my roots.

Like Jewish cooking everywhere, Ashkenazi food is the cuisine of central and eastern European Jews' gentile neighbors, adapted to Jewish dietary laws and with matzoh added. Now with so many Ashkenazi-style restaurants closing their doors, Polish and Ukrainian restaurants are where I usually go for a taste of nostalgia. Just yesterday I read the bad news in Tablet that whitefish chubs may soon be a thing of the past; another delight bites the dust.

I can't convince gentiles that Ashkenazi Jewish cooking is the best. But I can write this love letter and valediction.
Mary Ann writes:
If I had to choose just one item, it would be Hokkaido milk bread; I can toast it, make sandwiches, make pizza, butter it, or eat it plain. It's versatile and delicious.
Phoebe cooks all the time and one cuisine stands out:
My favorite cuisine is Middle Eastern, specifically, from Lebanon, Palestine, Syria, and Israel. To me, it checks every single box. The food is so varied. The flavors are astoundingly complex. Meals include tons of fruits, vegetables, meats, grains, nuts, and, last but definitely not least, spices. The dishes take on different personalities and different regional tastes. And it's one of the world's healthiest cuisines, based on what research we've got. My litmus test is "What could I eat every day, for every meal, and be happy?" This is it.
Bobby describes his favorite meal, which has changed:
For a long time my go-to has been a traditional turkey dinner with all of the fixings and sides, but it's a heavy meal that necessarily includes a lot of potential allergens and dietary restrictions (gluten, meat, etc.).

Just earlier this week I was thinking how a nice bowl of hot ramen was probably my current No. 1. At its base form, ramen only requires a few simple ingredients, and it rules. It's hot and savory and chewy and slurpy and filling. But then you can add meat and eggs and more veggies and spice and all sorts of things to create a variety of sensory experiences, all while never sacrificing the core of what makes ramen great in the first place. Plus, if you really want some cronch, you can get karaage on the side at many ramen places. And hot green tea or hot sake to drink? Damn, now that's a perfect meal on a rainy spring day.
Emily hearts New York City:
The city has its own style of pizza, bagels, cheesecake, and hot dogs. Not to mention the foods that are quintessential to a NYC deli: The pastrami! The chopped cheese!  Black-and-white cookies, even! All unbeatable, in my opinion, spawning countless "NYC-style" eateries worldwide. And all that culinary excellence coming out of just one city? No cuisine on earth can compare. I moved away two years ago and I miss it every day.
Jaleelah likes Arab food:
Arab food has everything you need. The peasant dishes are packed with superfoods—my grandmother finds it hilarious that tahini and freekeh have become health-food crazes. The salads are the best in the world. There's no pointless filler like lettuce; the dishes are made to be flavourful. I could eat tabbouleh for breakfast every day. And most of the dishes are relatively cheap and easy to make. One $20 shawarma platter will give you at least three balanced meals.
And Joshua prefers the local cuisine wherever he happens to be:
As a Michigander, I am extremely partial to our style of pizza: square, in a pan, with a practically burnt crust. Delicious. Or the Detroit Coney dog: Chili, mustard, and onions smothered over a hot dog. Or the pasty, a meat-pie creation with a rich history in the mining culture of the Upper Peninsula of Michigan.

When I travel within the United States, I never seek out the familiar. I avoid restaurant chains of any kind. I don't rely on Google Maps or Yelp to find a bite to eat. I ask someone local (my Uber driver, the hotel desk staff, etc.) where they go for takeout. In a country with a long history of immigration, every city has its own unique food scene. I always seek out the best plate of food I can find for under $15. You eat crabs when you are in Baltimore. Lobster in New England. BBQ in Kansas City. Gumbo in New Orleans. You drown yourself in cheese in Wisconsin. This world is so much more exciting when you eat the food that everyone else is eating in that specific place, but not necessarily anywhere else.
Thanks for all your evocative answers––I'll see you later this week.