Why Is Ice Cream So Easy to Love?
In America, the frozen treat has become associated with comfort and escape.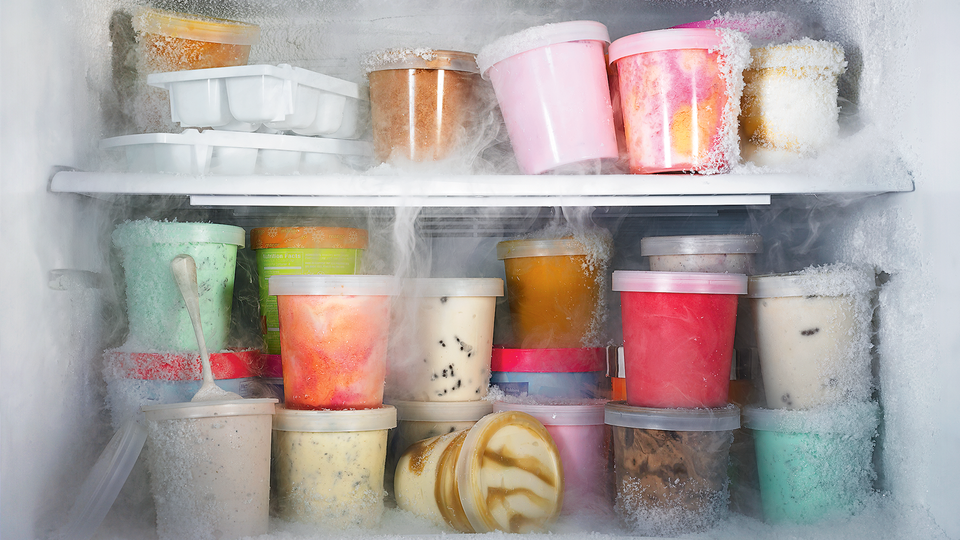 This is an edition of The Wonder Reader, a newsletter in which our editors recommend a set of stories to spark your curiosity and fill you with delight. Sign up here to get it every Saturday morning.
Ice cream is delicious. But it's also a direct line to daydreams and memories—of leisure, of afternoons in the sun, of the excitement you felt as a 5-year-old meeting the ice-cream truck as it rolled down your street.
In 2017, the culture writer Matt Siegel noted an Austrian study that found that "only ice cream lowered the human startle response in men and women (at least when ingested by syringe), whereas chocolate and yogurt did not produce statistically significant outcomes across genders." This suggests that the comfort of ice cream goes much deeper than "the physiological effects of sugar, fat, temperature, and perceived sweetness," Siegel writes. "The phenomenon, it appears, is largely psychological."
The writer Margaret Visser argues that ice cream evokes two kinds of nostalgia: one for childhood memories, which recall that feeling of comfort, and the other for "Elsewhere"—summer vacations, beaches, whatever elsewhere means to the rememberer in question.
The psychological benefits of ice cream were so ingrained in America's consciousness by World War II that in 1945, the U.S. Navy spent $1 million to convert a barge into a floating ice-cream factory that was towed around the Pacific, distributing ice cream to ships so troops could enjoy it.
As spring settles in, we're thinking about ice cream. Why do we love it so much? And—here's a plot twist—could it actually be healthy for us?
---
On Ice Cream
Nutrition Science's Most Preposterous Result
Studies show a mysterious health benefit to ice cream. Scientists don't want to talk about it.
How Ice Cream Helped America at War
For decades, the military made sure soldiers had access to the treat—including by spending $1 million on a floating ice-cream factory.
The Post-Millennial Generation Is Here
… and they're working at the Museum of Ice Cream.
---
Still Curious?
Ice cream for beginners: Back in 2000, the food writer Corby Kummer taught readers about a flavor that will make even novice ice-cream makers feel like sophisticates.
What it's like to work as an ice-cream factory: Althea Sherwood talks about her long career at Ben & Jerry's and why flavors with cookie dough and frosting are hard to make. (From 2016)
---
Other Diversions
---
P.S.
America's deep love of ice cream goes all the way back to its founding: I learned from Matt Siegel's piece that George Washington spent about $200 on ice cream in one summer—the equivalent of more than $5,000 today.
— Isabel