How to Support Evan Gershkovich
Russia's detention of a Wall Street Journal reporter is part of a disturbing global phenomenon.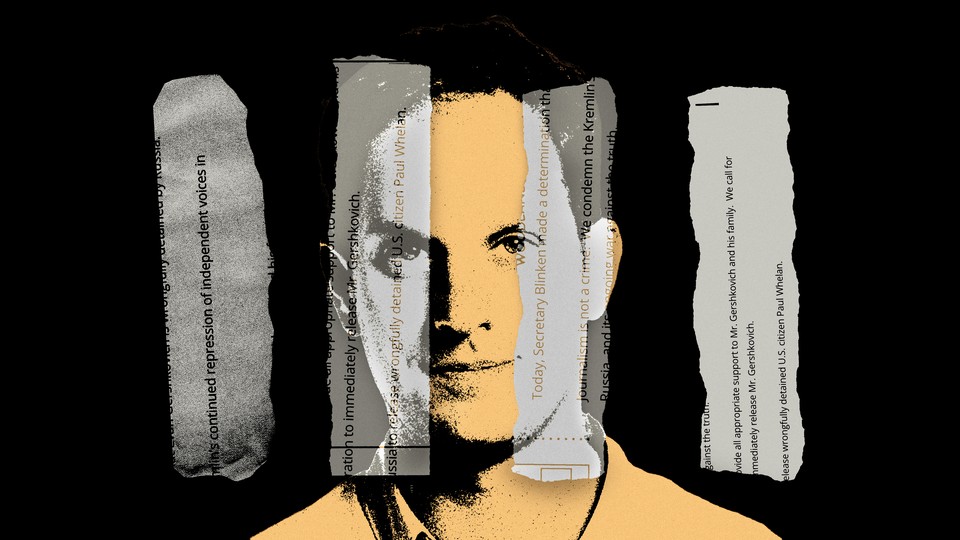 This is an edition of The Atlantic Daily, a newsletter that guides you through the biggest stories of the day, helps you discover new ideas, and recommends the best in culture. Sign up for it here.
In footage from Moscow released this week, the detained Wall Street Journal reporter Evan Gershkovich looked defiant. "He knows he hasn't done anything wrong," Jason Rezaian, a journalist who was arrested in Iran in 2014, told me. Gershkovich must also know that his detention is part of a bigger story.
First, here are four new articles from The Atlantic:
---
A Look of Defiance
This week we caught the first glimpse of the Wall Street Journal reporter Evan Gershkovich since he was arrested three weeks ago on charges of espionage. The brief clip was surreal: an American journalist standing inside a glass cage in a Moscow courtroom. Local Russian reporters shouted words of support; security guards rebuked them. But the thing that stood out most to me was the expression on Gershkovich's face—not quite a smile, but a smirk.
Gershkovich's arrest has provoked global outrage, and for good reason. He's the first foreign journalist to be charged with espionage in Russia since the Cold War. The White House has called the charges against him "ridiculous" and demanded his release. The Journal has similarly denied the accusation of spying, and described his arrest as "a vicious affront to a free press." There is no existing evidence that Gershkovich was a spy, and many experts believe his detention is meant to intimidate the foreign correspondents who remain in the country. (Gershkovich pleaded not guilty; he was denied bail, and he'll remain in the Lefortovo Prison pending trial.)
As a journalist who covers the nexus of politics and the media, I've written about many of the issues raised by Gershkovich's case: Russian information warfare, press freedom, authoritarian crackdowns on journalism. But after I watched those moments in the Moscow courtroom, the smirk is what stayed with me. What is Gershkovich going through right now? What is he thinking?
To try and understand, I called Jason Rezaian. As a foreign correspondent for The Washington Post, Rezaian was arrested in Iran in 2014 on bogus spying charges. He was held captive for 544 days in Tehran, where he endured a sham trial not entirely unlike the one Gershkovich is likely to face.
Rezaian told me that the first weeks of imprisonment at the hands of an autocratic regime are disorienting. "You're asking, Why am I here? What's going on? This is all a big mistake." Pretty soon, his initial hopes that the whole ordeal would get straightened out gave way to fear. Although the precise conditions of Gershkovich's imprisonment are unknown, experts and former inmates at Lefortovo Prison believe he spent the first weeks of captivity in solitary confinement (as did Rezaian). "The experience of solitary confinement is pretty universal," Rezaian told me. "It's designed to break you down to a small, scared, malleable animal." During Rezaian's imprisonment, he said, he was routinely told by his captors that he would likely face execution.
That's why Rezaian told me he, too, was impressed by Gershkovich's smirk. "The thing that stuck out to me was the defiance," Rezaian said. "He knows he hasn't done anything wrong."
Gershkovich must also know that his detention is part of a broader story. Vladimir Putin's regime has been cracking down on independent Russian news outlets for years, and has gotten only more aggressive since its invasion of Ukraine. Some Russian-language outlets have been forced to relocate to other countries; others have shut down. That means that much of the credible reporting on Russia has come from foreign outlets. Now that could change. "This is a dramatic escalation," Jodie Ginsberg, the president of the Committee to Protect Journalists, told me. "They have all but snuffed out Russian journalism. Foreign correspondents have somewhat been able to operate—this essentially sends a message that if they continue to do so, they potentially face jail."
Russia isn't the only country that's becoming more hostile to journalists. In Turkey, President Recep Tayyip Erdoğan has stepped up censorship of coverage critical of his government, and thrown scores of reporters in jail. In India, one of the last remaining news channels known for independent reporting was recently acquired by a billionaire ally of the country's Hindu-nationalist prime minister. According to the Committee to Protect Journalists, 363 reporters were in prison around the world as of December 2022—more than at any point in the past 30 years.
Ginsberg attributes this grim statistic to the "decline of democracy and democratic norms worldwide." Governments' use of the court system against reporters, she said, is "a way of muddying the waters, equating journalism with criminal activity in the eyes of the public."
Here in the U.S., we reporters have it pretty good by comparison. The First Amendment remains the envy of the world, and with rare exceptions, we are able to do our jobs safely without threat of imprisonment or violence. I'll admit that I sometimes cringe when I see my fellow American political reporters self-righteously grandstand on cable news about the hardships we face, as though we're persecuted heroes deserving of public sympathy and reverence. In truth, we're just people doing our jobs—and not always perfectly.
But even in America, we're not immune to rising anti-press sentiment. The former president—and current front-runner for the Republican nomination—has dubbed the news media "the enemy of the people," and campaigned on making it easier to sue journalists. His supporters frequently target individual reporters for online harassment. And as I reported in a cover story for The Atlantic in 2021, local newspapers across the country are being systematically gutted by a hedge fund founded by a wealthy donor to that same former president.
All of which is to say, now is not a good time for civic-minded Americans to look away from genuine authoritarian assaults on the press. When I talked to Rezaian and Ginsberg, I asked them both what ordinary people could do to support Gershkovich. Rezaian said the thing he craved most in captivity was outside contact: "Whatever connection you have to the free world, it's like oxygen." To that end, friends of Gershkovich have set up an email address to which you can send supportive notes; they'll translate the notes into Russian—ensuring that they pass through the prison's screening system—and send them to his cell. The email is freegershkovich@gmail.com.
Ginsberg, meanwhile, stressed the importance of keeping the international spotlight on Gershkovich's case by posting on social media or calling congressional representatives. "This isn't just about Evan," she told me. "It's about our ability to understand what's going on in Russia and all over the world."
Related:
---
Today's News
The Supreme Court extended a temporary stay on a lower-court ruling, upholding the Food and Drug Administration's approval of the abortion pill mifepristone, which will preserve access to the drug through at least the end of the workweek.
Two teenage boys were charged with murder in connection with the shooting at a 16th-birthday party in Alabama that injured 32 and left four dead over the weekend.
Facebook parent company Meta began a new round of layoffs; the cuts are reportedly focused on workers in technical roles, including members of the user-experience and messaging teams.
---
Dispatches
The Weekly Planet: Collecting food scraps in your kitchen can invite insect invaders—but there are plenty of ways to outsmart them, Katherine J. Wu writes.
Explore all of our newsletters here.
---
Evening Read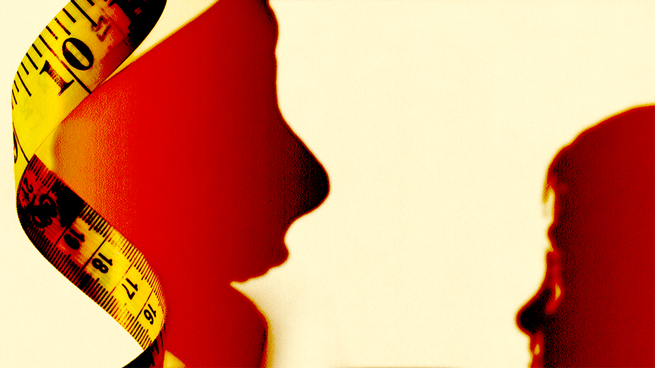 Nutrition Research Forgot About Dads
By Virginia Sole-Smith
When his 18-year-old daughter Francine first started losing weight, in the fall of 2018, Kenneth initially thought it was a good thing. Francine had always been artistic but never particularly athletic, which puzzled her father. Kenneth, now 47, is a runner with dozens of half-marathons and even one ultramarathon under his belt.

When Francine started to express an interest in exercising and joining Kenneth's wife, Tracy, for workouts, Kenneth and Tracy thought it was a positive sign. When Francine announced that she was vegan, they rolled with it.

Then Francine's hair started to fall out.
---
More From The Atlantic
---
Culture Break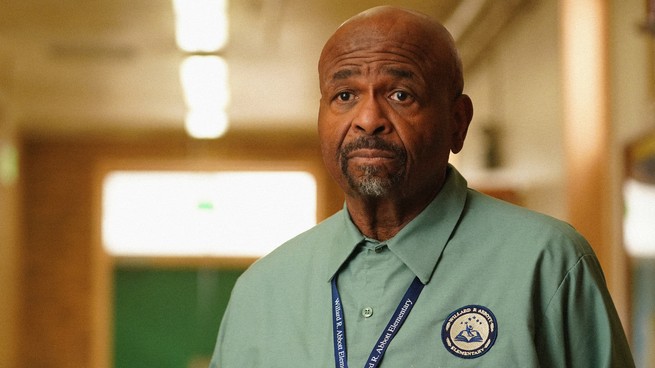 Read. A new book argues that the microscopic agents behind our deadliest infectious diseases are the real protagonists of human history.
Watch. Abbott Elementary, whose second-season finale airs tonight (pay extra close attention to its dryly funny janitor, Mr. Johnson).
---
Kelli María Korducki contributed to this newsletter.