Fox News on Trial
The most influential media company in America is about to be tested like never before.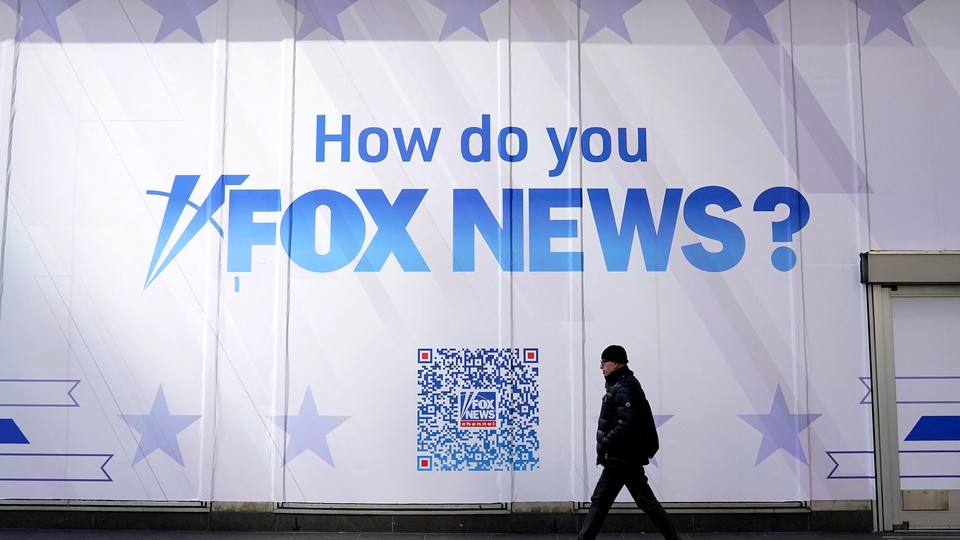 This is an edition of The Atlantic Daily, a newsletter that guides you through the biggest stories of the day, helps you discover new ideas, and recommends the best in culture. Sign up for it here.
The $1.6 billion Fox News defamation trial is about to begin. More than Rupert Murdoch's pocketbook is at stake—practically the entire media industry is watching with schadenfreude, and maybe even a little dread.
First, here are three new stories from The Atlantic:
---
A Look Down the Fox Hole
The word of the week is malice. Did Fox News act with "actual malice" in broadcasting a litany of lies about Dominion Voting Systems' machines in the days and weeks after the 2020 presidential election? On Monday, a jury in Wilmington, Delaware, will hear opening arguments in the landmark case.
Very few defamation suits go to trial. The evidence against Fox is overwhelming. Some of the network's biggest names, including Tucker Carlson, had their private text messages surface in the discovery process. "The software shit is absurd," Carlson wrote to his producer. Even Murdoch, in his deposition, personally cast doubt on former President Donald Trump's claims about a "stolen election." He also acknowledged that several of his hosts "endorsed" the Dominion conspiracy theory. Nevertheless, the Fox brass kept allowing lunacy about Dominion to transpire on its airwaves. (No, Dominion does not have secret ties to the family of former Venezuelan President Hugo Chávez, for instance.) Last year, Dominion CEO John Poulos told 60 Minutes that he and his employees have faced threats and harassment as a result of the lies.
The unfortunate reality is that news organizations get stories wrong all the time. The sheer thought of landing their work on the Corrections page can keep journalists up at night. David Simon captured this perpetual anxiety during Season 5 of The Wire, in an episode fittingly titled "Unconfirmed Reports." In a particularly memorable scene, Gus Haynes, the grizzled city editor of The Baltimore Sun, springs out of bed and calls the paper's night desk, asking a fellow editor to make sure he didn't accidentally transpose two details in the course of futzing with a story. (He didn't.) Such a mistake would have been just that, a mistake—which is qualitatively different from acting with malice, or with heightened disregard for the truth, the burden of proof in a defamation suit like Dominion's.
Last year, Sarah Palin's defamation suit against The New York Times was dismissed because of Palin's basic failure to prove her case. Palin had sued the paper over an editorial that contained inaccuracies, but Judge Jed Rakoff ruled that Palin hadn't provided adequate evidence to meet the legal standard required of a public figure suing for libel. The Times did not live up to its high standards, but neither did it act with actual malice.
While it's tempting to grab some popcorn and root against Fox next week, the fact that the network known for propaganda is furiously (if unsuccessfully) invoking the First Amendment in its own defense complicates things. In our present era of dystopian book banning and library defunding, journalists and citizens alike should be wary of any legal precedent that could potentially narrow existing First Amendment freedoms.
No, Fox does not have a "right" to peddle lies about a technology company from Toronto. But high-profile cases such as this one can have a perilous downstream effect. Future lawyers can cite even part of a ruling to bend a judge or jury toward their side in a contentious case. We should all be hoping for truth and justice to prevail, while simultaneously praying that we don't keep seeing more First Amendment(ish) cases going to trial in the years to come. The best press is an empowered press, so long as it's not reckless.
To keep matters interesting: The case may still settle before Monday morning. Fox has already suffered some behind-the-scenes exposure (how's that for a mixed metaphor?) and may want to avoid any additional texts or emails becoming public. Murdoch, Carlson, and other household Fox names could also be forced to testify.
If the trial does last its expected four weeks, I'll be curious to see the extent to which the people who drew jury duty understand the nuances in question. Eight years ago, Marvin Gaye's estate successfully sued Robin Thicke and Pharrell Williams, claiming that Thicke and Williams's mega-hit "Blurred Lines" plagiarized Gaye's "Got to Give It Up." Each set of song lyrics is different, but they are sonically similar in terms of "groove" or "feel." In a surprise to music-industry experts, Gaye's estate won the verdict, but the jury did not find the offense to be "willful." Those stakes were no doubt lower than the ones in the Dominion case, but the jury will have to parse similar details—namely the difference between an incorrect statement and a malicious lie.
Meanwhile, the next presidential election is just getting rolling, with Trump and Joe Biden poised for a rematch. After a reported "soft ban," Fox is giving Trump plenty of airtime again. This week, he sat down for an interview with Carlson to discuss his first indictment. Carlson let the former president ramble at length, and even praised his statements as "moderate, sensible, and wise." Yet, as we learned in the plethora of Dominion evidence, Carlson once texted of Trump, "I hate him passionately."
Related:
---
Today's News
Federal investigators arrested an Air National Guardsman in their inquiry of leaked classified intelligence documents.
A federal appeals court ruled late yesterday that the abortion pill mifepristone could remain available, but left restrictions in place that prevent the drug's access by mail, partly overruling a Texas judge's decision last week that declared the Food and Drug Administration's original approval of the drug, in 2000, invalid.
Former President Donald Trump was deposed in New York City as part of the $250 million civil lawsuit filed by the state's attorney general, Letitia James, which alleges widespread fraud by Trump and his company.
---
Dispatches
Explore all of our newsletters here.
---
Evening Read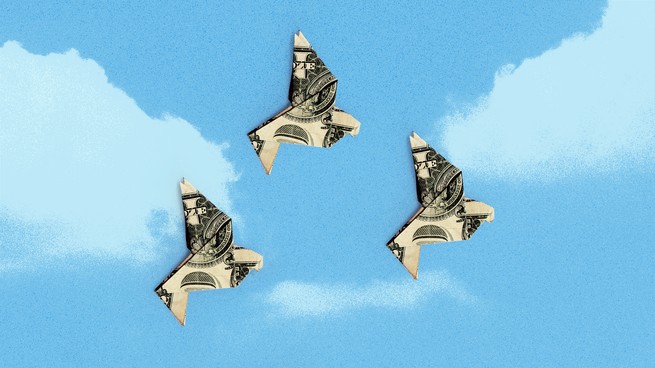 Money May Buy Happiness. But Not as Much as You Think.
By Michael Mechanic
For more than half a century, researchers at UCLA have conducted a massive annual survey of incoming college students titled "The American Freshman: National Norms." One part of the survey asks students to rank 20 life goals on a scale from "not important" to "essential." Most are lofty aspirations such as becoming a community leader, contributing to scientific progress, creating artistic works, and launching a suc­cessful business. Surveyed in 1969, freshmen entering four-year colleges were most interested in "developing a meaningful philosophy of life" (85 percent considered it "essential" or "very important"); "raising a family" (73 percent); and "helping others who are in difficulty" (69 percent). Ten years later, freshmen opted for "being an authority in my field" (74 percent), followed by "helping others" and "raising a family."

But something shifted amid the Reagan Revolution, which deregulated Wall Street, revamped the tax code, and set the nation hurtling toward levels of wealth and income inequality unseen since before the Great Depression. By 1989, a new priority had taken over the survey's top position, and has appeared there on and off ever since: money. Indeed, the No. 1 goal of the Class of 2023, deemed "essential" or "very important" by more than four in five students, was "being very well off financially."
---
More From The Atlantic
---
Culture Break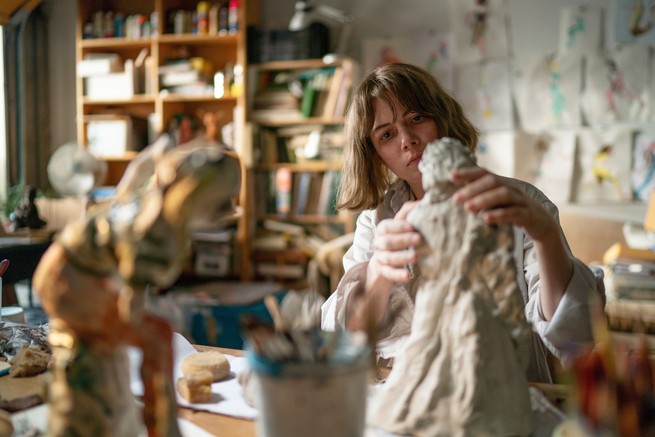 Read. In The Real Work, the writer Adam Gopnik extols the virtues of striving for mastery in place of superficial achievements.
Watch. Showing Up, the new film (now in theaters) by the director Kelly Reichardt, understands what a creative life actually looks like.
---
P.S.
It's hard not to watch all of this Fox News drama unfold against the backdrop of the final season of Succession without noticing a few parallels. The briefly unified sibling trio of Kendall, Shiv, and Roman are still duking it out in the remaining episodes to be their father's successor. My extremely idiotic and unfounded prediction is that Cousin Greg will get full control of the company. In the immortal words of Greg, "If it is to be said, so it be, so it is."
— John
Kelli María Korducki and Isabel Fattal contributed to this newsletter.