A Movie to Watch—And Weep Over—Alone
Entertainment musts from Faith Hill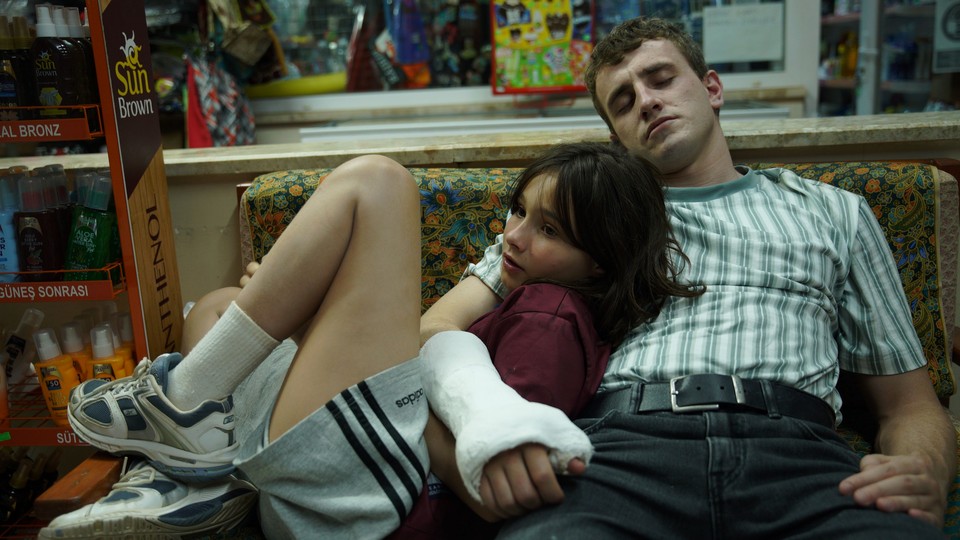 This is an edition of The Atlantic Daily, a newsletter that guides you through the biggest stories of the day, helps you discover new ideas, and recommends the best in culture. Sign up for it here.
Good morning, and welcome back to The Daily's Sunday culture edition, in which one Atlantic writer reveals what's keeping them entertained.
Today's special guest is Atlantic senior associate editor Faith Hill. A wearer of many hats, Faith edits stories for our Family section, commissions and edits our original poetry submissions, and, as a writer, frequently chronicles eye-opening trends in relationships and human behavior. She recently wrote about the awkward in-between-ship of early-stage romantic entanglement, the widespread misinterpretation of attachment theory, and second-chance couples. In our survey, Faith discusses her "sick" childhood obsession with the singer Avril Lavigne, how she recently loved (and wept at) the movie Aftersun, and her coming to terms with, in rewatching the TV series Girls, the startling possibility that she just might be a Marnie.
First, here are three Sunday reads from The Atlantic:
---
The Culture Survey: Faith Hill
The last thing that made me cry: I saw Aftersun in a theater with friends whom I love and trust, but part of me still wishes I'd seen it alone; when the movie ended and the lights came on, they revealed that I was fully weeping. The train ride home with one of those friends was pretty quiet, save for the occasional "Whoa," "That was intense," or, as we looked briefly at each other's overwhelmed, vacant stare, "Yeah." I couldn't read reviews for more than a week afterward—I felt so fragile about it. [Related: When a father is just out of reach]
The television show I'm most enjoying right now: I've been dutifully watching the new season of Love Is Blind, though I'm not sure enjoying is quite the right word for my experience. The contestants make me either angry or sad; none of the couples seem like they'll last or even like they really like each other. Every time I watch it, I end up texting someone, "I'm depressed." And yet, when new episodes drop, I immediately binge them and complain about waiting for the next ones. Is that just what it means to love a TV show in our modern age? [Related: Why America loves Love Is Blind;
Love Is Blind was the ultimate reality-TV paradox. (From 2020)]
Something I loved as a teenager and still love: As a kid, I had a sick obsession with the pop-punk singer Avril Lavigne. I say "sick" because of the sheer extent of it; I mean, I wore neckties to school to mimic her style. I somehow managed to write all of my assignments about her. My teachers had to mention it at parent-teacher conferences. Everyone told me—probably out of genuine concern for my mental health—that it was just a phase I'd grow out of. In some ways, I did—but also, have you listened to "Fall to Pieces" lately? Genius. When I love, I love hard. [Related: What Avril Lavigne has always understood about growing up]
Something I recently rewatched, reread, or otherwise revisited: Like many people, I've been rewatching HBO's Girls. I was always a Marnie defender: She's terrible, obviously, but the show's characters all are! Why does everyone hate her the most? My old theory was that viewers were especially irked by the character most similar to them, and there are a lot of Marnies in the world. But I didn't believe I was one of them; I'm not at all type A, nor am I one of those people who always look clean. I felt I had room to empathize with her.
My revisit of the series has me wondering, though, if I'd perhaps gotten the rule backwards; maybe everyone feels for the character most similar to them, and I've been a Marnie all along—competitive, insecure, weirdly attracted to Ray, desperate to build a life that seems successful just to prove my own worth. I recently watched the episode where Ray, upon request, tells Marnie everything that's wrong with her. "When you're excluded from things," he says at one point in his long list, "you're outrageously offended and hold on to this grudge." Do we not all do that?
[Related: The wistful, sharp return of Girls (from 2017);
Girls: Still flawless at being itself (from 2016)]
A painting, sculpture, or other piece of visual art that I cherish: I know this answer is the least cool imaginable, but—I'm sorry—I really do love Vincent van Gogh. You can somehow feel in every work, even the still lives and the landscapes, the pulse of his anguish, his searching, his intensity. It's like the paint is alive and writhing in turmoil. And he was a beautiful writer too; his letters to his brother, Theo, chart his despair, his moments of joy, his constant questioning of how to live a good life. "In the springtime a bird in a cage knows very well that there's something he'd be good for," he wrote in one, explaining that he was at once ambitious, hopeful, and profoundly lost. "He feels very clearly that there's something to be done but he can't do it." Maybe van Gogh was a Marnie too.
A favorite story I've read in The Atlantic: As someone who's deeply afraid of my friends getting married and abandoning me forever, I felt validated and fired up reading "What You Lose When You Gain a Spouse." I mention it to people all the time, pointing wildly to the paragraph about single people being more connected to those around them, my voice rising in pitch until the nearest glass shatters. No one has committed—yet—to platonically raising children with me. But by the time my friends hit 35, I expect they'll come crawling.
A poem, or line of poetry, that I return to: Tiana Clark is an excellent poet, and I still think often of her poem "I Stare at a Cormorant." The whole first stanza is one long sentence in which she breathlessly hops from watching a cormorant stretched in the sun to memories of lifting up her hands in church as a kid, wanting but failing to feel overcome. She balances perfectly between hope and longing, capturing the ways we do experience transcendent moments—just briefly, before they slip through our fingers.
I'm still stumbling
through this life hoping for anyone or
something to save me. I'm still thinking
about the cormorant who disappeared
when I was writing this poem. I was just
looking down and finishing a line
and then I looked back up—gone.
Read past editions of the Culture Survey with Derek Thompson, Tom Nichols, Amy Weiss-Meyer, Kaitlyn Tiffany, Bhumi Tharoor, Amanda Mull, Megan Garber, Helen Lewis, Jane Yong Kim, Clint Smith, John Hendrickson, Gal Beckerman, Kate Lindsay, Xochitl Gonzalez, Spencer Kornhaber, Jenisha Watts, David French, Shirley Li, David Sims, Lenika Cruz, Jordan Calhoun, Hannah Giorgis, and Sophie Gilbert.
---
The Week Ahead
Barry, the darkly comedic saga of a listless hit man (played by Bill Hader), returns to HBO for its fourth and final season (premieres tonight at 10 p.m. EDT on HBO and HBO Max).
The Wager, the New Yorker staff writer David Grann's latest book, unspools a true story of shipwreck, treachery, and empire (on sale Tuesday).
Guy Ritchie's The Covenant—yes, that's the movie's title—stars Jake Gyllenhaal as a U.S.-military sergeant who forges a bond with his local interpreter, played by Dar Salim, during his last tour in Afghanistan (in theaters Friday).
---
Essay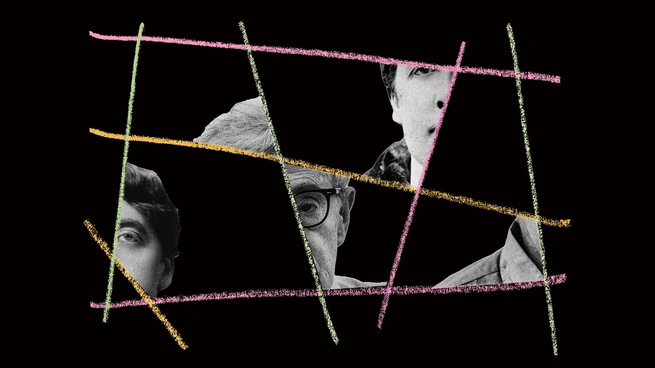 It's Okay to Like Good Art by Bad People
By Judith Shulevitz
In 1895, the popular satirist and dandy Oscar Wilde was tried and sentenced to a prison term, with hard labor, for "gross indecency," meaning sexual acts with men. The ordeal effectively ended his career, shortened his life, and made his name synonymous with depravity for at least a generation. The young Katherine Mansfield, struggling with her alarming attraction to women, wrote to a friend in 1909 that thinking about Wilde had led to "fits of madness" like those that drove him to "his ruin and his mental decay."

More than a century later, Wilde is a canonical figure, the preeminent wit of Victorian literature and the beau ideal of the queer aesthetic—campy, ironic, a gender-boundary provocateur. To most of his contemporaries, Wilde wound up being a monster. To us, he's an icon. But if he were held to today's standards of appropriate sexual behavior, homosexual or heterosexual, he'd be a monster again. Wilde didn't just sleep with men. He slept with "rent boys" (male prostitutes) and teenage boys picked up for brief trysts.
---
More in Culture
---
Catch Up on The Atlantic
---
Photo Album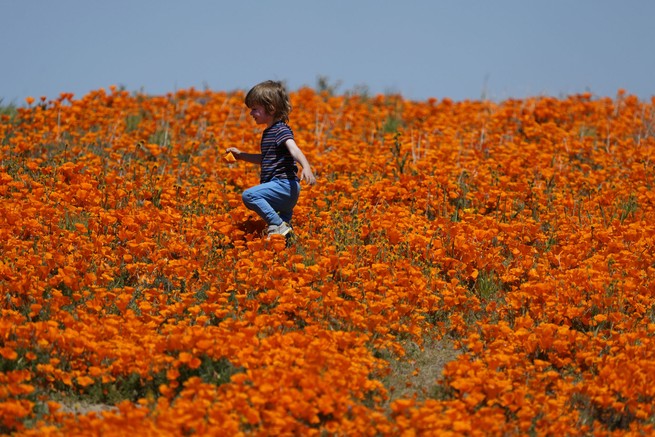 An unusually wet winter has led to a "superbloom" of wildflowers in California. Our photo editor rounded up some of the best recent snapshots from the southern portion of the state.
---