The Cases Against Trump: A Guide
The timelines, the issues at stake, and the threat they pose to the former president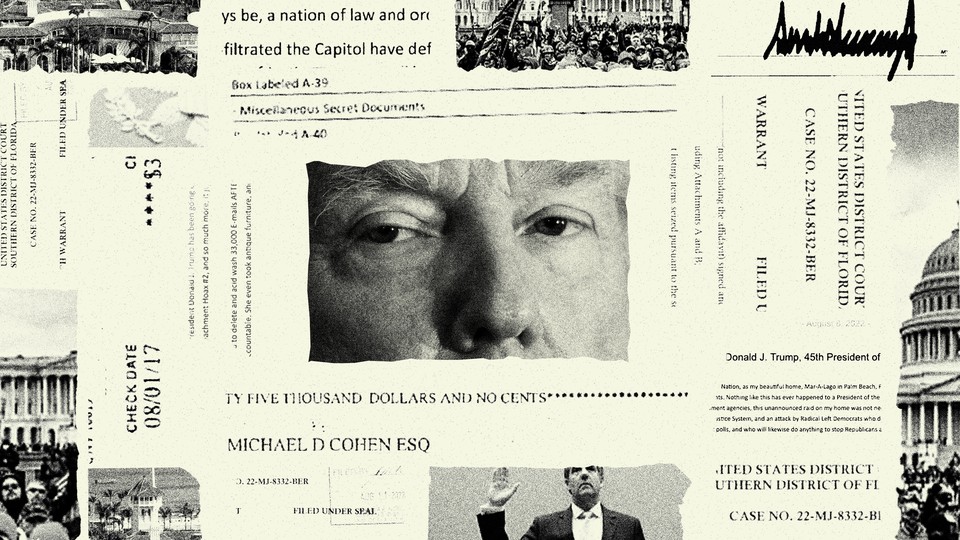 This is an edition of The Atlantic Daily, a newsletter that guides you through the biggest stories of the day, helps you discover new ideas, and recommends the best in culture. Sign up for it here.
If you're finding it hard to keep track of all of former President Donald Trump's legal woes, don't feel bad: He can't get it straight, either. Last weekend, he announced that he'd be arrested in Manhattan on Tuesday. It's now Thursday, and Trump remains a free man, with no indictment from a grand jury yet. Public indications still seem to point toward charges against Trump in Manhattan, but what and when are still a mystery. And several more cases loom beyond that.
Assuming Trump is eventually charged, whether in Manhattan or elsewhere, the result will be a spectacle no one alive has seen before: a former U.S. president under arrest. We likely won't see a classic perp walk, with officers holding him by each arm and escorting him. The process would instead be arranged and negotiated beforehand, and he's reportedly been debating whether to smile for the cameras on his way to being booked. Trump would have to be fingerprinted like any other defendant, and then he'd be released. But that would be just the start of a long process toward a trial or plea, and then a verdict.
With so many investigations and cases floating around, maintaining a sense of the issues at stake in each investigation, the timeline for them, and how serious a threat to the former president they pose is tricky—even when you've been following the cases for years now, as I have. Here's my attempt to put all of the open criminal cases against Donald Trump in context for easy reference. I've arranged the cases by my assessment of the seriousness of the allegations to democracy and the rule of law, from the least significant to the most.
Manhattan: Hush Money
Because District Attorney Alvin Bragg has not announced charges, we have to speculate a bit, but public evidence suggests that Bragg is looking at a claim that Trump falsified business records in reimbursing his former fixer Michael Cohen for a hush payment made to Stormy Daniels, an adult-film actor who allegedly had an affair with Trump. Cohen's payoff and Trump's reimbursement are not in dispute, but Trump denies the affair and any lawbreaking.
When? The timing of any charges is a topic of intense speculation, especially after Trump's prediction last weekend of a Tuesday arrest. The grand jury unexpectedly didn't meet yesterday and is reportedly meeting on a different matter today. That means we're probably looking at next week at the earliest.
How grave is the allegation? Look, falsifying records is a crime, and crime is bad. But many people have analogized this case to Al Capone's conviction on tax evasion: It's not that he didn't deserve it, but it wasn't really why he was an infamous villain. Unless Bragg has a more elaborate case than he has tipped, this feels like a minor offense compared with the others I'll get to below.
How plausible is conviction? The case Bragg is most likely to make faces hurdles, including the statute of limitations, a questionable key witness in Cohen, and some untested legal theories. In short, based on what we know, the Manhattan case seems like perhaps both the least significant and the legally weakest case. Even some Trump critics are dismayed that Bragg seems to be likely to bring charges before any other criminal case.
Department of Justice: Mar-a-Lago Documents
Special Counsel Jack Smith is overseeing a Justice Department probe into presidential records, some of them highly classified, found at Trump's Mar-a-Lago home. Trump removed many documents from the White House when he left office, then refused to return some despite repeated requests. His attorneys attested that he'd returned all relevant documents, but an August 2022 search turned up many, including extremely sensitive documents allegedly stored haphazardly.
When? Smith faces a de facto deadline of January 20, 2025, at which point Trump or any Republican president would likely shut down a case if they take office. Last week a court matter raised eyebrows, as prosecutors persuaded a judge to order Trump's attorney to hand over documents, ruling that attorney-client privilege didn't apply because evidence suggested that Trump's attorneys may have advanced a crime. Then this week, Trump appealed, but the D.C. Circuit Court rejected the attempt in a lightning-fast decision.
How grave is the allegation? The alleged handling of the documents is not as serious as Trump's attempts to overturn the election, but it's probably a solid bronze medal on this list. The documents are highly sensitive for national security, and if allegations are true, Trump refused to comply with a subpoena, tried to hide documents, and lied to the government through his attorneys.
How plausible is conviction? This may be the most open-and-shut case. Not every case involving classified documents gets charged, but if Smith decides to prosecute, the facts and legal theory here are more straightforward than in almost any other of these matters.
Fulton County: Election Subversion
In Fulton County, Georgia, which includes most of Atlanta, District Attorney Fani Willis has been conducting an investigation into attempts to steal the 2020 presidential election in Georgia, including Trump's call to Secretary of State Brad Raffensperger, in which he pressured Raffensperger to "find 11,780 votes" to allow him to win.
When? A special grand jury completed its work in January and recommended that its report be made public. The special grand jury can make recommendations, but a normal grand jury would have to issue indictments. During a January hearing over whether to release the full report, prosecutors told a judge that decisions on charges were "imminent," but so far nothing has emerged. (The judge withheld most of the report.)
How grave is the allegation? Short of the federal January 6 case (which I'll get to next), this is probably the most egregious. Trump's pressure offensive against officials at the state level to try and change the results of the election was a grave attack on democracy. But Willis can focus only on what happened in Georgia, one piece of the bigger whole.
How plausible is conviction? Experts differ. This is a huge case for a local prosecutor, even in a county as large as Fulton, to bring. The grand jury's foreperson said in an interview that there will be no big surprises in who the jury suggested be charged. Willis has the advantage of the recording of the Raffensperger call, which is close to a smoking gun.
Department of Justice: January 6
Special Counsel Smith is overseeing the federal probes related to Trump's attempt to subvert the 2020 election and overturn the results, as well as the insurrection on January 6, 2021.
When? No one knows. As with the other DOJ case, Smith needs to move quickly, before Trump or any other Republican president could shut down a case upon taking office in January 2025.
How grave is the allegation? This is the most important Trump case out there. You can't get much graver than attempting to subvert the American election system and inciting an attack on Congress, and the Justice Department has the potential to address the whole sordid episode.
How plausible is conviction? It's very hard to say. Everyone saw the attack, but we don't know what crimes Smith might charge, or what legal theories he might use—the House January 6 committee, for example, made a nonbinding recommendation to apply a seldom-used charge of aiding insurrection—or whether he would even charge Trump or instead opt to prosecute lower-level officials.