The Emotional Range of Tattoos
They can be thrilling and reassuring all at once.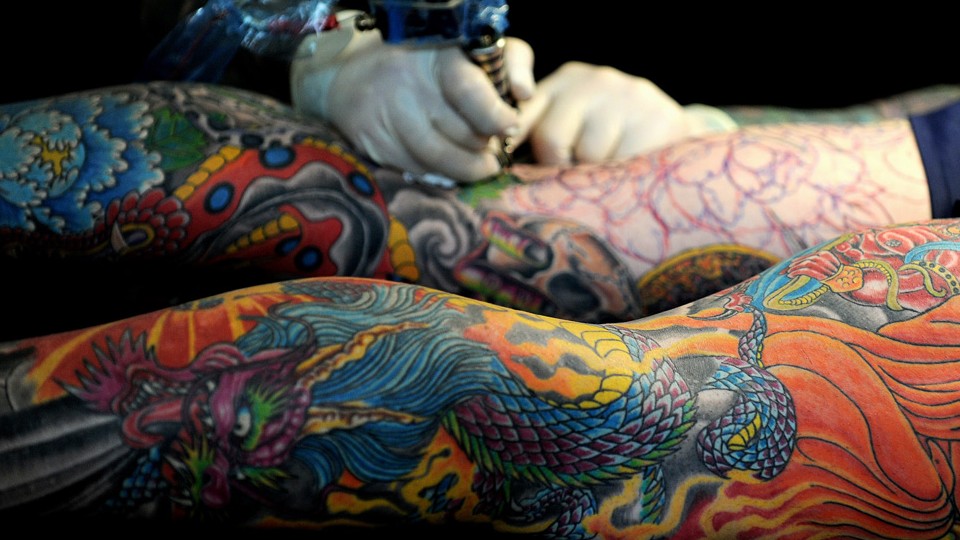 This is an edition of The Wonder Reader, a newsletter in which our editors recommend a set of stories to spark your curiosity and fill you with delight. Sign up here to get it every Saturday morning.
Tattoos were once a sign of outsider status. But that's changed in the 21st century: "My doctor has both of his arms totally sleeved. I have a friend that's a corporate lawyer, and she's working on her body suit," a tattoo artist told the editor Adrienne Green in 2016.
Tattoos have now found a home in the mainstream, with Millennials holding the title of "most-tattooed American generation." For some, they are a marker of personal identity; in a 2014 story, Chris Weller pointed to research from the mid-2000s suggesting that tattoo owners "seemed to need proof that their identities existed at all. They relied on tattoos as a way to establish some understanding of who they actually were."
Tattoos are also thrilling: "Part of the magic of tattoos for me is the emotional roller coaster," Amanda Mull wrote in 2019—"the rush of adrenaline from a fresh wound, the giddiness of showing a new tattoo to friends, the moment of panic at having possibly made a difficult-to-fix mistake." And tattoos might even hold answers for boosting human immunity, our science writer Katherine J. Wu reported this week.
Below are some stories about how tattoos work, and the many forms of meaning behind the ink.
---
Tattoos Do Odd Things to the Immune System
By Katherine J. Wu
When you stick ink-filled needles into your skin, your body's defenders respond accordingly. Scientists aren't sure if that's good or bad for you.
Tattoos Now Have an Exit Strategy
By Amanda Mull
An Instagram-friendly option for people wary of forever
Watching Tattoos Go From Rebellious to Mainstream
By Adrienne Green
"You used to get tattooed to be on the outside, and now you get tattooed to be inside." (From 2016)
---
Still Curious?
---
Other Diversions
---
P.S.
In her article, Amanda pointed out an interesting moral lesson that I (as a tattoo-less person) hadn't considered: "Permanent tattoos are always a small admission that plenty of decisions you make every day can't be meaningfully reversed, even if you can't see the results in your skin."
— Isabel