Merrick Garland Is No Pushover
The more we learn, the more aggressive the attorney general's approach looks.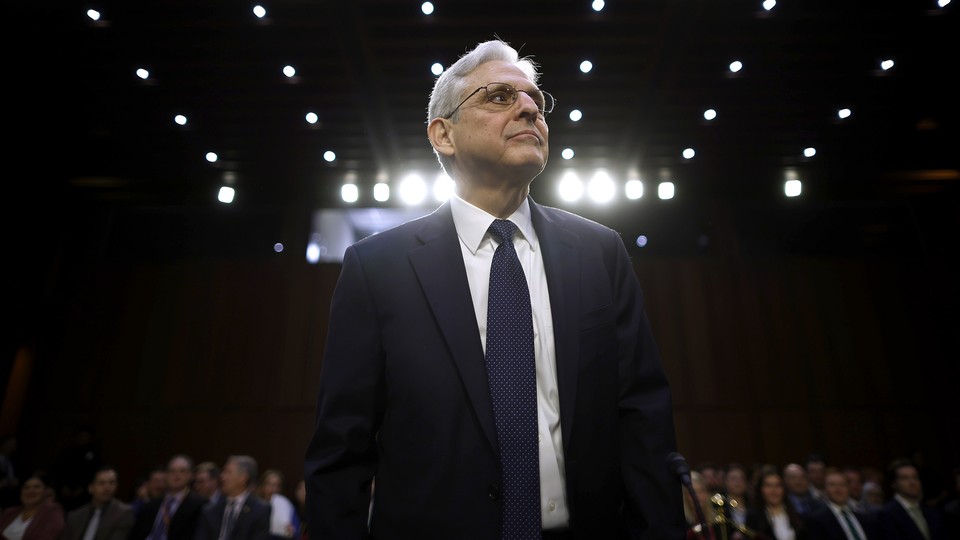 This is an edition of The Atlantic Daily, a newsletter that guides you through the biggest stories of the day, helps you discover new ideas, and recommends the best in culture. Sign up for it here.
Many critics of Donald Trump concluded long ago that Attorney General Merrick Garland was not equal to the challenge of holding the former president accountable. It might be time for them to reassess.
First, here are three new stories from The Atlantic:
---
Deliberate Aggression
No one would mistake Merrick Garland for a firebrand. When President Joe Biden nominated him to lead the Justice Department, the former federal judge cited Edward Levi, the attorney general who restored faith in the department after Watergate, as a role model. But Garland faced a potentially more complicated charge than Levi: Whereas Richard Nixon had resigned, been pardoned, and withdrawn from the national stage, Garland had to rebuild the DOJ while also delivering accountability for Trump, who remains unrepentant and is running to return to office.
As weeks turned to months and we passed the one-year mark of Biden's term, Garland's apparently slow pace on the second task rattled observers who worry that Trump will end up facing little punishment for attempting to steal the election and inciting an insurrection—and that he might even return to the White House. But deliberation is not the same as inaction. The first sign that Garland was not as disengaged as he might have seemed came when the FBI executed a warrant at Mar-a-Lago in August, seeking government records—some highly sensitive—that Trump had allegedly improperly taken. And the more we learn, the more aggressive Garland's approach looks.
This week, The Washington Post reported on how the surprise August search was the culmination of a running disagreement between the FBI and Justice Department prosecutors. (All of them ultimately report to Garland.) Some of the FBI officials were reluctant to push Trump too hard and wanted to ask him for permission or to slow-walk the process. My colleague Adam Serwer notes the irony that the bureau, which Trump and Republicans have portrayed as implacably politically opposed to him, was actually quite eager to protect him. But backed by Garland, who personally approved the search, the prosecutors ultimately won the day.
Separately, the Justice Department argued in a court filing yesterday that Trump can be liable for actions of the mob that stormed the Capitol on January 6, 2021. A group of Capitol Police officers and members of the House of Representatives have sued the former president for physical and psychological damage from the riot. Trump's lawyers contend that he cannot be held liable for inciting the riot because he was acting as president at the time, which confers immunity. But the Justice Department disagreed.
"Speaking to the public on matters of public concern is a traditional function of the Presidency, and the outer perimeter of the President's Office includes a vast realm of such speech," government attorneys wrote in the filing. "But that traditional function is one of public communication. It does not include incitement of imminent private violence."
While all of this happens, the criminal investigations into Trump's actions around the 2020 election and the Mar-a-Lago documents are moving swiftly. After Trump announced his presidential campaign in November, Garland appointed Jack Smith, a former Justice Department lawyer, to oversee the probes, and Smith has demonstrated an aggressive streak. In the past month, he has subpoenaed Ivanka Trump, Jared Kushner, and former Vice President Mike Pence. CNN also reports that Smith "is locked in at least eight secret court battles" related to the Trump investigations. (Garland also appointed a special counsel to look into classified documents found in one of Biden's houses and a former office space. He has said that the DOJ can handle an investigation into Hunter Biden, the president's son, internally.)
My colleague Franklin Foer saw all of this coming in an October profile of the attorney general. He wrote that Garland did not seem to relish the position in which he found himself, but that the very qualities that worried Garland's naysayers—his institutionalism, caution, and fastidiousness—were the ones that would likely lead him to indict Trump. "I've reached the conclusion that his devotion to procedure, his belief in the rule of law, and in particular his reverence for the duties, responsibilities, and traditions of the U.S. Department of Justice will cause him to make the most monumental decision an attorney general can make," Frank wrote.
What the attorney general has not managed to do so far is depoliticize public perceptions of the department. By all reports, he's returning a greater professionalism to the department after some of the lowlights of the Trump presidency, but the Mar-a-Lago search and other investigations have made the DOJ a subject of greater political strife. Despite his painstaking approach to the Trump investigations, Garland was grilled by Republicans during a Senate Judiciary Committee hearing this week, and accused (unconvincingly) of conducting a witch hunt against conservatives. An indictment of Trump would only exaggerate complaints of bias from the right.
There is, to be fair, a big gap between investigating and indicting. Trump is clearly upset about how things are going. He issued an angry comment after the DOJ's filing yesterday, and last month released a long, unusual statement, replete with very un-Trumpian footnotes, that I wrote was a preview of the legal strategy he might use if charged with crimes connected to the insurrection. The strategy might work, either as a defense or at least as a deterrence to charges. And, as I reported in January, any case against Trump would also have to move fast, with the goal of concluding before January 20, 2025, when a Republican president could take office and shut it down.
But whatever ultimately happens to Donald Trump, what we've seen over the past month should be enough to put to rest the idea that Garland is letting the former president off easy. Perhaps the Trump years made us forget that the Justice Department can get things done without messy public drama.
Related:
---
Today's News
The former South Carolina lawyer Alex Murdaugh was convicted of murdering his wife and son, and was sentenced to life in prison.
Merrick Garland made an unannounced trip to Ukraine, according to a Justice Department official. It is his second trip to the country since Russia first invaded.
The storm system that damaged parts of the central U.S. this week is now headed toward New England.
---
Dispatches
Explore all of our newsletters here.
---
Evening Read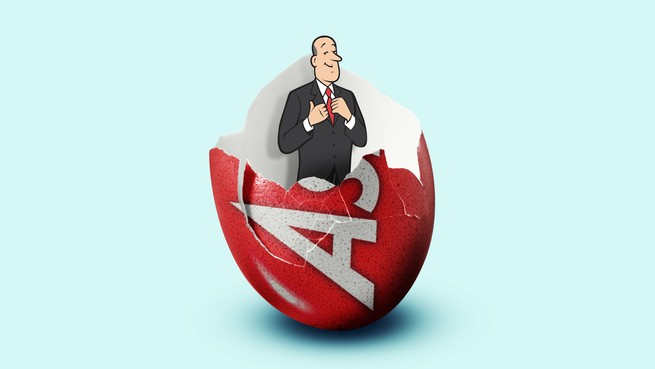 The Vindication of Ask Jeeves
By Charlie Warzel
It was a simpler time. A friend introduced us, pulling up a static yellow webpage using a shaky dial-up modem. A man stood forth, dressed in a dapper black pinstriped suit with a red-accented tie. He held one hand out, as if carrying an imaginary waiter's tray. He looked regal and confident and eminently at my service. "Have a Question?" he beckoned. "Just type it in and click Ask!" And ask, I did. Over and over.

With his steady hand, Jeeves helped me make sense of the tangled mess of the early, pre-Google internet. He wasn't perfect—plenty of context got lost between my inquiries and his responses. Still, my 11-year-old brain always delighted in the idea of a well-coiffed man chauffeuring me down the information superhighway. But things changed.
More From The Atlantic
Read. Go down the Judy Blume rabbit hole. Our senior editor Amy Weiss-Meyer, who recently wrote a profile of Blume, has a guide to get you started.
And these six memoirs are some of the finest of the form.
Watch. In theaters, Creed III makes an old franchise feel fresh.
And these 20 biopics are actually worth spending time with.
Listen. Jazz just lost Wayne Shorter, one of its all-time greats—and one of the greatest composers the United States has ever produced, David wrote yesterday. Spend some time with Shorter's music this weekend.
---
P.S.
Reading news about the train derailment last month in East Palestine, Ohio, has gotten me thinking about disaster songs, one of my favorite niches in the folk-music tradition. Consider the engineer Casey Jones. The U.S. endured several huge wrecks in 1900, but the only one most people might have heard of is the single-fatality crash that claimed Jones's life—because a folk song about him provided him a sort of immortality. Singers have memorialized deadly railroad catastrophes, mining disasters, storms, and even the sinking of the Titanic, but if songs like this are being written today, the music industry as it has come to exist precludes any path for them to achieve the same permanence. East Palestine's misfortune is more likely to be recorded in documentary films, whose dominance my colleague Megan Garber described in her great recent cover story. Both media mix fact and fiction to grab an audience; perhaps we can call disaster songs the infotainment of their era.
— David
Did someone forward you this email? Sign up here.
Isabel Fattal contributed to this newsletter.