The Only Good Portrayal of a Marvel Villain
Bhumi Tharoor's culture and entertainment picks include bachata music, the Marvel series Daredevil, and Rainer Maria Rilke's poetry.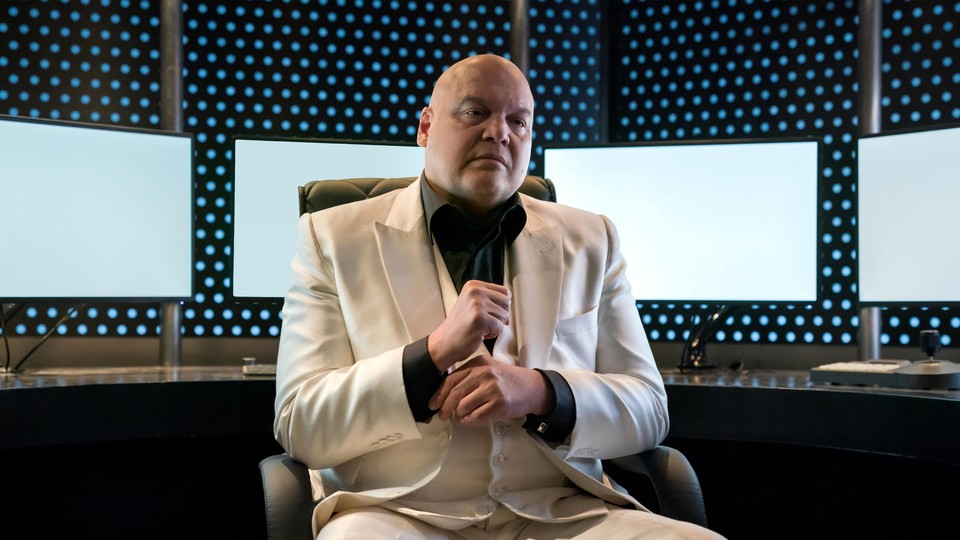 This is an edition of The Atlantic Daily, a newsletter that guides you through the biggest stories of the day, helps you discover new ideas, and recommends the best in culture. Sign up for it here.
Good morning, and welcome back to The Daily's Sunday culture edition, in which one Atlantic staffer reveals what's keeping them entertained.
Today's special guest is the Atlantic managing editor Bhumika Tharoor. When she's not rewatching Golden Girls, Bhumi is dancing to bachata music, reading obituaries that range from heartbreaking to hilarious, and getting a very nontraditional refresher in AP Lit.
First, here are three Sunday reads from The Atlantic:
---
The Culture Survey: Bhumika Tharoor
The upcoming entertainment event I'm most looking forward to: Watching the final season of Succession while looking out for any additional Atlantic references! And then reading Megan Garber's essays on the show. [Related: The bodily horrors of Succession]
A quiet song that I love, and a loud song that I love: "Vente Negra" by Habana con Kola is a quiet song that mesmerized me when I first heard it during a night out dancing. It is coziness in sound form: a salsa song that is smooth at the intro and then expands, engulfing you into the melody. It is both compelling and reassuring. I've fallen in love with this song and you must listen to it. You're welcome.
I use music to shake me out of occasional inertia, so I have a huge selection of loud songs to get me going. Currently, it's "Boom Padi" by Shreya Ghoshal (and performed by Bollywood icon Madhuri Dixit Nene!). It's a garba song, which is a type of music and dance from my family's home state of Gujarat in India. The song features an intense dhol (a percussion instrument) that creates a relentless, rhythmic electricity. Running is not in my constitution, but if I ran, it would be to this.
A painting, sculpture, or other piece of visual art that I cherish: It's called Rabbit in a Snowstorm: a painting on a giant canvas with textured gradations of white, offering a sense of both immensity and depth. You're supposed to behold it and contemplate your solitude in a bleak, unsentimental universe. And you're supposed to be contemplating these things in the penthouse of a skyscraper that looms above your sprawling gangland empire.
I should mention at this point that Rabbit in a Snowstorm is a fictional piece of art found within the masterful piece of art that is Marvel's Daredevil TV series. And its beholder—the bald, brooding, brutish Kingpin, played by Vincent D'Onofrio—is one of the best portrayals of a comic-book villain that I have seen (aside from Heath Ledger's Joker, of course). You can currently stream the first three seasons on Disney+, and a new Daredevil series is expected in spring 2024. [Related: Daredevil: A long-form approach to comic-book television]
Something I recently rewatched, reread, or otherwise revisited: I am besotted with journalistic profiles, and think often about the skilled observations and deftness of touch required to write good ones. This fascination leads me to perhaps a peculiar fondness for reading obituaries, which could be considered mini-profiles. Here are a couple I've loved and keep revisiting:
Three sisters from the Mirabal family are widely credited with igniting the movement that eventually toppled the Dominican Republic's vicious dictator Rafael Trujillo. The sisters spent their lives as members of the resistance movement against Trujillo—until he ordered their assassinations as a consequence of their activism and, potentially,  spurned lust. The fourth and only surviving sister, Dedé, carried forward her sisters' legacy and raised her and her sisters' children, some of whom are now politicians in the DR. This is her obituary.
This obituary for a glorious woman named Renay Mandel Corren, however, had me giggling loudly when I first read it, and every subsequent time I've read it, too. It is terrifically hilarious and I wish I knew this incredible lady, as well as her son, who wrote it.
A song I'll always dance to: I will instantly dance to bachata music. I love it all but am partial to traditional bachata, especially the classics. Some favorites, if you're looking for a good time: The guitar in "Loco de Amor" by Luis Vargas is guaranteed to set your feet loose; "Si Tú Me Dices Ven" and "Esa Novia Mía" sung by Zacarías Ferreira are best danced to while belting the lyrics until your voice turns raspy like his.
An album I fired up again recently: Jagged Little Thrill, by Jagged Edge. And Jasmine Sandlas's What's in a Name? So good!
A favorite story I've read in The Atlantic: It's impossible to select just one story. Here are a few, but please visit TheAtlantic.com for much more.
"30 Years Ago, Romania Deprived Thousands of Babies of Human Contact," by Melissa Fay Greene, took me down a tragic, haunting rabbit hole I didn't know I needed to go down.
Adam Harris's heartbreaking story of the scholar Thea Hunter exposed the core of the exploitation that women of color experience in academia.
Sam Quinones's deeply reported story of those suffering in America's catastrophic meth epidemic: "Crystal meth is in some ways a metaphor for our times—times of anomie and isolation, of paranoia and delusion, of communities coming apart."
Frederick Douglass on impartial suffrage, a timeless and relevant piece from our rich archives that is worth revisiting regularly.
A YouTuber, TikToker, Twitch streamer, or other online creator that I'm a fan of: I love following funny people and reading funny things (like this newsletter, Famous People, by Kaitlyn Tiffany and Lizzie Plaugic). Jahkara Smith (who goes by SailorJ on YouTube and SlaylerJ on Twitter) creates hilarious drunk book reviews that mock the best-of-AP-English list, lighting up The Odyssey, The Taming of the Shrew, Pride and Prejudice, and other fixtures of the canon. There's hilarity, there's razor-sharp social commentary, and it's all casually brilliant.
Something delightful introduced to me by a kid in my life: The kid in my life is my 16-month-old daughter, Kahaani, and she has somehow failed to introduce me to any particularly sophisticated cultural delights, so I'll have to have a conversation with her about that. However, she is a big fan of "La Vaca Lola," a song about a cow that has a head and a tail and says "moo." It is delightful, if only because it leads to her squealing with joy and doing her patented wiggle-dance. Kahaani means "story" in Hindi and a number of other Indian languages, and though she is not yet literate, the one she is currently writing is my favorite.
Things that are making me laugh: Comedians Hasan Minhaj, Nimesh Patel, Matt Rife, and Akaash Singh.
A good recommendation I recently received: I have a cousin who fostered my love of words and good writing. For decades we have regularly tossed each other links to stories, artful turns of phrase, quality repartee, and examples of lovely writing in the wild. He recently sent me this piercing story by Audrey Wollen called "Not to Be," in The New York Review of Books, that shook me. I apologize for the sharp pivot to dark topics—death and euthanasia—but I'm always impressed by writers who force us to face the big, heavy, unknowable things with elegance and clarity.
The last piece of journalism/arts/culture/entertainment that made me cry: Caitlin Dickerson wrote the definitive investigation into the Trump administration's family-separation policy, and I can't recall having such a visceral reaction to any other piece of writing in quite some time. Any cruel act visited upon a baby or toddler is immensely enraging. [Related: "We need to take away children"]
A poem, or line of poetry, that I return to: "… That is why the bird sings its songs into the world as though it were singing into it inner self, that's why we take a birdsong into our own inner selves so easily, it seems to us that we translate it fully, with no remainder, into our feelings; a birdsong can even, for a moment, make the whole world into a sky within us, because we feel that the bird does not distinguish between its heart and the world's."
— from Rainer Maria Rilke's "Note on Birds"
Read past editions of the Culture Survey with Amanda Mull, Megan Garber, Helen Lewis, Jane Yong Kim, Clint Smith, John Hendrickson, Gal Beckerman, Kate Lindsay, Xochitl Gonzalez, Spencer Kornhaber, Jenisha Watts, David French, Shirley Li, David Sims, Lenika Cruz, Jordan Calhoun, Hannah Giorgis, and Sophie Gilbert.
---
The Week Ahead
---
Essay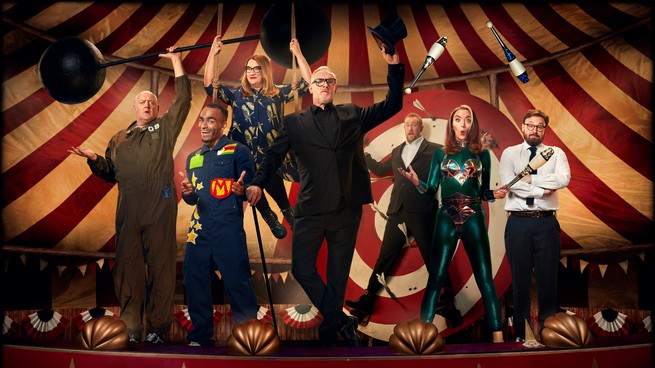 The Game Show That Parodies Your To-Do List
By Chris Karnadi
Imagine you are sternly handed an assignment: Express appreciation for your boss in the most meaningful way possible. The boss will determine who, out of several people, did it best. How would you approach the task?

In one episode of Taskmaster, a British game show entering its 15th season this spring, contestants had 30 minutes to figure this out. In the show, the authoritarian Taskmaster (the actor Greg Davies) gives five contestants—mostly British comedians—open-ended objectives via his demure assistant, Alex Horne. Davies then awards points for how well competitors complete the goals. The tasks themselves—make a massive block of ice disappear the fastest, run the farthest while making a continuous noise—are intentionally absurd, which means the solutions are too. This simple premise has achieved immense popularity: Although a 2018 American spin-off was short-lived, the British version has a significant overseas audience via its YouTube channel, which has regularly amassed more than 10 million views a month in recent years, mostly from watchers in the U.S.
---
More in Culture
---
Catch Up on The Atlantic
---
Photo Album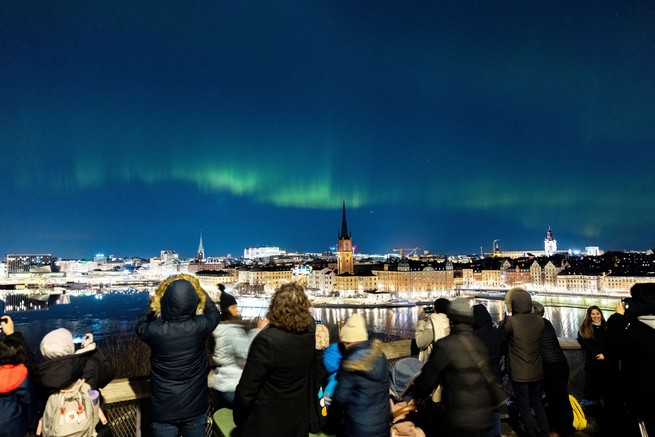 Scroll through photos of the week, including the northern lights above Stockholm and a field of lava in San Juan Parangaricutiro, Mexico.
---
Kelli María Korducki contributed to this newsletter.