Trump's WWE Theory of Politics
The former president grew up a wrestling fan—and mastered the dark art of arena-style rhetoric.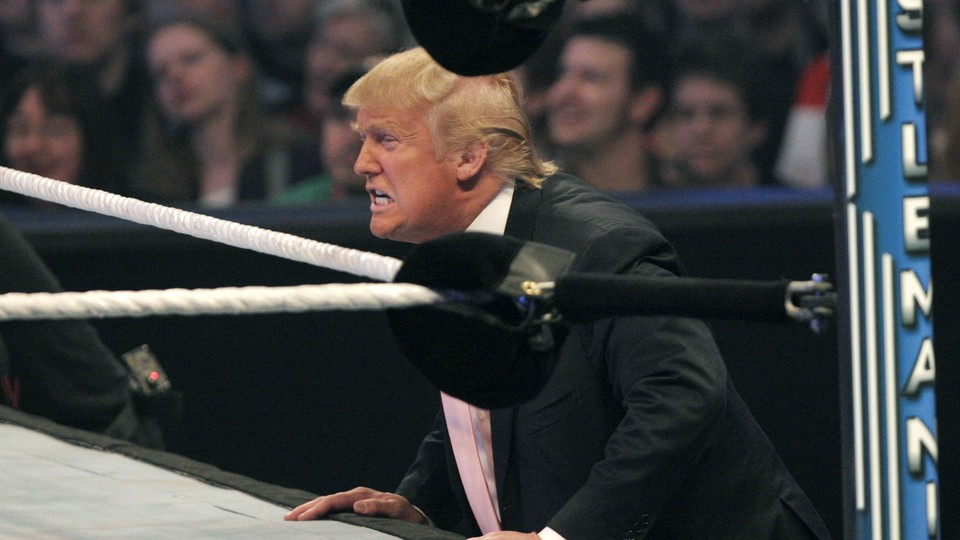 This is an edition of The Atlantic Daily, a newsletter that guides you through the biggest stories of the day, helps you discover new ideas, and recommends the best in culture. Sign up for it here.
Let's begin by assuming you're not planning to watch WrestleMania this weekend. World Wrestling Entertainment (WWE), with its ridiculous bombast and barbaric violence, has turned people off for decades. Yet its popularity—not to mention its profound influence on American culture and politics—persists. Below, I explain why.
But first, here are three new stories from The Atlantic.
And you can find all our coverage of Donald Trump's indictment here.
---
The Man in the Arena
WWE can be eerily prophetic. Had you watched WrestleMania 23, back in 2007, for instance, you would have seen a future president of the United States, Donald Trump, standing in the ring with a devilish smile, preparing to humiliate the WWE head honcho, Vince McMahon.
Although scores of articles have been written about the connections between wrestling and Trumpism, comparatively little is understood about McMahon—who, in reality, is one of Trump's close friends. (During the 2016 campaign, McMahon was reportedly on the extremely small list of individuals whose phone calls Trump would take in private; his wife, Linda, went on to serve in Trump's Cabinet.) A new biography of McMahon, Ringmaster, came out earlier this week, and I spent some time with its author, Abraham Josephine Riesman, trying to unpack the book's principal argument: that McMahon and WWE led to "the unmaking of America." McMahon reigned over the thorny world of professional wrestling until last summer, when he stepped down from his position as CEO and chairman following an alleged sex scandal and related hush-money payments. (Sound familiar?) He returned as chairman at the beginning of this year, after the WWE's investigation into the allegations concluded.
What McMahon understood better than anyone was that the physical act of wrestling was just one element of what the audience wanted. Millions of people flock to WWE for the monthslong story lines, the operatic entrances, the cheeky backstage drama. Wrestlers seize the mic and deliver fired-up speeches filled with taunts, zingers, and thrilling call-and-response sections. Trump grew up a wrestling fan and mastered these arena-style linguistics. His rallies, his debates, his interviews, his social-media posts—no matter the venue, Trump relied on WWE tactics. When he launched his first presidential campaign back in 2015, this approach was shocking to some. And even more shocking when it worked.
The 45th president is not scheduled to make a cameo at this weekend's WrestleMania. At the moment, he's preparing to turn himself in to the authorities in New York City on Tuesday following yesterday's grand-jury indictment. One of Trump's congressional acolytes, Representative Marjorie Taylor Greene of Georgia, announced that she, too, will be in New York on Tuesday: "We MUST protest the unconstitutional WITCH HUNT!" she tweeted today. Greene has also used WWE tools to propel herself to elected office. Earlier this year, during President Joe Biden's State of the Union address, Greene heckled him, not unlike a WWE fan screaming from the sidelines.
I've watched a lot of old wrestling clips in recent weeks. Specifically, I went down a rabbit hole of interviews with the wrestler Ric Flair. Flair routinely boasted of his alligator shoes, his Rolex watch, his libido. His absurd brag—"I've got a limousine sittin' out there a mile long!"—may or may not make you think of Trump and/or his first press secretary, Sean Spicer, whose use of hyperbole was, shall we say, unrestrained.
I texted some of these outlandish Ric Flair videos to friends. In response, a buddy pointed me to an October 29, 1985, speech from Flair's former wrestling nemesis, Dusty Rhodes, a.k.a. "The American Dream." The grainy YouTube clip of Rhodes's monologue has more than 2.6 million views. It's three and a half minutes long, and worth watching in its entirety.
Whereas Flair's oratory is all "me," Rhodes takes the approach of "we." Rhodes ticks off examples of challenges that everyday Americans face, something that the stylin', profilin' Flair could never understand. His speech has a decidedly Grapes of Wrath feel to it. "Hard times are when the autoworkers are out of work and they tell 'em, 'Go home!'" Rhodes shouts. "And hard times are when a man is workin' a job 30 years—30 years!—they give him a watch, kick him in the butt, and say, 'Hey, a computer took your place, daddy!' That's hard times!" Trump, for all of his abhorrent narcissism, shrewdly uses the "we"—specifically, the us-versus-them—approach in nearly all of his campaign speeches to similar effect. When headlining this month's CPAC conference, he sounded not only like a vengeful pro wrestler, but like someone seething with menace: "I am your retribution."
This year's WrestleMania title match will be between the current champion, the hulking Roman Reigns, and Rhodes's 37-year-old son, Cody. The younger Rhodes is a cocky blonde who leans heavily into American-flag iconography, wears a business suit and power tie, and goes by "The American Nightmare." (Again: Sound familiar?)
WrestleMania used to be available on pay-per-view, but now it's a two-night event streaming on Peacock on April 1 and 2. I am not the die-hard wrestling fan I was back in middle school, but I'll likely dip in and out of the broadcast to catch a few of the monologues, if not the matches. I don't want to go so far as to predict that a future president will enter the ring, as was the case in 2007. But I wouldn't rule that possibility out.
Related:
---
Today's News
After a grand jury voted to indict Donald Trump yesterday, he will likely be arraigned on Tuesday. One of his lawyers said that the former president is prepared to go to trial.
The Minneapolis City Council approved an agreement with the state of Minnesota to revamp its policing system, nearly three years after George Floyd's murder.
A "high risk" storm alert—a rare weather designation reserved for severe events—was issued for parts of the American Midwest and mid-South.
---
Dispatches
Explore all of our newsletters here.
---
Evening Read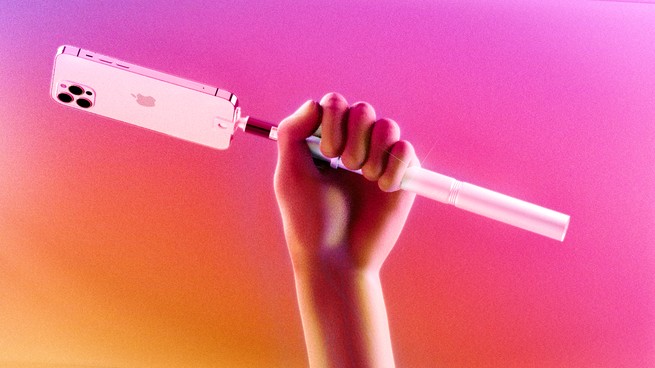 The Influencer Industry Is Having an Existential Crisis
By Kaitlyn Tiffany
Close to 5 million people follow Influencers in the Wild. The popular Instagram account makes fun of the work that goes into having a certain other kind of popular Instagram account: A typical post catches a woman (and usually, her butt) posing for photos in public, often surrounded by people but usually operating in total ignorance or disregard of them. In the comments, viewers—aghast at the goofiness and self-obsession on display—like to say that it's time for a proverbial asteroid to come and deliver the Earth to its proverbial fiery end.

Influencers in the Wild has been turned into a board game with the tagline "Go places. Gain followers. Get famous. (no talent required)" And you get it because social-media influencers have always been, to some degree, a cultural joke. They get paid to post photos of themselves and to share their lives, which is something most of us do for free. It's not real work.

But it is, actually. Influencers and other content creators are vital assets for social-media companies such as Instagram, which has courted them with juicy cuts of ad revenue in a bid to stay relevant, and TikTok, which flew some of its most famous creators out to D.C. last week to lobby for its very existence.
More From The Atlantic
---
Culture Break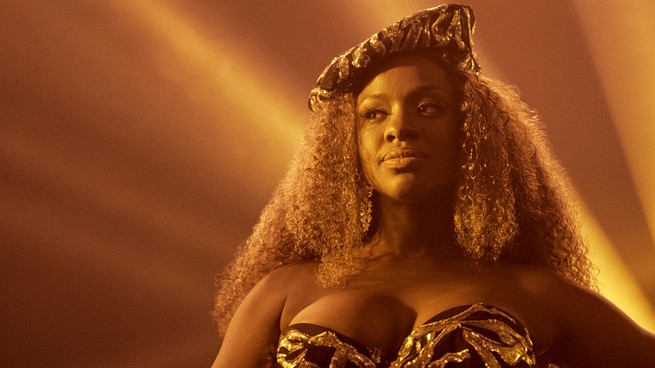 Read. "The Vendor of New Hearts," a poem by Colin Channer.
"Once way far in time in a village coiled from stone / I met an elder in a teahouse. He proposed, and I said yes / I'll join you, and we walked together to the vendor of new hearts."
Watch. Swarm, Donald Glover's horror-comedy (on Amazon Prime), has a twisted take on celebrity culture.
---
P.S.
Tomorrow, April 1, marks the 20th anniversary of the White Stripes' Elephant, one of the defining rock albums of the new millennium. You surely know the inescapable earworm "Seven Nation Army," but I think the peak of the record is track eight, "Ball and Biscuit," a swaggering garage-blues romp.
P.P.S. An impeccable list of records also turn 20 this year: Radiohead's Hail to the Thief, Jay Z's The Black Album, Death Cab for Cutie's Transatlanticism, OutKast's Speakerboxxx/The Love Below, My Morning Jacket's It Still Moves, Songs: Ohia's The Magnolia Electric Co., and the Strokes' Room on Fire, to name just a few. As you settle into this Friday night, pour yourself a drink and crank the Yeah Yeah Yeahs' Fever to Tell, yet another 2003 banger. Here's a great clip of Karen O and the band crushing "Y Control" on Late Night With Conan O'Brien.
Isabel Fattal contributed to this newsletter.