A Crime Series That's Endlessly Curious
Kaitlyn Tiffany's entertainment picks include Raiders of the Lost Ark, Patricia Highsmith's novels, and beach-cowboy superstar Kenny Chesney.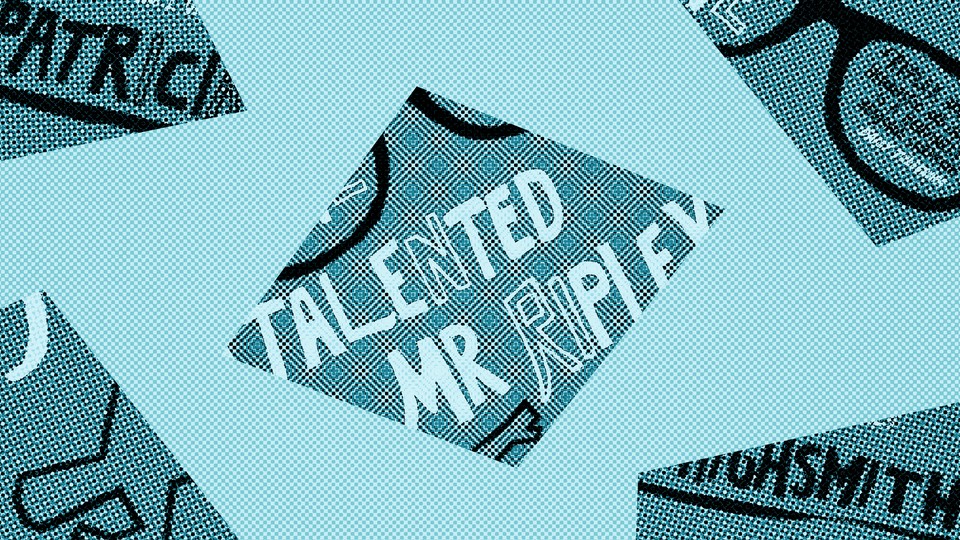 This is an edition of The Atlantic Daily, a newsletter that guides you through the biggest stories of the day, helps you discover new ideas, and recommends the best in culture. Sign up for it here.
Good morning, and welcome back to The Daily's Sunday culture edition, in which one Atlantic writer reveals what's keeping them entertained.
Today's special guest is staff writer Kaitlyn Tiffany, whose work focuses on technology and internet culture. She also co-writes the newsletter Famous People with her friend Lizzie Plaugic. Kaitlyn most recently wrote about how Andrew Tate is haunting YouTube; meanwhile, the latest edition of Famous People recounted a night on a Jeopardy-themed bar crawl.
Kaitlyn's favorite blockbuster movie, based solely on vibes, is Raiders of the Lost Ark. She finds the Tom Ripley crime-novel series from Patricia Highsmith endlessly fascinating, and she thinks Kenny Chesney has a perfect voice, despite judgment from her peers.
First, here are three Sunday reads from The Atlantic:
---
The Culture Survey: Kaitlyn Tiffany
The arts/culture/entertainment product my friends are talking about most right now: I have to say it … all of my friends are talking about On Nobody Famous: Guesting, Gossiping, and Gallivanting, forthcoming from Atlantic Editions and Zando on April 4! It's a selection of email newsletters that my friend Lizzie Plaugic and I have written over the past five years. The newsletter is called Famous People, and the idea is that we don't know anybody who is a "celebrity" but we do know people who are stunning and impressive and hilarious and charming to us, and we think it's fun and funny to write about them as if it's all the same thing.
There's sort of a running bit in the newsletter where I'm the sappy one and Lizzie is the one with the drier and clearer eyes. It's me talking now, so I'll say: The reason I love writing this newsletter is because I never have to fake the excitement. Honestly, I always expected to get most of what I wanted out of life—an apartment in New York City, a job at a magazine, a little money for haircuts and wine—but I never, ever dreamed I would have a friend like Liz. I'm genuinely shocked. Every exclamation point is sincere! [Related: A private-ish party for the 100th edition of Famous People]
The upcoming arts/culture/entertainment event I'm most looking forward to: In June, I'm taking a nine-hour train ride to Pittsburgh to see Taylor Swift with my sisters. I took three days off of work so that I'd have plenty of time to go up and come back down. I can't wait. We're all going to dress as different "eras" in honor of the Eras Tour. (I'm doing Reputation because I used to be a little goth.) I'm obsessed with Taylor's self-mythologizing—an elaborate, national celebration of your own "eras" at age 33? Wonderful idea. [Related: Taylor Swift misses the old Taylor Swift too.]
My favorite blockbuster and favorite art movie: I asked my colleague David Sims for help with this one because I'm not totally clear on what a "blockbuster" or an "art movie" is. He said there's no technical definition of blockbuster, and "it is a vibe thing." Well, going on pure vibes, my favorite blockbuster has to be Raiders of the Lost Ark. My cousins used to cover my eyes when the guy's face melts off at the end. When you're 8 years old and you figure out that the dates were poisoned, that Marion wasn't really dead, and that the bad guys are not only weird-looking but modeled off of actual Nazis, it's like—cinema! You watch the girl in Harrison Ford's archaeology class bat her eyes at him and you become a grown-up. You never forget the first time you see a man chopped up to death by a propeller.
David said that my actual favorite film—Shattered Glass, starring Hayden Christensen as the famed New Republic fabulist Stephen Glass, and featuring Peter Sarsgaard as a hot magazine editor in dad jeans—did not count as an art movie, despite the perfection of the jeans. ("Are you mad at me?") But my second favorite film, Jackie, starring Natalie Portman as Jackie Kennedy and featuring Peter Sarsgaard as Bobby Kennedy (lol!), does. I just love the way she says "It had to be a silly little Communist." I try to do it sometimes at parties (it doesn't read). Also, of course, the movie is brilliant about how people spin narratives out of nonsensical events, and it is very beautiful. But I don't have the words for that! You'll have to ask David. [Related: 20 biopics that are actually worth watching]
Best novel I've recently read, and the best work of nonfiction: I've been on a Patricia Highsmith kick ever since reading a thing about her in The New Yorker in January and texting it to my group chats:
"'One simply cannot concern oneself eight or even five hours a day with nonsense-taken-seriously and not be corrupted by it,' she writes. 'The corruption lies in the very habits of thought.' Another kind of life taunts her: 'What a genius I should be with leisure!'"
Until recently, I didn't know that there were four other Highsmith books about the all-time terrifying villain Tom Ripley, aside from the famous The Talented Mr. Ripley. I'm learning a lot about myself while reading them—I should be more offended by the murders, I think, but it's hard not to be curious about all of the foods that Ripley's French housekeeper makes for him and the trips he gets to take. (Would you get involved in an art-forgery scheme? It seems high-risk, medium-reward.)
The best nonfiction book I read recently was one I picked up on a lunch break at the Alabaster Bookshop near Union Square. They have a great selection of old books about New York. The WPA Guide to New York City, written by employees of the Federal Writers' Project and published in the 1930s, is a chunky travel guide packed with semi-reported local gossip and plenty of facts and figures for posterity. There's so much amazing stuff in this book. There are maps, drawings, blueprints, photos, a list of nightclubs. In a mini guide to the subways and els, it's noted that the fare is 5 cents and "not likely to be increased in the immediate or distant future. The New Yorker is extremely sensitive on this point."
An author I will read anything by: Helen DeWitt is a genius and I'll probably throw a house party when her long-delayed novel Your Name Here is finally published "in late 2023 or 2024." I'm too scared to summarize her. [Related: The anguished comedy of Helen DeWitt]
A musical artist who means a lot to me: I think Kenny Chesney has a perfect voice … I tweet about him all the time and never get any engagement. There are so few takers for the "beach cowboy" aesthetic in my current circle, and it actually hurts my feelings.
A painting, sculpture, or other piece of visual art that I cherish: Once, after a bad breakup, I flew to Santa Fe by myself and nearly died in a blizzard in a rented Dodge Caravan. The next day, I went to the Georgia O'Keeffe Museum and saw a whole bunch of stuff, including Thigh Bone on Black Stripe (1931). Again, I don't really have the words, but at the time I was really in a rare emotional state and I only remember that I thought it was extreme that anybody be allowed to wander in off of the street and look at something like that at 10 in the morning. I have a version of it tattooed on my bicep.
A poem, or line of poetry, that I return to: Chelsey Minnis's Baby, I Don't Care, from 2018, is a collection of film-noir-inspired poems. I'm not a great reader of poetry, but many of the quintets have stuck in my head for the past five years.
For example:
"Let me tell you how I know things.
I just think about them very hard.
And then I get ideas.
And maybe they're the right ideas and maybe they're the wrong ideas.
Now, can't you try that?"
Read past editions of the Culture Survey with Bhumi Tharoor, Amanda Mull, Megan Garber, Helen Lewis, Jane Yong Kim, Clint Smith, John Hendrickson, Gal Beckerman, Kate Lindsay, Xochitl Gonzalez, Spencer Kornhaber, Jenisha Watts, David French, Shirley Li, David Sims, Lenika Cruz, Jordan Calhoun, Hannah Giorgis, and Sophie Gilbert.
---
The Week Ahead
---
Essay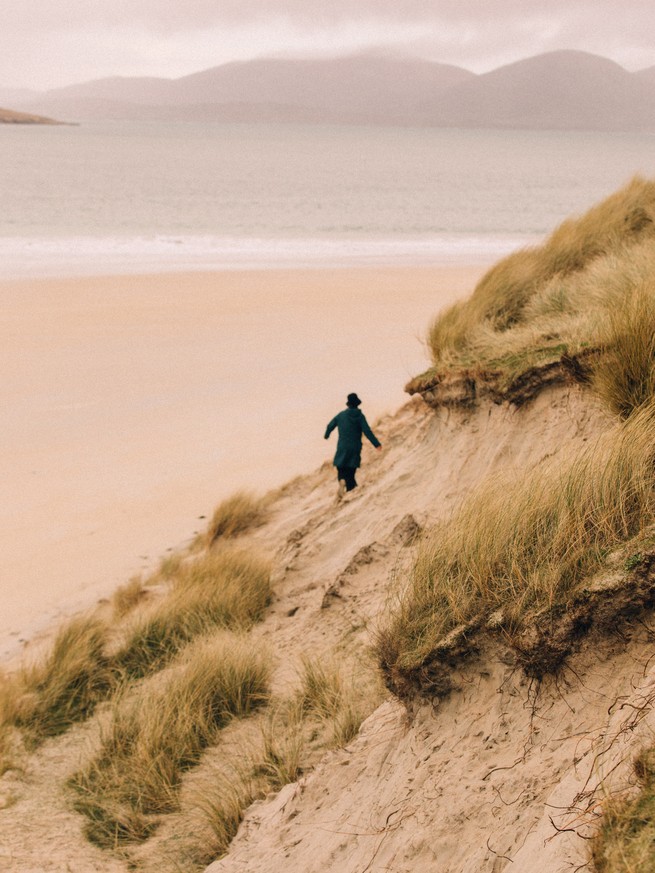 I Actually Went to the Lighthouse
By Patricia Lockwood
To the Lighthouse, from the first word of its title, is a novel that moves. Here it comes striding across the lawn, with its hair in long, curving crimps and a deerstalker hat on its head, with a bag in one hand and a child trailing from the other. It is coming to find you, its face lights up, there is something in this world for you to do.

I had met Virginia Woolf before I ever opened her books. I knew what she looked like and what had happened to her; I knew that her books took place inside the human mind and that I had my whole life to enter them. My premonitory sense of what her novels were about—Mrs. Dalloway is about some lady, The Waves is about … waves, To the Lighthouse is about going to a lighthouse—turned out to be basically accurate. Yet I put off To the Lighthouse for a long time, in order to live in delicious anticipation of it. There is a pleasure to be had in putting off the classics; as soon as you open Bleak House, you foreclose all other possibilities of what it could be, and there sits Mr. Krook in his unchanging grease spot, always to look the same, never to raise a hand differently. As long as it remains unread, the story can be anything—free, immortal, drowsing between white sheets. Yet if you are a reader, this pleasure can be drawn out for only so long.
---
More in Culture
---
Catch Up on The Atlantic
---
Photo Album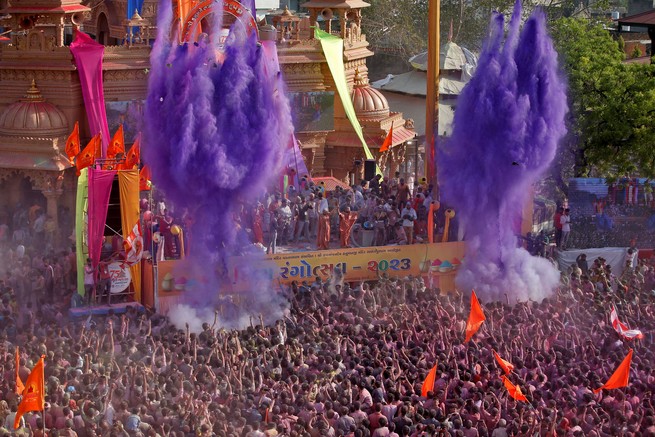 Check out some images from Holi festivals this past week.