The Most Beautiful Lamps in New York
Lizzie and Kaitlyn, first-time lamp-makers, attend the art show that rejected them.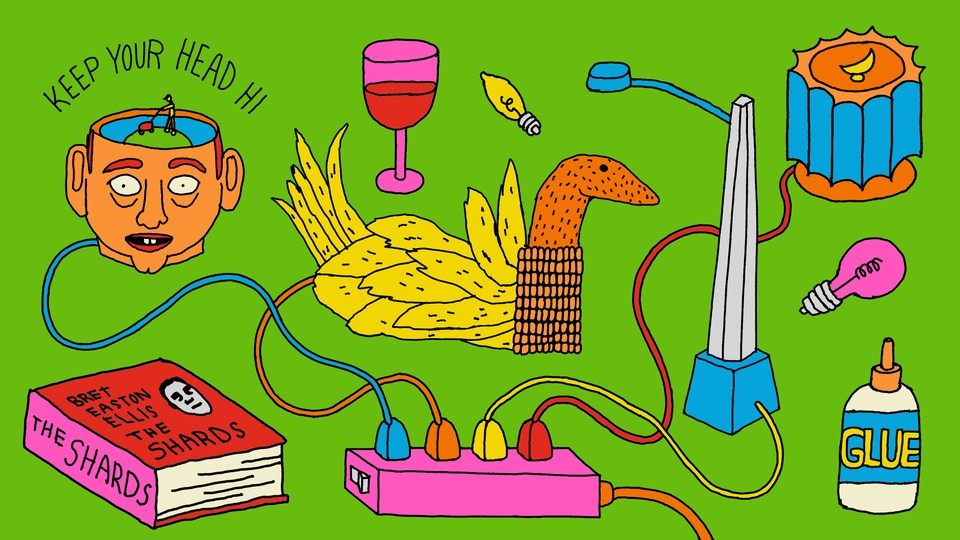 Sign up for Kaitlyn and Lizzie's newsletter here.
Kaitlyn: Are you familiar with the concept of impostor syndrome? The opposite of it is when you know that there's no reason you would be anything but terrible at an activity, yet you can't help wondering: What if I'm randomly really good at that?
I am afflicted with this problem, and it has become even more obvious since I started watching Survivor, a show about a contest I know I would perform horribly in. I am notably bad at puzzles and lying, and I'm incapable of functioning while feeling hungry. Yet I also assume that I could easily win. You may remember that Lizzie had a similar issue last year when we tried to join the Brooklyn arm-wrestling community; conscious-yet-unflappable overconfidence is a trait we share.
So, cut to this January, when Head Hi, an art-and-design bookstore and coffee shop located near the Brooklyn Navy Yard, published a call for submissions for a lamp show (and sale). "We encourage everyone … all ages, professional designers, or not, to submit a lamp!" the website claimed. "It can be a lamp you created, personalized or just a funky lamp that you found."
Lizzie: I assumed when they said that "everyone" was encouraged to submit a lamp, it meant that "everyone" would also be able to show their lamp in the lamp show. This would turn out not to be the case, but we'll get to that later.
Weeks prior to the lamp show, Kaitlyn sent a calendar invite titled "lamp-making day" to solidify our plan to make lamps.
The morning of lamp-making day, Kait and I met at Artist & Craftsman in Park Slope, a giant art-supply store with just about everything you could need to make a lamp, I assume. My problems started almost immediately, because I went in with no real plan or idea of what my final lamp was going to look like. My ideas were limited to "gluing little toys to some clay" and "something with yarn." Due to my lack of direction, I ended up spending a low three-figure sum on eight pounds of polymer clay, a bunch of acrylic paint, yarn, and a dozen tiny rubber crocodiles.
Back at my apartment, we turned on the '90s-music-video channel, and Kaitlyn got right to work mixing a glue concoction for her papier-mâché. I, meanwhile, played around with my clay and asked the group (Nathan, Matt, and Ashley were also there) for inspiration: "What if the lamp had a collar?" "What if I made a lampshade out of yarn?" "What if the lamp were an oyster?" I asked Matt, an artist, what he would do if he were making a lamp. "I would've started planning this months ago," he said.
Kaitlyn: Matt had to give up on helping Lizzie execute her vision, because, as she said, she didn't have one. He spent the afternoon shaping some of the clay into an extremely detailed elf ear.
The unformed lamps were part of our lives for what felt like a long time. After that first day in Lizzie's apartment, all I had was a thick shell made of newspaper, which was stuck to the mold of a cheap plastic bowl and soaked through with Vaseline. When I got home, I had to cut the shell in half with a pair of kitchen shears and rip it off of the bowl. Then I had a social engagement, so I left the house, had three or four glasses of wine, came home, and spent the hours between one and three in the morning adding hundreds more strips of shredded newspaper and a whole bottle of glue to the structure to piece it back together while drunk.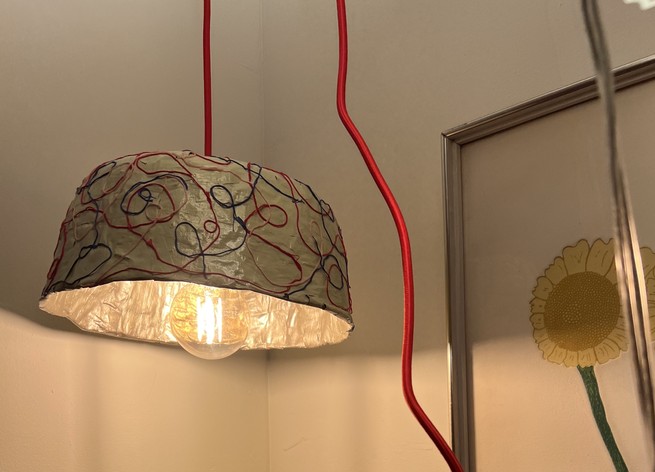 On another night, I painted the inside of the (now lumpy) shell silver; I painted the outside of the shell green. It sat on the floor for weeks as I went about my life and my job, trying not to admit that I was afraid it would all come to nothing. It was an open wound in the middle of my living room. It was like a Peloton covered in jackets. But finally, when the lamp-submission deadline got too close to ignore, I sat down in front of a three-hour movie and committed to facing the task at hand. I had a bunch of embroidery floss, from a friendship-bracelet kit, which I dipped in glue and then draped over the shell in Dr. Seuss–ish curlicues. I coated the whole thing in acrylic varnish, which, astonishingly, ate away the bottom of the plastic cup I'd poured it into. It smelled so strongly that I considered sleeping in the yard with the cat. Instead I quarantined the shell in the dining room.
When it was dry, I drilled two holes in my shell and used some wire to attach it to a basic hanging lamp socket I'd ordered online. I'd also ordered an expensive LED light bulb, which luckily seemed (according to Reddit) like it wouldn't get hot enough to make the acrylic varnish catch on fire. When the lamp was done, I cooed over it and texted photos to everyone I knew. I thought it was weird that none of them offered to buy it or asked me to make them their own lamp as a wedding present, but there was nothing anybody could say or not say that would take away from my utter shock and joy that the lamp existed and that I had "made" it.
Lizzie: Okay, so, to see in your mind's eye what my lamp ended up looking like, think of a tail. I used my clay to construct a sea-cucumber-esque shape around my lightbulb socket, and then Matt and I made dozens and dozens of little spiky cones out of clay, which we hot-glued to the blob shape. Then Matt spray-painted it white, after he said all the brightly colored spray paint I'd bought would obscure the cool shadows cast by our clay spikes.
The day of the submission deadline, I paid my $8 application fee to Head Hi and submitted a photo of my lamp, Untitled, and began to feel excited for my public debut as a lamp artist.
A few weeks later, Kaitlyn and I both received emails saying our lamps had been rejected. Head Hi claimed to have received more than 200 submissions from "local and international creatives." They had to cut the chaff. We were the chaff. "Keep your Head Hi," the email instructed us.
I was surprised because, again, I had assumed children would be submitting lamps. Surely there would be an amateur section of the lamp show? Let me tell you something: the lamps that made it into the lamp show did not appear to be built in a week or salvaged from a trash heap.
Kaitlyn: My lamp was called Famous People and I dedicated it to my friend Lizzie. This did not move the folks at Head Hi! Oh, well.
The day of the opening reception, I decided to walk the two miles to Head Hi because there's no logical way to get to the Navy Yard on public transportation. I was early so I went into a bizarre restaurant next door that was totally empty except for one man eating fried shrimp at the bar. "I come in here at least twice a week and he never gives me a napkin," he told me, talking about the bartender, whom he also mocked for pronouncing DeKalb wrong. The guy seemed alright, though. He complimented me for reading the new Bret Easton Ellis novel, The Shards, because he too prefers books that are "substantial" and have "some heft when you're carrying them around."
I had a glass of nondescript white wine and read a few pages of the book, thinking about both: I am not enjoying this but will try to finish, I guess. I should say there was a sign behind the bar that said, Men: No Shoes, No Shirt, No Service. Ladies: No Shirt, Free Drinks. Bret Easton Ellis sometimes uses em dashes and colons in the same sentence. That's so wild to me (derogatory).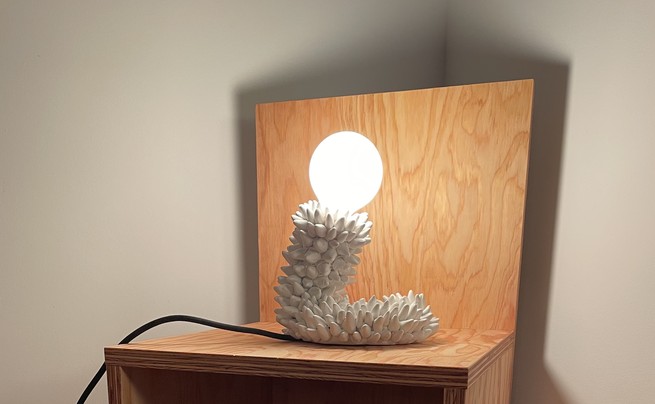 Lizzie: Matt and I also walked to the lamp show, and by the time we got there, about 10 minutes after doors opened, there was already a line. Sitting on a stool adjacent to this line was a person dressed in all black, wearing a black helmet and a black veil over his face, with two tall tube lamps sticking out of the top of his head. A piece of highlighter-pink masking tape was stuck to the wall across from him, with a note scrawled in marker: NOPE, THAT GUY IS NOT A LAMPER. I wasn't sure if this meant he actually was a lamper, and the "not a lamper" thing was an intentional misdirection for art's sake, or if it meant he actually wasn't a lamper. And if he actually wasn't a lamper, did that mean the show's organizers felt it necessary to put a notice up designating his official non-lamper status? If that was the case, I felt for him, as a fellow rejected artist.
Kaitlyn: I didn't see the non-lamper until Lizzie pointed him out. He was like five feet away from us—what kind of journalist am I? Anyway, I had to ask how Lizzie and Matt were feeling, given that the lamps we'd worked on wouldn't be featured, and that nobody would even know that we'd tried—that we had ever made lamps. "It's going to be hard not to break some of the lamps," Matt said. Lizzie agreed. She was like, "Yeah, it's going to be hard not to fly off the handle." As you can see, they have artistic temperaments.
I was excited to see the lamps, because I love to look at expensive things. Just before we got to the front of the line, we saw Mariya approaching—a vision in a white wool coat on a Citi Bike, trying not to get hit by a car.
Lizzie: Mariya told us she had gotten lost on the way to the lamp show, but she didn't miss anything, because we were still waiting in line. Eventually, we were allowed to enter the gallery space in groups of two and told we had 10 minutes to enjoy the lamps before we'd have to get the heck outta there.
Kaitlyn: As we jogged around the display area, we snapped photos of the most eye-catching lamps so that we could continue looking at them from the other side of the room, where presumably there would be no time limit on doing this. All of the lamps were incredible works of art clearly made by professionals—and fair enough. The lamp I most wanted to put in my house was called Memory Lamp, and reminded me of the Kodak Carousel scene on Mad Men. It was round and squat and made of pale wood and brass and it had a warm, nostalgic glow. I was also intrigued by a lamp called Mind Mountain, which was made out of papier-mâché and a "found Ikea lamp in Brooklyn trash." It looked like a spindly white alien arm holding its own bright eyeball. I said to Lizzie, "We could have made that one," but I didn't mean it as the insult it sounded like. "I could have made that" is, I understand, a loaded phrase in art contexts. I just meant that there was hope for us, and that we might soon be capable of a lamp that someone would want.
One of the most expensive lamps—priced at $8,000—was a tiny model of a '90s-style New York City street lamp with a yellow bulb meant to "evoke the nostalgia one might have for the sodium halide bulbs of the past." It came with a video of the artist "climbing the new LED city lights and adding yellow gels." I do not think I could have made that. Also, the information card said the artist had been working on it since 2016, which may explain why it was $8,000. That's a lot of lamp-making hours!
We were each given a little green ticket on which we were supposed to write down the name of one lamp we especially loved. The lamp-show website emphasizes that it is "not a contest," but there is this one popularity-contest element. I picked the one that was an illuminated decoy duck made out of corn husks, a corncob, and a loofah.
Lizzie: I voted for Memory Lamp, although I also really liked one that looked like a head. I didn't do a good job of remembering the names of the lamps as I breathlessly scanned them, so my voting options were limited by my own memory. You can see all of the lamps here (or at Head Hi until April 8). If I'm being honest, looking through the online gallery now, some of the lamps don't even look familiar to me. This is probably because we were, again, kindly, rushed through the gallery. Like I said before, we were told we had 10 minutes to browse, but we probably spent closer to four actually looking at the lamps. There were lots of people waiting to see the lamps, and I recognize there are only so many minutes in the day.
As we loitered in the drinking area (safely away from the lamps) we discussed who in the room might be a "lamper." Was it the person wearing a giant quilted jacket with some sort of antennae sticking out of their head? Or maybe one of the various beanie-wearing boys? Kaitlyn said, "I can't imagine anyone in here has actually made a lamp." We agreed the lampers should've been wearing name tags.
Kaitlyn: Lizzie and I had paper cups of wine and Mariya had a hot apple cider spiked with mezcal, which you could smell from up to 15 feet away. She had been hoping to meet a single lamp-maker, which is why she'd been scanning the crowd for artistic types. "I really don't see any artists-in-residence," she said. "I see some rejects in residence," she added, once her scan brought her back around to looking at me and Lizzie.
We headed out after Mariya started to get a little disoriented. "Is that part of the show?" she asked of a small lamp on a side table next to a potted plant, and then of a lamp on the wall behind the espresso machine. These were just normal light fixtures that were part of the shop all of the time. "I'm seeing lamps everywhere now," she said.
Lizzie: Lamps are all around us. Despite being a documented fan of overhead lighting, I still love lamps and all they provide: a little mood lighting, something to do on a Saturday night, and proof that some people (not us!) have the ability to make something integral to our existence, utilitarian yet beautiful, a true sign of human innovation and beacon of hope, out of a corn husk.
---
Did someone forward you this newsletter? Sign up here.