The Stand-Up Special That's Actually Funny
Amanda Mull's culture and entertainment picks include an addictive color-by-number game, a riveting comedy special, and The Boss himself.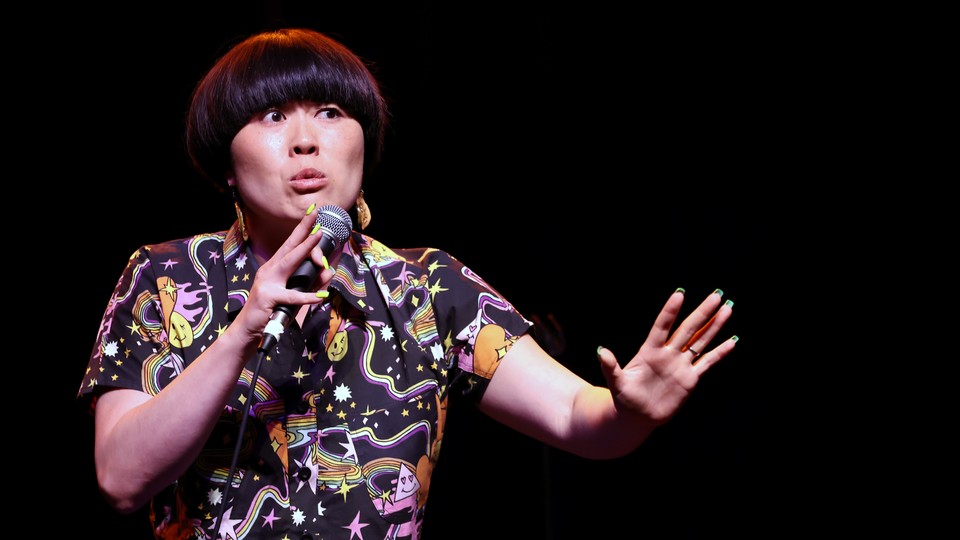 This is an edition of The Atlantic Daily, a newsletter that guides you through the biggest stories of the day, helps you discover new ideas, and recommends the best in culture. Sign up for it here.
Good morning, and welcome back to The Daily's Sunday culture edition, in which one Atlantic writer reveals what's keeping them entertained.
Today's special guest is the staff writer Amanda Mull, whose Atlantic column, "Material World," delivers deep dives on consumer trends—such as the death of the smart shopper and the sudden ubiquity of gray floors—and what they reveal about American life. Most recently, she delved into the TikTok-fueled obsession with product "dupes." When she's not writing, Amanda can be found cheering for the University of Georgia Bulldogs (during football season, that is), snort-laughing at the comedy of Atsuko Okatsuka, and feeding her need to color by number.
First, here are three Sunday reads from The Atlantic:
---
The Culture Survey: Amanda Mull
The television show I'm most enjoying right now: I'm a huge college-football fan (Go Dawgs), and I have a lot of friends who are really into their NFL teams, so from Labor Day through early February, when I'm watching something, it's almost always a football game. After the Super Bowl spits me back out into the world of regular television, I always spend a few weeks wandering the desert, looking for something I can get into, or at least something that's fun enough to watch in the meantime. That's a very long way of saying that I'm currently obsessed with Perfect Match, a genuinely very stupid Netflix dating show made up entirely of villains, reprobates, and fan favorites from other, equally stupid Netflix dating shows like Love Is Blind and Too Hot to Handle, both of which I have also watched.
An actor I would watch in anything: Paul Newman. I recently saw The Color of Money for the first time, in which he plays an aging pool hustler. Newman was 61 when that movie came out, and he was every bit as sexy and magnetic and watchable as he had been 20 or 30 years prior. [Related: Talking with Paul Newman (from 1975)]
Best novel I've recently read, and the best work of nonfiction: I'm a few years late on both of these, but I adored The Glass Hotel by Emily St. John Mandel—a novel about wealth and talent and escape that I found so spellbinding, I devoured it in a weekend. The best nonfiction book I've read in years was Say Nothing: A True Story of Murder and Memory in Northern Ireland by Patrick Radden Keefe. I went in knowing relatively little about The Troubles, and Keefe so expertly wove the historical record into the personal stories of some of the IRA's most infamous members that the reading experience was sometimes closer to that of a novel than a political or military history. [Related: The art of second chances]
A musical artist who means a lot to me: Bruce Springsteen. My first concert was one of the Atlanta dates during his E Street Band reunion tour in 2000; my parents were supposed to go together but my mom isn't much of a Bruce fan and hates crowds, so my dad, who had adored him since Greetings From Asbury Park, N.J. came out in 1973, swapped me in at the last minute. I loved it so much that he began playing more Springsteen in the car for me and my little brother, and suddenly Dad had two teenage Bruce fans on his hands. When Bruce's next tour came through Atlanta, we went back to see him as a family—even Mom, who had been outvoted by that point.
My dad passed away a few months ago, and when we were at the hospital to say goodbye, the palliative-care doctor told us that we should say things that would reassure him that we would be okay, and that we would take care of one another. So my brother and I told him, among other things, that we had Bruce tickets for the upcoming tour. [Related: David Brooks: How music made Bruce Springsteen]
The last museum or gallery show that I loved: "Edward Hopper's New York," at the Whitney Museum of American Art. The exhibit runs until March 5 and includes many of Hopper's more famous works, such as Automat and Early Sunday Morning, as well as a large selection of lesser-known paintings. What it does not include is Nighthawks, and I came away thinking that the show benefited from its absence. Some works of art are so famous that their presence can suck all the air out of a room. Without Nighthawks, the smaller, quieter moments of the exhibit—apt, considering Hopper's subjects—had more room to breathe. [Related: Edward Hopper's most interested vision (from 1979)]
My favorite way of wasting time on my phone: I'm addicted to this app called Happy Color, which is basically just a huge catalog of color-by-number puzzles, plus a few new pictures to color every day. Some of them are familiar—there's a whole category of historical fine art, which is my favorite—and some of them are genuinely bizarre, such as the one with a cartoon cat wearing a feathered cap and reading a book by candlelight. It requires just enough of your attention to be the perfect thing to do while you're listening to a podcast or half-watching something on TV. I showed it to my mom a few years ago, and now when I call her, she sometimes laments that she's been too busy to do as much coloring as she'd like.
Something delightful introduced to me by a kid in my life: Everyone who has young kids is already familiar with Bluey, I'm sure, but I saw it for the first time a couple of months ago while visiting a friend back home who has two small children. For the uninitiated, it's an Australian cartoon about a family of heeler pups, and I was sort of gobsmacked by how good it was—sensitive, perceptive, funny. When my friend told his daughter that it was time to turn off the TV, I found myself feeling a glimmer of the same adversarial reaction that she had. [Related: Sophie Gilbert's 27 favorite things in culture]
The last thing that made me snort with laughter: The Intruder, a stand-up comedy special by Atsuko Okatsuka on HBO Max. There is a recent trend, especially on streaming services, of advertising things as stand-up specials that are really more like one-man shows—you may enjoy them, and you may be moved by the comic's personal hardships or political calls to action, but in the end it's not clear that they were actually, you know, funny. Okatsuka doesn't strip out the difficult parts of her own history—her mother's schizophrenia, the years she spent as an undocumented immigrant in California—but, crucially, she never pulls the bait and switch. The Intruder was funny enough that I watched it again a week later.
Read past editions of the Culture Survey with Megan Garber, Helen Lewis, Jane Yong Kim, Clint Smith, John Hendrickson, Gal Beckerman, Kate Lindsay, Xochitl Gonzalez, Spencer Kornhaber, Jenisha Watts, David French, Shirley Li, David Sims, Lenika Cruz, Jordan Calhoun, Hannah Giorgis, and Sophie Gilbert.
---
The Week Ahead
---
Essay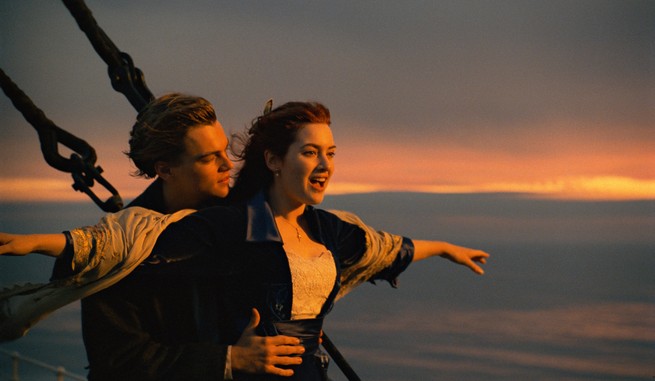 Why Rewatching Titanic Is Different Now
By Megan Garber
The Titanic Museum in Pigeon Forge, Tennessee, has a very good gift shop. Among its wares are sparkling replicas of the Heart of the Ocean necklace, T-shirts that read he's my jack → and she's my rose →, and, for the kids, tubs of electric-blue "iceberg slime." In one corner, the visitors who have availed themselves of one of the museum's main attractions—the chance to pose for pictures on a replica of the doomed ship's grand stairway—pick up their photos. Next to sample images of grinning tourists stands a rack offering commemorative copies of newspapers originally published in mid-April of 1912. One of them reads, "NO HOPE LEFT; 1,535 DEAD."

Time may heal all wounds, but Hollywood helps things along. For many Americans, Titanic now refers less to those 1,535 people than to just two: Jack and Rose. James Cameron's semi-fictional film about the disaster—for a long while, the highest-grossing movie of all time—has taken on a memetic familiarity. Last year, a family re-created one of Titanic's final scenes in a pool, playing Rose and Jack and an assortment of dead bodies; their effort went viral. The film changed the perception of the tragedy: All of those people, plunged into that indifferent sea, are now bound up with "I'm the king of the world!" and heated discussions about whether Jack could have fit on that door. Near, far, wherever you are—"Titanic" is, as a matter of memory, a horror story transmuted into a love story.
---
More in Culture
---
Catch Up on The Atlantic
---
Photo Album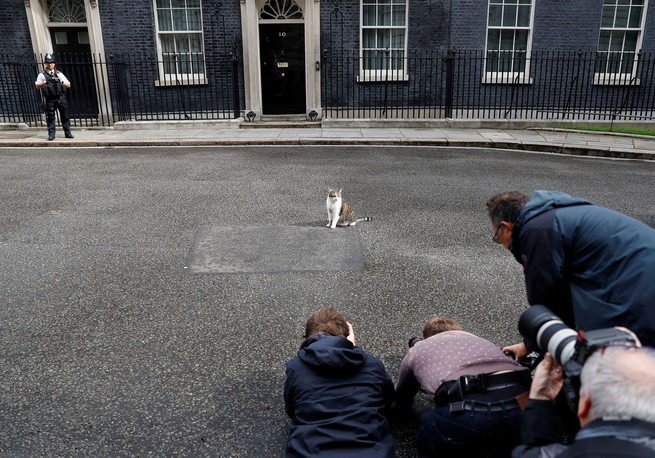 Browse snapshots of Larry the Cat, the in-house rodent-controller of 10 Downing Street, who recently celebrated his 12th anniversary as the official "Chief Mouser to the Cabinet Office."
Or check out our editor's selection of photos of the week.