The High Tension and Pure Camp of Jurassic Park
Jane Yong Kim's culture picks include the dinosaur blockbuster and a wild-swimming travelogue.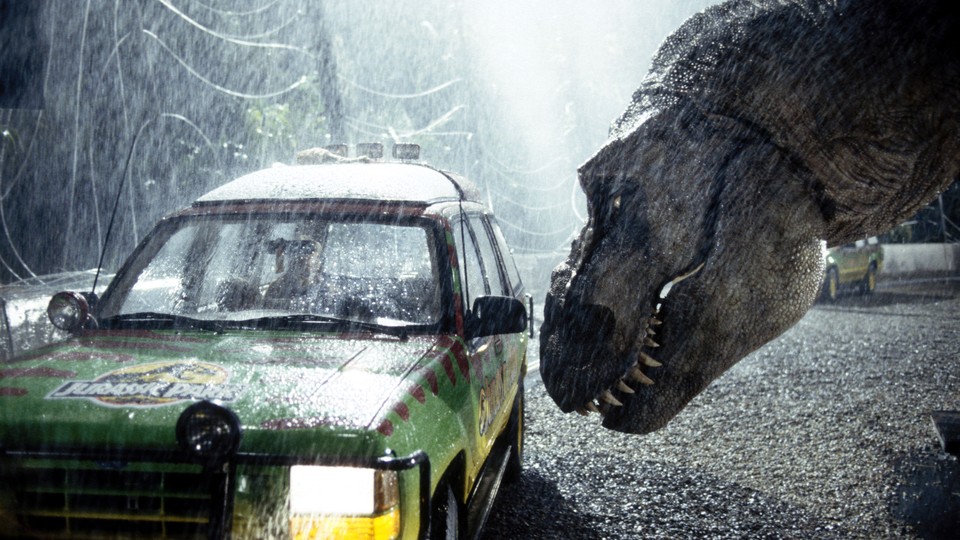 This is an edition of The Atlantic Daily, a newsletter that guides you through the biggest stories of the day, helps you discover new ideas, and recommends the best in culture. Sign up for it here.
Good morning, and welcome back to The Daily's Sunday culture edition, in which one Atlantic writer reveals what's keeping them entertained.
Today's special guest is the Atlantic deputy editor Jane Yong Kim, who oversees our Culture, Family, and Books sections. She's fond of Laura Dern's dino-dodging fashion in Jurassic Park, the late English environmentalist Roger Deakin's paean to swimming outdoors, and the "wildly imaginative" video art of Wong Ping.
But first, here are three Sunday reads from The Atlantic:
---
The Culture Survey
The last museum or gallery show that I loved: The last art shows I remember feeling really impressed by were side-by-side Wong Ping exhibits from 2021, one at the New Museum, and the other at Tanya Bonakdar Gallery. A self-taught animator based in Hong Kong, Wong makes wildly imaginative videos: colorful landscapes that use surrealism to convey oddball, engrossing, sometimes disturbing stories about the loneliness and disappointments of modern life. (One video, An Emo Nose, depicts a man who discovers his nose is sensitive to "negative energy"; in an attempt to keep it happy, he dispenses with polarizing activities such as talking politics and focuses on cheerier ones such as eating ice cream and having sex.) The reward of Wong's work is the juxtaposition of cartoonish early-internet aesthetics with intricate, gripping themes.
Best novel I've recently read, and the best work of nonfiction: I just finished, and loved, Lisa Hsiao Chen's debut novel, Activities of Daily Living. It's a striking meditation on time and the things we fill our lives with—the tug-of-war between jobs and passion projects, productivity and curiosity, minutes spent and minutes gained. A woman named Alice is preoccupied, in her off-work hours, with Tehching Hsieh, the brilliant performance artist known for his lengthy "endurance" pieces in the 1980s. Hsieh's explorations of time were psychologically and physically demanding: In one, he tied himself to another artist for a year with a piece of rope; in another, he punched a time card every hour for a year; in yet another, he spent a year inside a cage. Alice's research into Hsieh begins seeping into aspects of her daily existence—interactions with her family, her movements through the city. The novel is a beautiful, subtle read; it tenderly builds an argument for seeing our lives more clearly.
On the nonfiction front, I've been making my way through Waterlog, a stunning book by the environmentalist Roger Deakin that takes readers on a swimming journey through the lakes, rivers, and tarns of Britain. Deakin, who died in 2006, was a tremendous writer, able to render his adventures with immediacy, clarity, and wit. Following along with him as he goes in search of little-known waterways and old open-air swimming pools is a real delight. [Related: Swimming in the wild will change you.]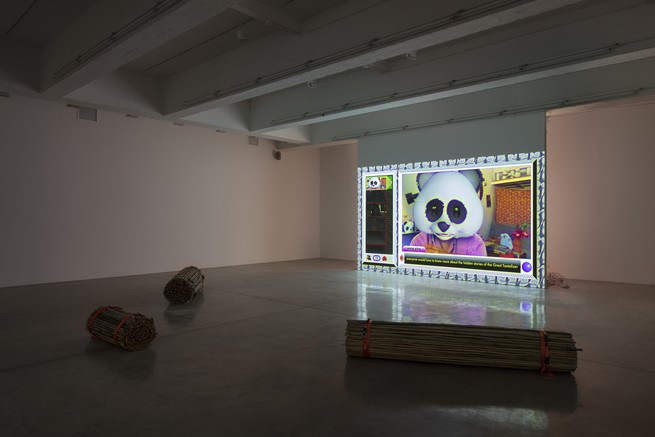 My favorite blockbuster and favorite art movie: I'll answer this one with movie theaters in mind.
Jurassic Park is one of the first true blockbusters I remember seeing in a theater, and that place of honor colors my relationship with it. The blend of high tension and pure camp—the rampant hubris, the captive goat, the raptors on the hunt (those tapping claws!), Laura Dern's knotted shirt and khaki shorts—is pitch perfect. And the experience of watching it in a row filled with other terrified kids is an indelible memory.
The art-house version of this memory, for me, is watching Krzysztof Kieślowski's The Decalogue. It's actually a series of one-hour films originally made for Polish television. Each film takes loose inspiration from one of the Ten Commandments, following characters who all live in the same neighborhood in 1980s Warsaw as they deal with the moral messiness of their lives. I first saw The Decalogue in high school, at an indie theater close to home that happened to be playing it, and was transfixed by its moody, understated profundity. Kieślowski's Three Colors trilogy is arguably his better-known series, but this earlier group of films about human frailty has always been my favorite. [Related: I just wanted to watch people get eaten by dinosaurs.]
Something I recently rewatched, reread, or otherwise revisited: I recently reread No Longer Human, a cult novel by the Japanese writer Osamu Dazai. It's just as arresting as I remember it being when I first read it more than 15 years ago. Dazai, who died by suicide in 1948, at 38, wrote discerningly, sometimes scathingly, about disenchantment. His young male protagonist is alienated from society, spending much of his time noticing all of the ways in which the world around him seems fake or strange or stressful. Dazai's prose style is spare, and his observations about life in 1930s Japan are startlingly acidic. [Related: Of Women: A story]
A painting, sculpture, or other piece of visual art that I cherish: The Visitors, by the Icelandic artist Ragnar Kjartansson, charmed me when I first saw it and has stuck with me since. The concept is deceptively simple: Across nine screens, viewers see footage of the artist and a bunch of his musician friends performing together from different rooms in a big, run-down house in upstate New York. Kjartansson himself plays the guitar from inside a bathtub filled with soapy water; other people, perched on beds or by windows, sing and play cellos, accordions, the piano.
Kjartansson's 2012 work, which is currently on view at the San Francisco Museum of Modern Art, hit a nerve during the pandemic, for obvious reasons. The solitude of the performers is noticeable; the videos draw attention to the visual stillness in each scene. In turn, the collective sound the performers produce—separately but in unison—is a powerful reminder of music's communal potential and the new ways we're always learning to be together. It's an artwork to spend time with in person, one that rewards slowing down and lingering.
Read past editions of the Culture Survey with Clint Smith, John Hendrickson, Gal Beckerman, Kate Lindsay, Xochitl Gonzalez, Spencer Kornhaber, Jenisha Watts, David French, Shirley Li, David Sims, Lenika Cruz, Jordan Calhoun, Hannah Giorgis, and Sophie Gilbert.
---
The Week Ahead
---
Essay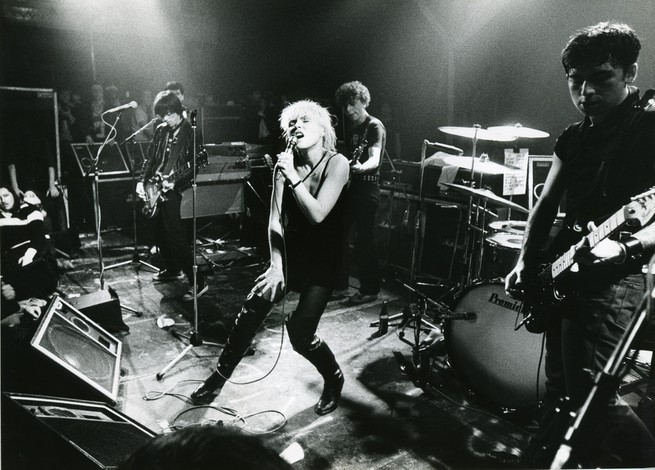 The Band That Best Captures the Sound of the '70s
By Kevin Dettmar
No decade is dominated by a single genre of popular music, but the 1970s was arguably more motley than most. What is the sound of the '70s? Is it … folk rock? (Neil Young's Harvest turned 50 last year.) Progressive rock? (Prog's nadir, Yes's Tales From Topographic Oceans, was released in 1973 and promptly crashed under its own weight.) How about disco? Punk? Post-punk? New wave? Reggae? Rap? Yes, yes, yes, yes, yes, and yes. And what do we do with Meatloaf's Bat Out of Hell, one of the 10 best-selling albums of the decade? Is bombast a genre?

But if you were to drill down through the decade and pull up a core sample of '70s pop, it would come up Blondie—and would look, in fact, very much like the band's eight-disc box set, Against the Odds: 1974–1982, which is nominated for the Best Historical Album Award at this weekend's Grammys. As the academic and artist Kembrew McLeod has written, Blondie was a mediator between the experimental music and art scene of downtown New York City and the larger pop audience. But more fundamentally, I'd argue, the group was also a conduit and popularizer of a wide variety of new rock and pop sounds.
More in Culture
---
Catch Up on The Atlantic
---
Photo Album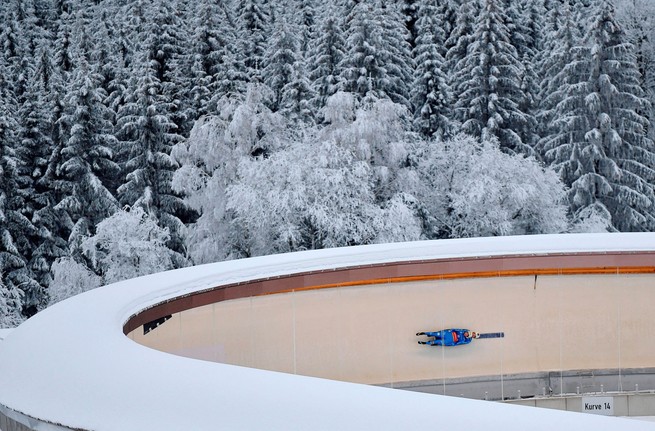 Check out snaps from a figure-skating championship in Finland, a rugby tournament in Afghanistan, the Magh Mela festival in India, and more in our photos of the week.