Why Democrats Are Scared to Challenge Biden in 2024
Mark Leibovich on how groupthink limits the party's options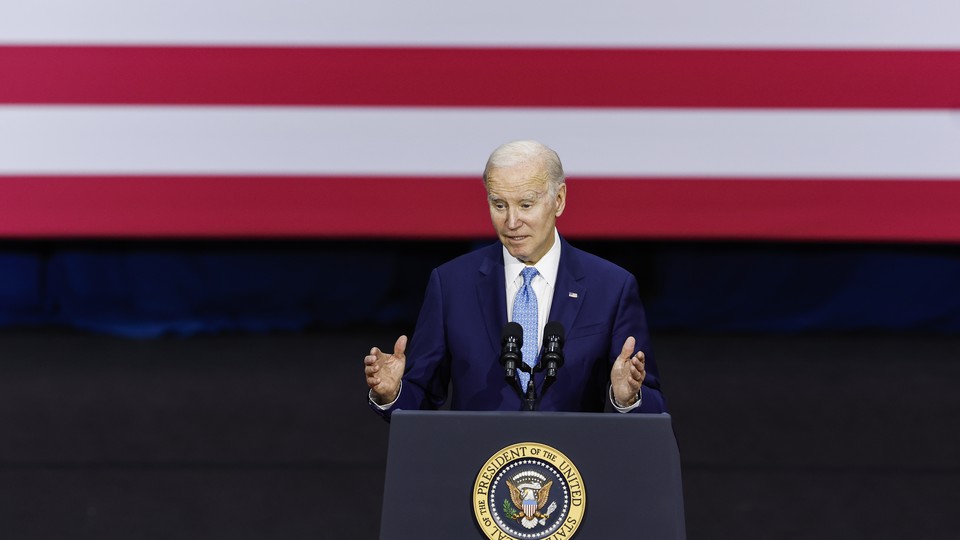 This is an edition of The Atlantic Daily, a newsletter that guides you through the biggest stories of the day, helps you discover new ideas, and recommends the best in culture. Sign up for it here.
This week, my colleague Mark Leibovich made the case for a primary challenge to Joe Biden. "Somebody should make a refreshing nuisance of themselves and involve the voters in this decision," he wrote. Mark and I sat down yesterday to talk about how a primary challenger could benefit the Democratic Party.
First, here are three new stories from The Atlantic:
---
Audacious and Powerful
Isabel Fattal: Let's talk about Joe Biden and 2024. Some of us know the polls show that most Democrats don't want Biden to run for reelection, but we don't know what the Democratic officials who are close to Biden are saying. What did you hear in your reporting?
Mark Leibovich: What's going on behind the scenes around Biden is silence. Everyone has decided that this is Biden's decision to make. The only sort of conflict here is, when does he just decide to press "Go"? Everyone else is powerless. We're all just waiting for him. You have this disconnect in the party where people will obviously support him if he goes through with this and gets the nomination, but they kind of wish he wouldn't. The percentage of Democrats saying they don't want him to run is historically high. Publicly, every elected official will say, "We're with him," but privately they'll say just the opposite.
So what I decided to do in my latest article is call for someone to make the decision for him, or at least to give voters a choice. I think voters want the choice, but because of customs, we don't give ourselves a choice. We leave it to the president to step aside when he or she wants to.
Isabel: How does Democrats' fear play in here? You wrote in your story this week, "Just as Trump has intimidated so many Republicans into submission, he also has paralyzed Democrats into extreme risk aversion."
Mark: I don't think it's deference, necessarily. I think there is a good reason for incumbents not to be primaried if you want to win. But almost overwhelmingly, incumbents are supported by their party, and polls almost always show that majorities of Democrats or Republicans want their party's president to run again. With Biden, you have these unprecedented numbers in the other direction. And the reason for this is his age.
You mentioned risk aversion. Trump has terrified Republicans. They just don't want to get on the wrong side of him. That dynamic's been entrenched for six, seven years now. But Democrats are just as scared. They're scared of doing something that might look a little unsafe. Say what you want, but Biden is familiar: He's done this before; he's beaten Trump before. But at the same time, everyone's saying, He's old.
Isabel: This parallel is so interesting—Trump inspiring fear in both parties in their own way.
Mark: Right. Fear manifests in different ways. In the Democrats' case, why is it so risky to try someone besides Biden, as long as you do it in a way that's respectful and does not beat him up? If he does run, you want to make sure that he's not damaged too much if he wins. But it seems like there's a lot of groupthink around this.
One of the things I try to do when I'm thinking of stories to write is questioning groupthink, and questioning assumptions that grow up around politics and that I think are misguided or outdated.
Isabel: At this point, do you think anyone will jump in the race against Biden?
Mark: All it takes is one. I think it would be really bold. Gretchen Whitmer is an example I use in the story. She's a popular young governor, overwhelmingly reelected for a second term in a very swing-y state. I sort of play out in the story the scenario of: What happens if she tries? What if people like her? What if she is always so deferential to Biden and makes herself impossible to dislike? Her argument could be, I'm just giving voters a choice. I think it's time for a new generation.
I think it could be a powerful statement. But it's audacious. Obama sort of did the same thing—the conventional wisdom in 2008 was that it's Hillary's turn, so let's all step aside for Hillary. And Obama caught a little bit of heat for skipping the line, but lo and behold, it took. Obviously, it's a different election, with different circumstances and personalities. But I'm all for seizing the moment, even if there are a lot of calcifying forces in the other direction.
The arc of politics bends toward inertia. I would call for someone to be audacious here. I would argue that it could go really well for them, and even go really well for the party and for Biden.
Isabel: Right, but Democrats are scared.
Mark: They are. This is probably unlikely to happen. But I would love it to happen.
Biden is also dragging this out a bit. Apparently, his announcement has been imminent for weeks now. Maybe he's having second thoughts. Either way, there is an opening now that someone could seize.
Related:
---
Today's News
The Supreme Court heard arguments about the legality of President Biden's student-debt-relief plan.
Finland began construction of barriers on its eastern border with Russia.
Former Atlanta Mayor Keisha Lance Bottoms is leaving her role as a top White House adviser. President Biden has appointed former Columbia, South Carolina, Mayor Steve Benjamin in her place.
---
Evening Read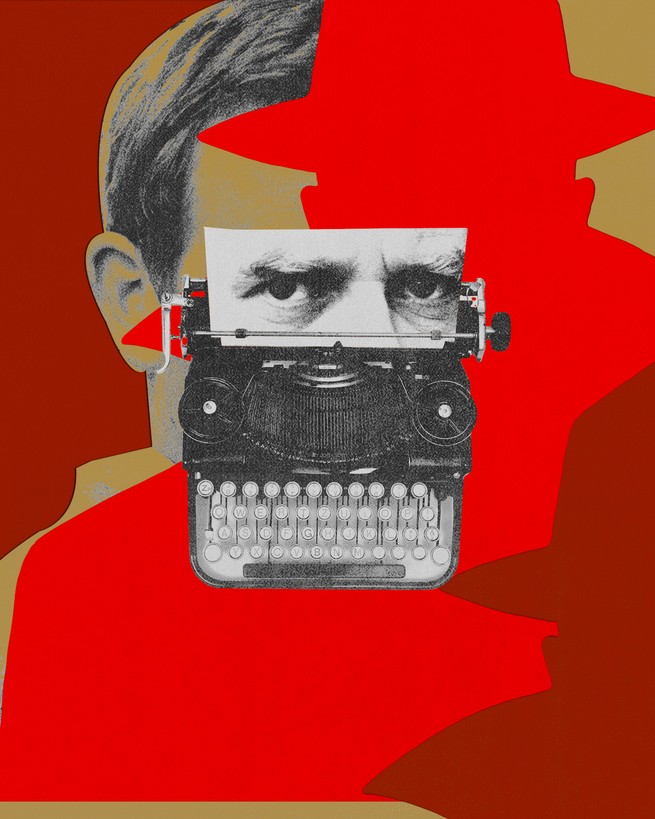 The Double Life of John le Carré
By Ben Rhodes
"Spying and novel writing are made for each other," John le Carré once wrote. "Both call for a ready eye for human transgression and the many routes to betrayal. Those of us who have been inside the secret tent never really leave it." Le Carré's enigmatic gift as a writer wasn't simply that he could draw on his experience of having once been a British spy. He brought a novelist's eye into the secret world, and the habits of espionage to his writing. Far more than knowledge of tradecraft, this status—at once outsider and insider—enabled him to uncover truths about the corrupting nature of power: His novels are infused with the honesty of an outsider, but they could only have been written by a man who knows what it is like to be inside the tent.
More From The Atlantic
---
Culture Break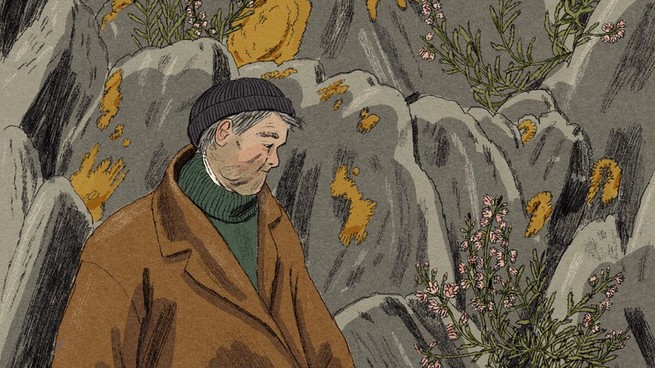 Read. Sebastian Barry, Ireland's fiction laureate, has a special understanding of the human heart. Pick up his latest novel, Old God's Time.
Listen. Check out the trailer for Holy Week, our new eight-episode podcast. The week that followed Martin Luther King Jr.'s assassination was revolutionary—so why has it been nearly forgotten?
---
P.S.
I asked Mark what he's been reading and watching when he's not thinking about Joe Biden (or Tom Brady). He's enjoying George Packer's book on Richard Holbrooke (and not just because George is an Atlantic colleague, Mark clarified). "Like most things, I'm years too late," he told me. He's also reading a galley copy of American Ramble, an upcoming memoir by Neil King about a walk from Washington, D.C., to New York. Mark recommends looking out for it when it's published in early April.
He's also just finished Succession—as he noted, he's often late on things! But he's just in time for the new season, which premieres at the end of March.
— Isabel