The January 6 Attack Is Not Over
America still needs accountability at every level.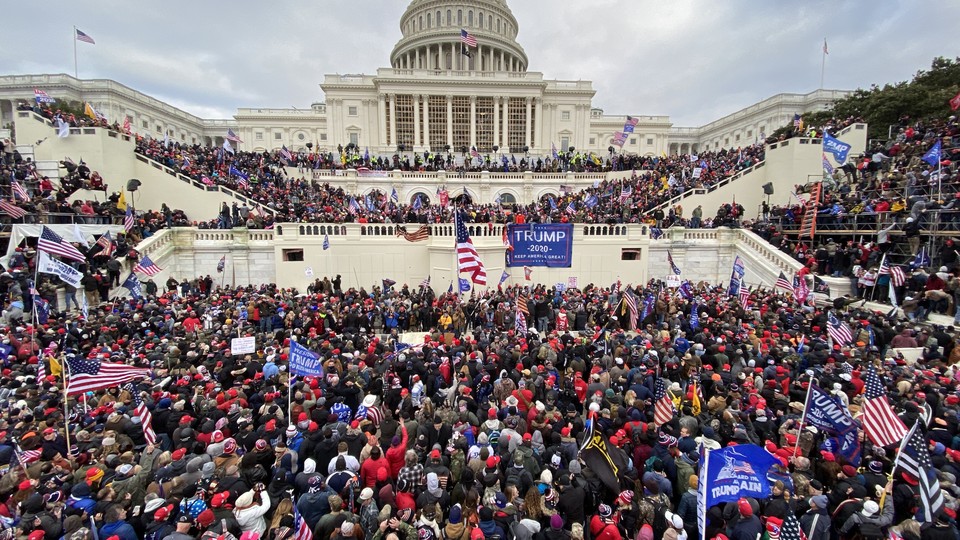 This is an edition of The Atlantic Daily, a newsletter that guides you through the biggest stories of the day, helps you discover new ideas, and recommends the best in culture. Sign up for it here.
On the second anniversary of the January 6 insurrection, Joe Biden decorated Americans for courage during the unrest, while on Capitol Hill, the House of Representatives remained in limbo as many of the same people who tried to overturn the 2020 election bickered over electing a speaker.
But first, here are three new stories from The Atlantic.
---
A Slow Democratic Recovery
President Biden today decorated 14 Americans with the Presidential Citizens Medal, an honor established by President Richard Nixon in 1969 to recognize any citizen of the United States who has "performed exemplary deeds or services for his or her country or fellow citizens." There are, I am sure, people on the right who will roll their eyes at honoring a Democrat such as Michigan Secretary of State Jocelyn Benson, or a Republican such as the former Arizona House speaker Rusty Bowers (whose long political career ended with censure and a primary defeat from his own party). Likewise, the Capitol Police officers and the election officials who will be honored have already been the target of harassment and threats; their medals cannot make them whole now. Nor can such a posthumous honor restore Officer Brian Sicknick to life. (Sicknick's family yesterday filed a wrongful-death suit against former President Donald Trump and two of the January 6 rioters.)
These American citizens are all, in fact, heroes. They took risks—not only politically but also by enduring physical threats from unhinged conspiracists—to protect our democracy. It's easy to forget just how much danger these people were in, and how narrowly we escaped even greater chaos. Imagine what America would look like today if some of the people being honored by Biden had been intimidated or defeated, or if they'd just lost their nerve.
I reached out to Rosa Brooks today to explore that question. Brooks is one of the scholars who convened a group of experts and partisan operatives in late 2020 to game out the "worst thing that could happen to our country during the presidential elections." She and her colleagues attracted a lot of snippy criticism at the time, but the events of January 6, 2021, proved their prescience. When I asked about her view of the worst that could have happened on that day, her scenario was chilling: She believes that had the rioters caught Vice President Mike Pence, or perhaps some members of Congress—such as the Democrats trapped in the House gallery at the time—they may well have been beaten or killed. "We know what happened to the police officers caught by the mob," she told me. "Imagine if the mob had caught members of Congress."
From there, Brooks suggested, more violence might have erupted, with more deaths. With Pence perhaps missing or incommunicado, there would have been no way to certify Biden's victory, and Trump would have attempted to impose martial law.
Brooks's most disheartening conclusion was that we escaped this disastrous possible outcome only by sheer luck. "I don't think some sort of resilience in our system prevented that," she said. "It wasn't the supposed 'guardrails of democracy' that kept things from getting that bad—it was chance, plain and simple."
I agree. We might be glad Pence stood firm at a key moment, but Pence had to be free—indeed, alive—to act. We might also comfort ourselves knowing that the clowns and opportunists who tried to overthrow our constitutional order have been outed by a thorough investigation in Congress. We can hope that justice is served, with prison sentences for some of the most dangerous seditionists and violent rioters. But is it enough? As the Capitol Police officer Harry Dunn tweeted this morning: "730 days later. We're still waiting on accountability."
Too many of the most important figures in the January 6 plot—and, as we know from the House investigation, it was indeed a plot, and not some random outbreak of violence—have escaped true accountability. From Trump on down to the group that the Washington Post writer Greg Sargent calls the "coup lawyers," including John Eastman and Rudy Giuliani, we know their names. But severe consequences for such people have been rare.
Meanwhile, most of the Republicans who voted to overturn the election are still in Congress—or would be, if the House could get organized enough to swear them in. (At a ceremony at the Capitol today to mark the anniversary of the insurrection, only one Republican, apparently, bothered to show up.) The White House event to honor those who defended democracy took place at the same time that Representative Kevin McCarthy, just down the street at the Capitol, submitted himself for another few rounds of political bastinado, as the House, for the 12th and 13th times, failed to elect a speaker.
The anniversary of January 6 should remind us that the crisis of American democracy isn't over, and that we should continue to take seriously what a close call we had in January 2021. (Exhibit A: Twitter's new boss, the deeply unserious Elon Musk, trollishly chose today to reinstate the account of the disgraced Trump national security adviser Mike Flynn, the man who wanted the military to seize voting machines.)
I have been somewhat optimistic about America's democratic recovery in the aftermath of the 2022 midterm elections, and I actually think the contest over the speaker's job is an example of democracy in action. But we should not lose sight of the ugly reality that the people opposing McCarthy have not done so out of principle or because of policy differences. The "rebels" are members of a caucus of extremists who will be part of the new majority, and whose serial humiliations of the gentleman from California will grant them concessions in the House that will continue to endanger the stability of our system of government. Or, as my colleague David Frum put it yesterday, McCarthy is on the "verge of selling out the country to a nihilist faction so he can briefly occupy a now-powerless office—then cash in for whatever he can get after this fiasco."
It is fitting that we remember the heroes of January 6, including the many people who weren't at the White House that day but who stayed at their posts and did their jobs as election officials, volunteers, observers, and many other of the tasks that allow the millions of citizens of a giant federal democracy to govern themselves. But the events today on Capitol Hill and the ceremony at the White House are reminders that the threats to our constitutional order have not vanished, and that we cannot magically wish them away.
Related:
---
Today's News
Kevin McCarthy lost his 13th vote for House speaker, but he did move 15 GOP holdouts into his camp after making some concessions.
A new report showed that the U.S. economy added 223,000 new jobs in December, making 2022 one of the best years on record for jobs growth.
Damar Hamlin, the Buffalo Bills player who suffered cardiac arrest during Monday's game, had his breathing tube removed overnight and is talking.
---
Dispatches
Explore all of our newsletters here.
---
Evening Read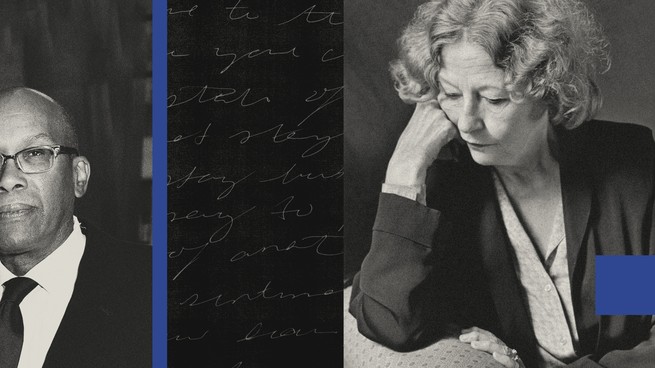 The Writer's Most Sacred Relationship
By Lauren LeBlanc
Making a living as a writer has always been an elusive pursuit. The competition is fierce. The measures of success are subjective. Even many people at the top of the profession can't wholeheartedly recommend it. The critic Elizabeth Hardwick, Darryl Pinckney recalls in his evocative new memoir, "told us that there were really only two reasons to write: desperation or revenge. She told us that if we couldn't take rejection, if we couldn't be told no, then we could not be writers."

In spite of these red flags, countless people set out on this path. One lifeline, if you're lucky enough to find it, is mentorship. Literary mentors offer the conventional benefits: perspective, direction, connections. But the partnerships that result are less transactional and more messy and serendipitous than those that tend to exist in other industries. While many people might think of such arrangements as altruistic or at least utilitarian, Pinckney's book, which chronicles his tutelage under Hardwick, shows that artistic mentorships, especially literary ones, are far more fraught.
More From The Atlantic
---
Culture Break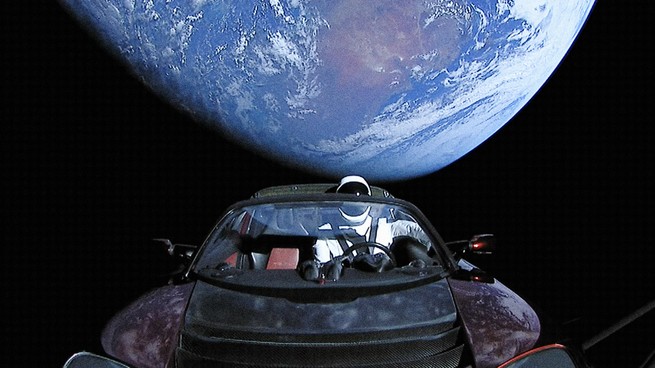 Read. These eight self-help books are actually helpful.
Or spend a few minutes with "Another White Male Writer," a new poem by Mahogany L. Browne.
Watch. Women Talking, Sarah Polley's new film (in theaters), makes a conversation feel epic.
On TV, our writers recommend 13 feel-good shows to keep you warm this winter.
Listen. On our podcast Radio Atlantic, Marina Koren discusses our strange new era of space travel.
---
P.S.
In much of the Eastern Orthodox Christian world (Russia and Ukraine, for example), today is Christmas. Russian President Vladimir Putin declared a Christmas cease-fire, but within hours of the arrival of the holiday, air-raid sirens blared over Kyiv, and CNN reported artillery exchanges at the front lines near Bakhmut. Perhaps the most insulting aspect of the Russian declaration is that it ostensibly came at the behest of the Russian Orthodox patriarch, Kirill, who has been a vocal and especially bloody-minded supporter of the war.
In the meantime, you may wonder why some Orthodox celebrate Christmas in January. Not all Orthodox do this; I am Greek Orthodox, and we follow the Western tradition of celebrating on December 25. The simple answer is that the Christian world broke apart into its Eastern and Western camps in the 11th century, and when Pope Gregory XIII standardized a new calendar in the 16th century, the Eastern churches decided to stay with the old "Julian" calendar, in which Christmas falls on January 6. There's no particular theological significance there, especially because no one really knows the exact date of Christ's birth. Now, as to why Orthodox and Western Easter fall on different dates … that's a little more complicated, and I'll get back to you on that in a few months.
— Tom
---
Did someone forward you this email? Sign up here.
Isabel Fattal contributed to this newsletter.