The Coziest Mystery Series Going
Kate Lindsay's culture picks include a variety of murder mysteries and one go-to comfort sitcom.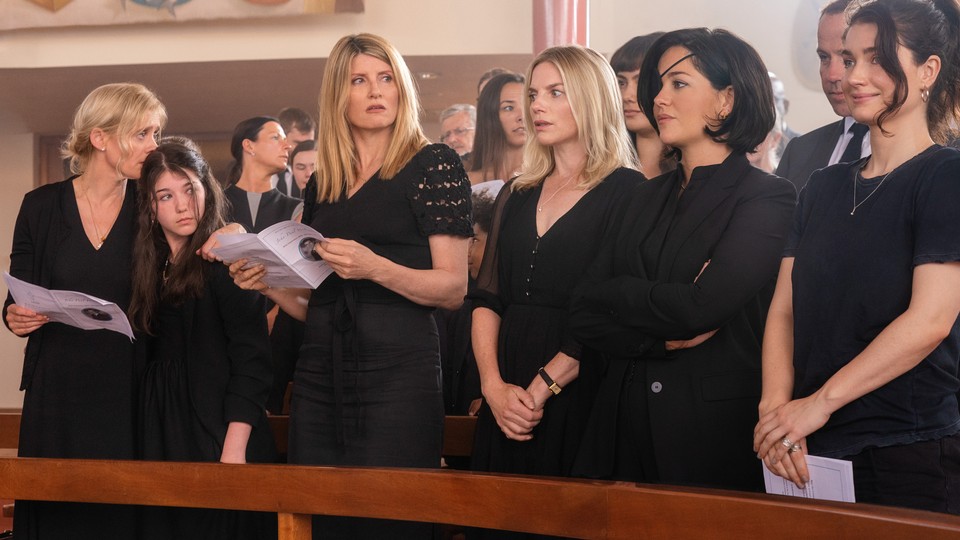 This is an edition of The Atlantic Daily, a newsletter that guides you through the biggest stories of the day, helps you discover new ideas, and recommends the best in culture. Sign up for it here.
Good morning, and welcome back to The Daily's Sunday culture edition, in which one Atlantic writer reveals what's keeping them entertained.
Today's special guest is Kate Lindsay, who has written viral Atlantic articles about the Instagram "ick" and the "Millennial pause." (Translation: Instagram is over, and Millennials are aging out of the internet, respectively.) She also talked about the Millennial pause in a viral TikTok and writes a newsletter, Embedded, about internet culture. Kate is savoring The Thursday Murder Club and fighting with her friends about The 1975, and she would follow Sabrina the Teenage Witch anywhere, even Paramount Plus.
But first, here are three Sunday reads from The Atlantic.
---
The Culture Survey: Kate Lindsay
The upcoming event I'm most looking forward to: My friends and I need to get tickets to see Jodie Comer in the play Prima Facie when it comes to New York City this April. Comer is obviously best known for playing opposite Sandra Oh on Killing Eve, but real heads know her from My Mad Fat Diary. It was her monologue in Snatches that first made me need to see her live. [Related: Killing Eve and the riddle of why women kill]
The television show I'm most enjoying right now: I have an annoying tendency to get something recommended to me over and over and, when I finally make my way to it, be like, "Why did no one tell me about this earlier???" Sharon Horgan's Bad Sisters is one of those things. Based on the Belgian series Clan, this Apple TV+ show is about five sisters, four of whom (maybe) conspired to kill the fifth's terrible husband. I don't know yet! I got a few episodes deep during a plane ride and am parceling the rest out like little treats so it lasts longer. As will shortly become apparent, I'm a sucker for a mystery based in the U.K. or Ireland. [Related: The wrath of a woman without any options]
Best novel I've recently read: The Thursday Murder Club is the first book in a U.K.-based mystery series of the same name by Richard Osman. I can promise you that no other book about murder will make you feel this warm and fuzzy. Set in a retirement community near Kent, the series follows a group of senior citizens who meet weekly in an attempt to crack unsolved cases, often running into a few present-day mysteries of their own. The characters are lovable, the writing quick and hilarious, and the plot genuinely gripping. And there's good news for those of you hearing about The Thursday Murder Club for the first time: It's already three books deep.
An author I will read anything by: Tana French, who, if you can believe this, writes Ireland-based mystery novels. Six belong to the incredible Dublin Murder Squad series, and her two additional stand-alone novels—The Witch Elm and The Searcher—are just as good. I read all eight in the summer of 2021 and have been waiting patiently for any scrap of news about her next book ever since. In fact, two of my friends have emailed French herself to see if she is working on anything new. I'll let you know if we ever hear back. [Related: Women are writing the best crime novels.]
My go-to karaoke song: I'm a recovering a cappella group member, and karaoke is my shameless two minutes in the spotlight. Do not sing along with me; I am performing. And in most cases, it's Tom Petty's "Free Fallin'," because it's a crowd-pleaser and, most important, comfortably within my vocal range.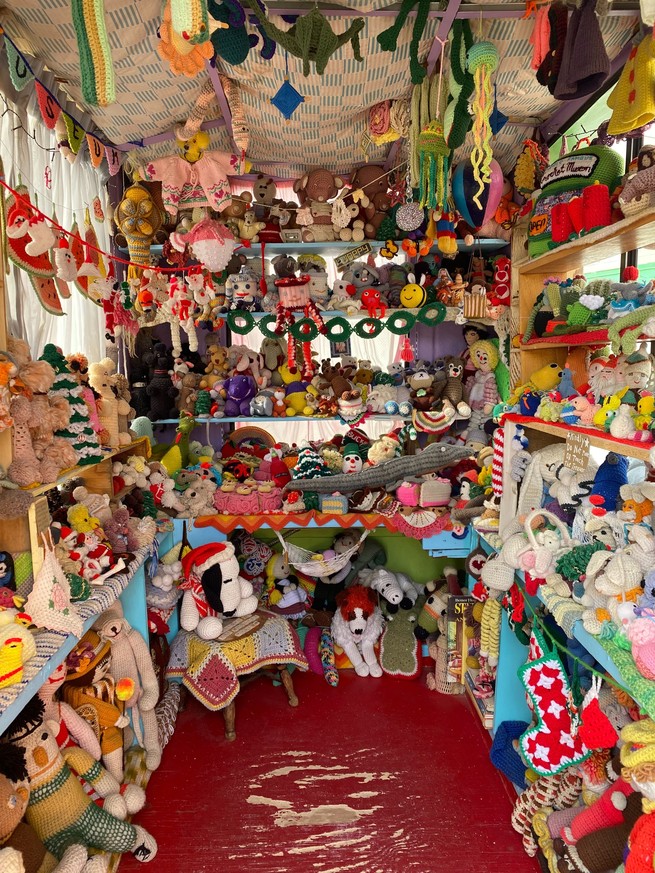 The last museum show that I loved: Try as I might, I'm not a huge museum person, but as a knitter, I had to stop by Shari Elf's World Famous Crochet Museum when I was in Joshua Tree over New Year's. The space is small, but the collection is significant. [Related: Getting through a pandemic with old-fashioned crafts]
Something I recently rewatched: I don't know if there's ever a time I'm not actively revisiting the late-'90s/early-'00s sitcom Sabrina the Teenage Witch. I used to come home from school every day to watch it, and it's the first thing I put on as an adult whenever I need some comfort. The series will have just left Hulu (my most recent binge was in anticipation of this). But I'll follow that kooky witch, played by Melissa Joan Hart, and her talking cat, voiced by Nick Bakay, anywhere—even Paramount Plus. [Related: How Chilling Adventures of Sabrina thinks about female power]
Online creators that I'm a fan of: YouTube and TikTok are my primary forms of entertainment, and I've followed so many creators for so long that this is a hard answer to narrow down. But now that content creators are somewhat mainstream, I'll recommend the YouTuber Rachel Nguyen as one who is doing something totally different and refreshing. We recently had a great conversation about creating authentic art in an algorithm-driven world, and her quarantine vlog is proof that online content can be just that: art.
The last debate I had about culture: Thanks to TikTok, I recently became obsessed with The 1975, and no one in my life is being supportive. I've been listening to their new album, Being Funny in a Foreign Language, pretty much nonstop for the past two months, but every time I try to play it among friends—in cars or at dinner parties—I'm soundly overruled. These people insist the music is bad, which is incorrect. It was a tense Friendsgiving.
A poem, or line of poetry, that I return to: I had completely forgotten about this poem until my friend Jehan resurfaced it when we were talking about how much we love the actor Aya Cash. Cash's mom is the poet Kim Addonizio, who wrote "To the Woman Crying Uncontrollably in the Next Stall":
"listen I love you joy is coming"
Read past editions of the Culture Survey with Xochitl Gonzalez, Spencer Kornhaber, Jenisha Watts, David French, Shirley Li, David Sims, Lenika Cruz, Jordan Calhoun, Hannah Giorgis, and Sophie Gilbert.
---
The Week Ahead
House Party, a comedy directed by Calmatic and produced by Maverick Carter and LeBron James, who also stars as himself (in theaters Friday)
Plane, a thriller starring Gerard Butler and Mike Colter (in theaters Friday)
Still Pictures: On Photography and Memory, Janet Malcolm's posthumous memoir (Tuesday)
---
Essay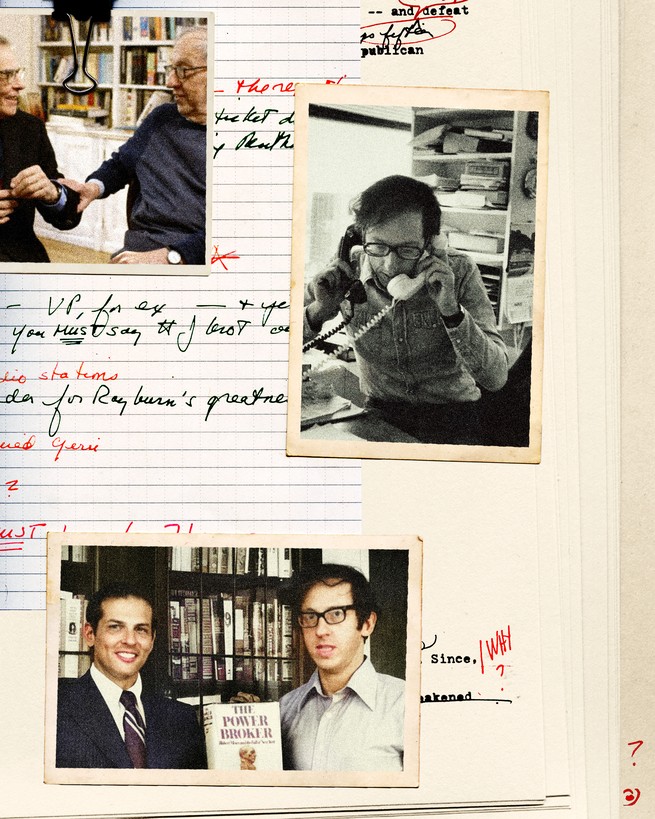 A Civil War Over Semicolons
By Gal Beckerman
The partnership of Robert Caro and Robert Gottlieb is beautifully anachronistic. As writer and editor, respectively, they have together produced 4,888 pages over the course of 50 years, including the multivolume, still unfinished saga that is Caro's biography of Lyndon B. Johnson. A lasting collaboration of this sort is impossible to imagine in today's publishing world of constant churn. Then there's their method: Caro puts on a dark suit every day, writes his drafts out in longhand, and copies them onto carbon paper using his Smith Corona typewriter, after which Gottlieb marks them up with a pencil—like a couple of cobblers still making shoes with an awl. Whatever deal Caro got from Gottlieb and Knopf in the 1970s, it has allowed him to work monastically on this biography project seemingly without any other source of income. As Caro's longtime agent, Lynn Nesbit, says of the arrangement in Turn Every Page, a new documentary about Caro and Gottlieb, "I doubt that it could ever happen again."

But there's something else about the relationship that gives a glimpse into another era: The two don't seem to like each other all that much.

They bicker all the time, about every comma, period, and semicolon. Actually, don't even get them started on semicolons.
More in Culture
---
Catch Up on The Atlantic
---
Photo Album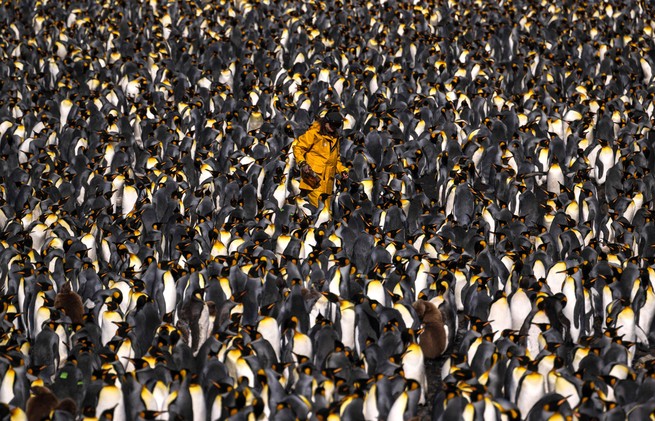 Check out snapshots from a photographer's visit to the French Southern and Antarctic Lands, home of many penguins, seals, and seabirds.
---
Isabel Fattal contributed to this newsletter.