Your Odes to Summer
Baseball, mosquitoes, and the best songs for the season.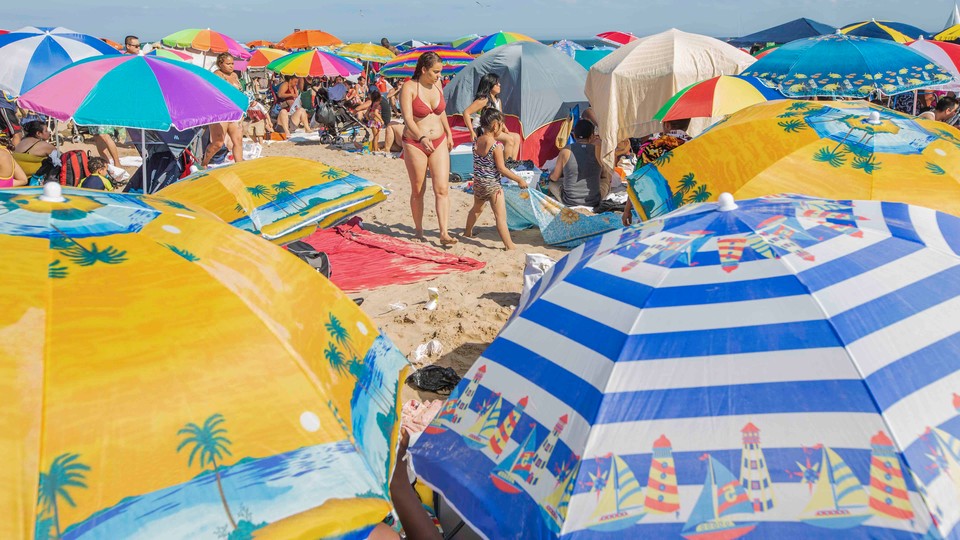 This is an edition of Up for Debate, a newsletter by Conor Friedersdorf. On Wednesdays, he rounds up timely conversations and solicits reader responses to one thought-provoking question. Later, he publishes some thoughtful replies. Sign up for the newsletter here.
Last week, I asked readers to opine on summer among the seasons––and I solicited nominees for the best summer songs. I'll conclude today with some song nominations of my own.
Jaleelah loves a summer ball game:
There's nothing I love more about summer than baseball in Toronto. Baseball may have once been America's favorite pastime, but nothing unites Canada quite like backing the Raptors in the winter and cheering for the Blue Jays in the summer.

I am one of the few women in the city who umpires baseball games. I started officiating house-league games when I was 14, and it was terrifying. Parents of 10- and 11-year-olds are often a little too invested in their kids' journeys to the MLB. But I had a group of supportive, experienced older umpires to keep my spirits up through all the strike-zone complaints and angry little players. It helped that I worked at a league where just about as many moms took up coaching as dads.

Umpires have to apply a complex set of rules to hundreds of split-second decisions over the course of two or three hours. Not even the best of the best can make the right call on every single pitch. As a result, umpiring teaches you to move on from your mistakes after dealing with the people they've affected. I have no idea where I'd be in life if baseball hadn't taught me to keep calm and carry on when people whisper snarky comments about me or yell outright insults in my face.

Even though I have a "real job" now, I intend to umpire for as many summers as I can. I still work at the park where I started out. It is one of the liveliest green spaces in Toronto. Teenagers and 20-somethings hold raves and massive picnics on the hills. Parents hold birthday parties for their children at the pool and the playground. Smaller film festivals and bands put on screenings and performances nearly every weekend. As much as I love the winter, the city just feels more alive in July. Summer at the baseball field lets me watch people seek joy through a thousand different activities. It's comforting to be reminded that people can find so many ways to make their days brighter. Most of all, as we exit the pandemic, it's nice to see people leaving the internet at home and enjoying the fresh grass.
Lisa recalls the sweet, cool breeze of a noisy home appliance:
Growing up in Mississippi, hot, humid days melted into only slightly less-hot nights. My brother and I would be out of school and our time was our own. The happiest moment of the day would be when our mother would call from work and let us know it was okay to turn on the air conditioner. We had a wall unit that was loud and expensive to run. It ran mostly at night. On the hottest days, we could turn it on in the late afternoon. I am sure it took a while to cool the house, but in my memory, respite was instant when the knob was cranked around to "High Cool."

Best summer song: "Blister in the Sun," by Violent Femmes. Hearing those first few notes takes me back to dancing in a club with other college-age kids. The club was "out in the county"; it was easy to get a drink if you were underage, and by the end of the night there was always a beer puddle in the low part of the dance floor.
Eric appreciates the vibe of summer:
Summertime in Georgia means sticky, oppressive heat plus mosquitoes. The moment you step outside, you're sweating, and as soon as it starts to cool off in the evening, you're eaten up. But there's a lot to love too. Coke-colas (that's the country pronunciation) taste better, fruits like peaches and watermelons ripen to perfection, and you can roll lazily down the cold, muddy waters of the Chattahoochee with libations and relations all day without the cops bugging you. For some reason, East Atlantans love to shoot fireworks just about every Thursday through Sunday evenings, whether it's Juneteenth, Independence Day, or just some weekend in August. The kids are out of school, so the buses aren't running, but there are summer-camp kids hitting rivers, parks, and the sights, which makes for a fun, lighthearted atmosphere all around cities and landmarks.

Three summer songs:

My family are big Bob Seger fans, and "Roll Me Away" reminds me of road trips and takes me back to riding in truck beds with a handful of cousins camping on forestry land.
The Avalanches' "Because I'm Me" has that old-school sound with the new shine; it makes you wanna sweat and dance through a backyard BBQ on into a night out under the stars.
Harry Styles isn't someone I thought I'd be listening to at my age, but his new album is insanely catchy. "Daydreaming" is a perfect summer song. So much fun.
Howard feels that "summer is a lie, especially in the Northeast." He explains:
The first day of summer, June 21, is the longest day of the year. That means that every day of summer is shorter than the day before. Long, carefree summer days? Summer is always getting shorter.

I grew up in Philadelphia, which followed the more-or-less-standard summer schedule. School through June 20, then summer break, and school began just after Labor Day. Then as an adult, I lived in Florida for a few years. There school ended the last week of May. Basically, you have off all of June, the best summer month. Everything is in front of you, the days are still getting longer, it's nice out but not oppressively hot, and you can build up to the Fourth of July. Now that I'm back in the Northeast, I miss it so much. On the Northeast schedule, it's an endless parade of "year-end" activities, ceremonies, celebrations, and "let's-squeeze-this-in-before-summer" obligations. You lose almost all of June. Then, once summer finally, actually hits, you're already at July Fourth week. It's behind you before you even know it. Then you have basically three weeks of actual summer before it gets to August, when days are hot, humid, and heavy with the overbearing feeling that summer is winding down. I remember summertime being better.
Errol is trapped in a cartoon picnic:
I love summer for everything except for ant season. Heat and drought in California keep bringing them out: They come from the ceiling, the floor, the kitchen, the bathroom. There's no end! Poison, powder, spray, traps, none of it works! I've gotten to the point where I'm willing to take the environmental repercussions of eliminating ants from the world.
John is nostalgic:
We moved recently from Nebraska to Washington. I already miss my best fishing spot in summertime. Around the end of June, the shiner minnows spawn, and we camp at the Notch (a fishing spot so good, I named it). And while I'm not a fan of the heat, the evenings are simply amazing. My family and I still talk about the many stories of camping and fishing there. While the fishing bite is electric, the other sights never disappoint: a whole family of coyotes literally howling at the moon, owls and whippoorwills calling at dusk, beavers and racoons right in the campsite, catfish noisily splashing in the shallows. And of course, "All Summer Long" by Kid Rock playing in the background!
As for me, "All Summer Long" will always be by The Beach Boys. And I'd say you should also be listening to "Come and Go With Me," "A Sweet Summer's Night on Hammer Hill," "Get Together" (Joni Mitchell and CSN version), "California Saga: California," "Surf Wax America," The Ataris' cover of "Boys of Summer," "California Soul," "California Love," "Jessica," "The Only Place," "Summertime" (Janis Joplin version, though take your pick of others), "Wildflowers," "Hot Fun in the Summertime," "Scarlet Begonias" (Sublime version), "Green Sugar," "Black Water," "And It Stoned Me," "Lovely Day," "Just What I Needed," "Sunshine Superman," "In the Summertime," "Night Moves," "Red and Purple," "Dripping Sun," "Take It Easy" (the Jackson Browne version!), "Mr. Blue Sky," "Saturday in the Park," "The Girl From Ipanema," "Miserlou," "California Sun," "Surf's Up," and "Good Vibrations."