14 Reader Views on Sexuality and Gender in the Classroom
The case for telling kids the whole truth, how to ask students neutral questions, and more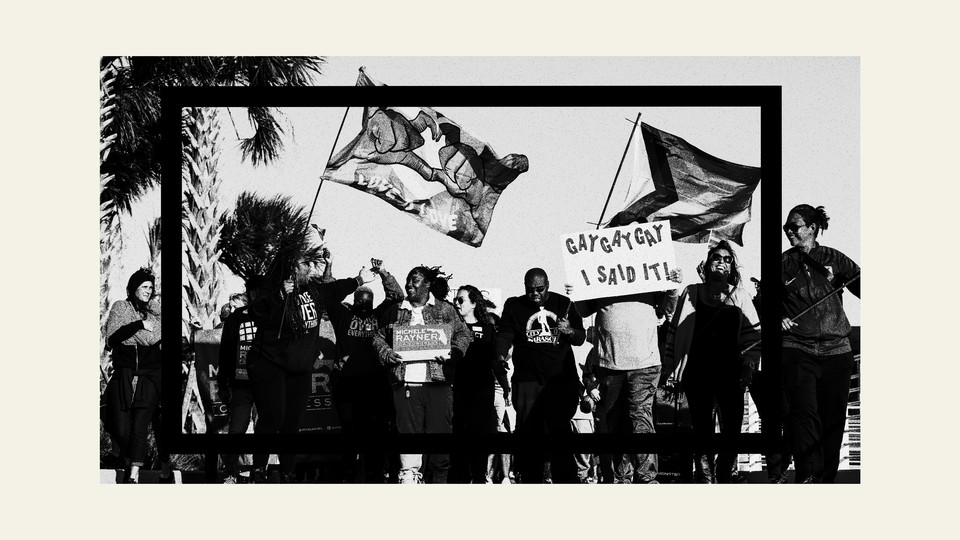 This is an edition of Up for Debate, a newsletter by Conor Friedersdorf. On Wednesdays, he rounds up timely conversations and solicits reader responses to one thought-provoking question. Soon after, he publishes some thoughtful replies. Sign up for the newsletter here.
Amid debate over a new law in Florida that prohibits instruction on sexual orientation or gender identity prior to fourth grade, that declares an intention to limit "classroom discussion" of those topics in its preamble, and that bans all instruction that is "age inappropriate" (whatever that means) in any grade, I asked readers, "What, if anything, should minors be taught or told about sexual orientation and gender identity before puberty?"
Today's roundup concludes with an unusually long reader response that I very much enjoyed––and begins with Stephen, who sympathizes with people on both sides of this polarizing debate:
It is reasonable for parents to want to manage their children's first introduction to sexual orientation and gender identity. Those on the left who oppose the bill overlook that the legislation's K-3 "no fly zone" can also be protective of their interests, and even a tool to protect their right to control how their children are exposed to these issues. If a conservative teacher is teaching that the only acceptable form of sexual orientation and gender identity is one based on biological birth, parents who disagree and want their children to understand a fuller range of views can object, and even have legal recourse to enforce their rights. The legislation's ban on subsequent education that is not "age appropriate," however, is hopelessly vague and not amenable to neutral application. It wouldn't be surprising if a court struck down that portion of the legislation for vagueness.  
Phil argues that we obscure a critical distinction when we talk about "sexual orientation and gender identity" because the compromise America reached on gay issues won't work for trans issues:
The existence of same-sex sexual attraction is almost never disputed as a point of fact; our debates about when and how to introduce that phenomenon to children largely center around what moral judgments should accompany those conversations. Transgenderism, on the other hand, is hotly disputed as a pure factual matter, which renders any subsequent moral debates mutually unintelligible because they begin from opposite premises. The immutability of sex (and the inseparability of sex from gender) is a binary choice; it either is or isn't and all else proceeds from that foundational assumption.

Unfortunately, I believe this mutual antagonism is irreconcilable, which means we won't be able to reach a cultural entente around transgender issues the way we did around homosexuality. Even if we begin from a place of desiring compassion and grace for the individual, the two sides will immediately disagree about what those words mean in practice. Do they require psychological interventions designed to mitigate gender dysphoria and reconcile body and mind, or do they require a reorientation of society intended to provide space and ensure acceptance of self-defined sex/gender? There is no compromise position between the two in the same way there can be no compromise between a geo-centric and a helio-centric astronomical model; there is no wiggle room on the basic question of reality that is in dispute.
Emma articulates a position that strikes me as a potential compromise––expose young kids to the full diversity of human behavior, but eschew the charged labels that adults frequently argue about:
Kids should be taught that there are all kinds of kids and all kinds of families. There are kids with two moms and kids raised by grandparents. Some kids like to paint their nails. Some don't. There is no need for an overemphasis on labels, just acknowledgement and appreciation for the diversity of experiences. As a young queer woman (three identifiers in a row!), I think that although many experience validation from putting a specific label to their orientation, it is more beneficial to break down the need for such stringent labels, especially for children who are still beginning to learn about the world.
But that might not satisfy Jean, a gay teacher in Florida, who objects to any group of people being rendered unmentionable among children and sees dark historical resonances at work in her state:
I'll start by saying that I have never used my personal life as an "agenda" in educating students, as I respect the boundaries that must be observed between personal and professional life. There was never any issue of LGBTQ topics being mentioned in school prior to these awful bills. Kids ask questions, and it is never inappropriate to discuss the realities of the LGBTQ presence in our society, without stigma, secrecy, or shame. A ban on these topics is outlandish and discriminatory to an entire group of individuals. These are people, not political emblems.

So many lessons can be learned from other eras in history when groups were openly targeted with prejudice and discrimination: Blacks, Jews, immigrants, or any minority painted as "dangerous." Are students or teachers not to reference these parallels to teach another generation that these same problems exist as they did in 1939? In the '50s and '60s? Isn't that our job as teachers—to teach kids to recognize patterns in history, the relevance of diverse voices in literature, science, history, and to stand up to injustice? It is imperative to teach with DIVERSITY and EQUALITY in mind, towards everyone: Black, brown, white, straight, LGBTQ, as long as what we support does not further hate. Partitioning off any group of people as an unacceptable topic is the opposite direction we need to lead.
Roger is a Democrat who supports the Florida bill:
I don't see why pre-puberty children should be taught anything about sexual identity in schools. Even though I'm a Democrat, if this is actually being taught in K-3, which I somehow doubt, I'm okay with Florida's bill; although, I might have worded it differently.  

Before puberty, let these kids be kids, and don't oversexualize everything. I think the Democrats lose a lot of support when they go overboard on this stuff. I would be okay with having a small percentage (representing the percentage of gay people in society) of K-3 reading books showing same sex, mixed race, or single parents. If the kids ask about it, teachers just have to say: "Well, every family is different, and that's okay, as long as they're a loving family." If the kids ask more, tell them: "Beyond that, I think you should ask your parents. Now, let's move on, guys!"
Jon argues that given our diverse society, with intractable disagreements among parents, the public-school system we have today is repressive, and justice requires a school-choice regime:
The notion that a pluralistic society could come to any consensus as to what minors should be taught about sexuality—a fraught yet inescapable realm implicating the deepest reaches of the human person but also the lives of everyone else through the very fabric of society—is simply absurd. This absurdity is demonstrated by the desire of both sides to create a totalizing solution, that is, to forcibly depluralize society in this realm. The public school system is a ready-made tool. The government requires that a child be sent to the local outpost of the government-mandated curriculum, concerning which teachers have almost zero free speech rights. Parents can file objections and register dissent through electoral activities, but the parent has no power to determine the content of the government-mandated curriculum beyond the power of majority persuasion.

The public school system needs to be deconstructed and built anew. Funding must follow the student, and each school must be allowed to adopt the curriculum of its choosing. In this way, families could choose the education that most closely aligns with their values, and no single system of values would be imposed upon all.
Chris insists that schools must at least tell parents what they are teaching, whatever that is:
I admit there were times back in the '80s when my teacher shared information with our class where he said "I would appreciate it if you didn't share this bit with your parents." Usually when discussions of drug use were taking place and the teacher admitted to taking a hit or two off of a joint that was passed around at whatever concert they attended.

But there is a difference between telling a bunch of high school students, "don't tell your parents that I took a toke in college," and telling an elementary school student, "don't tell mom and dad that we're talking about this in class" or "talking to you about this." In the grand scheme of things do I worry about kids being groomed by their teachers? The answer is no, I don't, but I don't wish to create an environment where abusive adults feel comfortable either, and my conservative inclination is that when I have a group of teachers who are advocating for the right to have private conversations and those conversations kept away from the parent, you're creating an environment in which abuse is more likely to take place.  
Merideth's youthful confusion explains why she wishes she had been taught more about sexual orientation:
I'm a cisgender lesbian who was married to a man, with a baby on the way, by the time I realized I was attracted to women. You'd think that having an aunt who is a lesbian in a (now-40-years long) partnership would have told me what I needed to know. It didn't because I didn't have the vocabulary to ask questions and I didn't know if the adults in my life would respond in ways I would find helpful. In the absence of vocabulary to ask questions, kids form beliefs about themselves and others that can be damaging to their emotional, psychological, and physical health. It's crucial that caregivers supply children with non-judgmental vocabulary from an early age. We can start by using the anatomical names for private body parts and acknowledging kids' observations when they notice others' private body parts. And part of that is explaining what "private" means.
She is a teacher and describes her own approach:
With my preschool students, it's easy to talk about similarities and differences in positive ways because I start with a neutral question—for example, "Do you have feet?" Usually, the answer is yes, and we can talk about how many feet they have, how many toes, do they wear shoes … and inevitably, one of the kids tells us that their dad hurt his foot; or that they don't like socks; or their cousin has feet but uses a wheelchair instead of walking. That lays the groundwork as an educator for giving them the vocabulary to ask questions about similarities and differences.

When we consistently respond in a thoughtful, calm manner, kids know that it is genuinely okay that they (and others) are different from each other. Perhaps most important is being honest with kids of any age if they ask a question, however embarrassing, and we don't know the answer (or how to answer). My favorite ways to respond are, "I don't know. We can find out by asking Person," or "I don't know. I wonder if we can find the answer in a book?" The second response buys me time to find an answer or explanation that is developmentally appropriate.
Jack fleshed out why exposing kids to the concept of gender identity concerns him:
Children under puberty are easily dazzled by fantastical possibilities they hear about, and can jump in eagerly, especially in the company of adventuresome friends, keen on a bit of excitement. Thank God they behave this way—but should they be encouraged to believe gender transformation is an urgent medical project best begun at once? No.
Emily wants kids exposed to queer identity, and sympathizes with those who want to teach that it is affirmatively good to be queer, but concludes it is better to teach that it is neutral:
I remember having crushes on girls as early as elementary school, but I had no idea homosexuality existed. So at the time, I thought I was weird and broken. I think representation of homosexuality (girls can have crushes on girls!) in the entertainment I consumed and what I was learning at school would have saved me a lot of grief and confusion. I grew up hearing that being queer was inherently bad. A position I disagree with, but have sympathy for, is that being queer should be taught as a /good/ thing. I was a very impressionable elementary schooler who wanted to make adults happy—my personality was an amalgamation of three or so fictional characters I admired. If I had gotten the message that being queer was better than being straight, I'm fairly certain I would have identified as a lesbian regardless of my actual sexuality. I want sexuality to be taught as a neutral fact: Girls can have crushes on girls, or boys, or nobody at all, and they're all equally fine.
Elizabeth argues that Florida's law may surprise its supporters with what it demands of educators:
Gender identity is discussed every time the teacher says "good morning, boys and girls." Teachers will not be able to tell students that bathrooms are gender segregated, or "correct" them if they use the "wrong" one, a topic now reserved strictly for parents in Florida. Nor can they interfere with a student whose clothing or preferred pronouns contradicts the class roster. The fact that any parent can sue makes such an outcome only more likely.
As for when to teach these subjects, she argues that "a topic is age appropriate if it is the lived experience of some normal, healthy children that age. Some children are transgender. Some families have two Dads. Both topics are age appropriate in preschool."
Jason argues that aggressive efforts to affirm everyone's sexual and gender identities are counterproductive:
If we want to end homophobia, and similar prejudices, we need to make it boring and bland, a preference like any other. Sexual orientation should be as bland as preferring tea to coffee, or romantic movies to horror movies. By making it important, we give fuel to existing homophobes to draft absurd rules we all have to live with. It's a lot easier to be Gay, Lesbian, Bi, Trans, Queer etc. when nobody else really cares one way or the other. Taking special measures to educate children about sexual orientation will have the opposite effect and reinforce the myth that these other orientations are somehow abnormal or abhorrent.
Jeremy's child was exposed to matters he would've preferred to wait until she was older to expose her to, and continues to believe that she is worse off as a result of what her school told her:
I have an 11-year-old daughter who has proclaimed numerous sexual identities and preferences, but we live in the Deep South and she attends private school. I believe this affords me a unique perspective. My daughter and I have a call-and-response routine before bedtime, part of which is her telling me what she believes about us. Frequently she'll say that I "love and accept her no matter what."

Which is completely true—part of my philosophy is that we're here to nurture and feed our children so they can grow into whatever flower they were born to be, and it's not up to me if she's a rose or a daisy. However, I'm equally convinced that my daughter's awareness of the existence of sexual orientation and identity is a burden foisted upon her by the "experiential" school she briefly attended a few years ago. We don't have a television, we don't watch movies or consume much media, and social media is outright banned, so for the most part her social construction of reality is influenced by peers and direct experiences, which create a noticeable innocence.

Conversely, I clearly remember when she came home from school three years ago telling me that "gay is great" and she wanted to be gay because she really likes rainbows and being happy and gay people have rainbows. She had just turned 8. Her school had forced me to discuss rather adult topics with a child whose only clear concept of the matter was rainbows. The school consistently taught, through video selection, project assignments, and classroom readings, that "gay is great." By the end of third grade my daughter had dyed her hair and identified as lesbian, well before she had her first kiss or even held hands at recess.

As my daughter has matured, her understanding of what she's proclaiming has become more completely defined. She now has a "trans" girlfriend and is less certain of her sexual preferences, but in all other aspects of personality and development she is clearly within the bounds of normative Southern culture. I would argue the school's decision to amplify the rhetoric of a historically marginalized group so that the upcoming generation would have more sensitivity to their plight has not achieved enough measurable, tangible benefit to justify the harm. The ends do not justify the means in this case. My daughter is a more confused and isolated child than her peers that have not been exposed to this "choice." No one involved obtained my consent before exposing my daughter to this information.
Last, but not least, there is Zoe, a 19-year-old queer woman, who shared her extended thoughts, blending personal insight, deep investment, reasoned argument, and openness to dissenting responses in a way that exemplifies what this newsletter is trying to encourage.
Here are her thoughts at length:
This issue is personal to me and my answer will reflect that. When it comes to teaching minors about sexuality and gender we have these four options: 1) teach them nothing, 2) teach them only about cis-ness and straight-ness, 3) teach them only about queerness, or 4) teach them about cis-ness / straight-ness and queerness.

Some may want to teach them nothing. But that is impossible. As soon as children enter the world, they recieve an education on gender and sexuality. In kindergarten, my closest friend was male (and I, female). One day, when my mom came to pick me up from school, my teacher pulled her aside to let her know that said friend and I were cuddling during storytime and she had concerns. As a 5-year-old, my mixed gender friendship was sexualized. That is an education in gender and sexuality. I cannot recall a boy ever wearing a dress to school and I know why. No parent would want their child bullied, or simply seen as other, at such a young age. It doesn't matter if dresses are fun to wear or cooler in a hot North Carolina summer. That is an education in gender and sexuality.

The first time I remember being asked which boy I liked was at a playdate in first grade. In third grade, I was thrilled to hear about a soccer teammate's first kiss. These are educations in gender and sexuality. Not to mention the ways our world is steeped in these social constructs. We separate girls and boys bathrooms from a young age. Most children go home to two people with genders living in a sexual relationship. You cannot raise a child without them knowing of the existence of sexuality and gender.

Our world in its current form simply educates on this subject the way a dog may learn of the location of a newly installed electric fence: by receiving a shock anytime they dare cross a border they didn't know existed until they learn to stay firmly within the bounds. I think children left to their own devices would be far more queer than we imagine. Think of all the possible ways of being that kids could find if given no instructions. Given the ubiquity of queerness across time and culture we are naive to believe kids would innately know our particular rules of cis-hetness.

I have yet to hear we should teach kids about queerness until they hit puberty, so I'll focus on the binary, straight world because that is the world being proposed. This approach aims not to shield kids from ideas of sex and gender but shield them from ideas of queerness. Three reasons given in support of all cis-hetero education are:

We don't want to influence (corrupt) the young people
Parents should get to decide when their kids learn about queerness
It's too complicated and confusing

These reasons provide a flimsy shield for a brutal truth: queer is other and therefore wrong (or perhaps queer is wrong and therefore other). How does learning about trans people or non binary attraction corrupt? Why, by informing a young person this sort of life is possible. So the danger posed is that a young person might think they are gay or trans? Yet it is not dangerous for a young person to think they are straight or cis. We return to the same place: queerness is other and bad.

Parents should decide when kids learn about sex (though most educations happen on the playground or the internet). But conflating queerness and sex is false. We can learn that queer people exist without hearing about gay sex. To deny queerness is to deny myself and millions of others exist. A parent does not get to erase me from their child's world. Why would they want to? How could I forget: Queerness is wrong.

This is all confusing. The tale of my high school years is one of queer confusion. When you learn that the way you are told all people exist is not, in fact, how all people exist—is not how you exist—it is confusing. But those using the confusion argument have it backwards. What is confusing is trying to take an experience or body that you know to be true and then contort it to fit into the box you're told it must fit into. Queerness is only more confusing when, you guessed it, queerness is wrong or other.

When we drill into the arguments we see: queerness is still scary, still dangerous, still transgressive, still something that we can't tell grandma. But we have it wrong. The danger flows the other way. It is not the queers who threaten the non queers, it is the non queers who threaten the queers. If we want to protect our children and all the incredible diversity of humans that live within them, we have one choice:

Bring them all up in a queer world.

Queer people are not safe in this world. Violence visits them. I could bring you the stories of our newspapers but I think Atlantic readers know those already. So I will bring you the stories of my short life. Of all the queer people I am lucky to love, more than half are mentally ill. I cannot count how many have self harmed once, or more commonly, always. All are still alive, joyfully, despite two suicide attempts that rocked our community. A number stand to lose homes if and when their parents find out.

I am a lucky one. I am not mentally ill, at least not primarily because of queerness. I have not taken knife-to-flesh. And yet, I spent years and years trying to believe I would find a place for my whole self, even coming from a progressive community. Despite a loving home, a loving community, and even more importantly, a loving queer community, the chorus of "Other! Wrong! Bad! Shame! Change!" found its way into me anyway. Why must it be this way? Children are incredibly susceptible. Telling them there is only one correct way to be human, or simply lying through omission, is a dangerous education.

I found a large queer community in my high school. We tried on genders and sexuality like clothes—and sometimes they were just clothes. We formed a secret club and met in the back of the theater (we all embraced the cliche). We held movie screenings and hosted elaborate dinner parties and some days just lay on the floor. We built a world where queerness was allowed—not judged better or worse, neither forced nor denied, simply a fact of the world. We became more wholly ourselves, even when each identity was impermanent. There were dark days, but only when we left that room. The harm came from the intolerance outside.

So it is clear: the only way to educate our young people is on the truth of the whole world. And how lucky we are to get to include such beautiful and imaginative lives in our classrooms. Whenever the chance arises, invite queerness in. Include queerness when parents discuss marriage or the significant others of older siblings or eventually have the dreaded sex talk. Include queerness in God's love for all. Include queerness in your history and your science class, in your books and movies. As for age appropriateness, just do whatever you do for that boring, black and white, straight world. There is nothing shameful about queer sexuality or queer sex. Gender is as confusing as it's always going to be. There is no reason to obscure queerness to a late in life problem—my own experience attests to the impossibility of that. Queer lives resist timelines.

I wrote many words. I believe them all to be true. Still, I am open to any and all pushback. I welcome questions openly. I am grateful for your gift of time and attention.
Thanks for your contributions. I read every one that you send. See you Wednesday.