The Atlantic Daily: Five Podcast Episodes Our Staff Loved Recently
"Alexa, play me something good." Writers and editors from around our newsroom share the podcast episodes that played like music to their ears.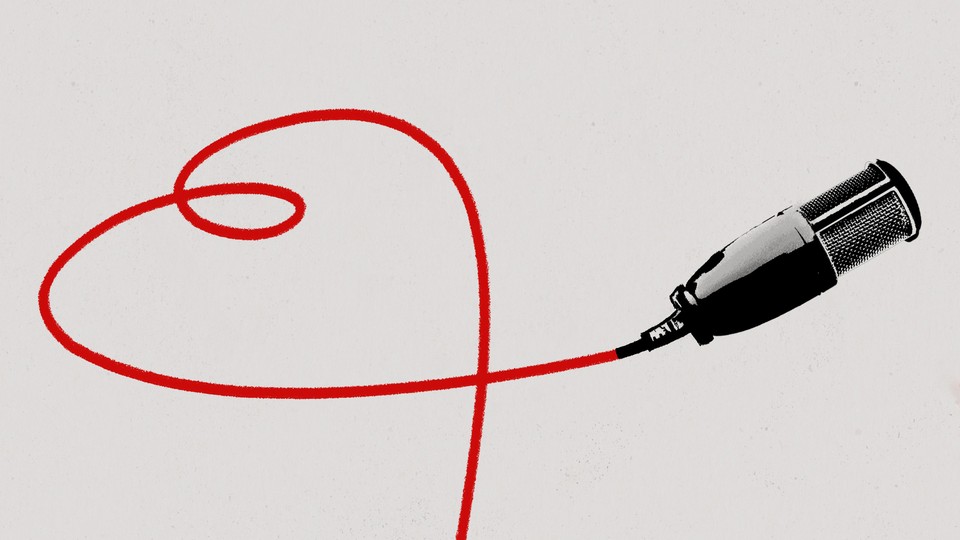 Every weekday evening, our editors guide you through the biggest stories of the day, help you discover new ideas, and surprise you with moments of delight. Subscribe to get this delivered to your inbox.
---
Fall is here, and the air is getting crisp, which means it's the perfect time to snuggle up and press play on a new work of audio storytelling. I asked writers and editors from around our newsroom to recommend a podcast episode worth your listen.
Be sure to also check out our Atlantic podcasts:
We're also launching two new ones: Listen to previews of How to Build a Happy Life and The Review.
1865, "Sic Semper Tyrannis"
From the 1920s to the 1940s, radio dramas were one of the leading forms of entertainment both in America and across the world. Now, a century later, podcasting has given the form new life. 1865, whose first fantastic season has actors taking on the lives of those at the center of American politics following the assassination of President Abraham Lincoln, is completely riveting. It's like a prestige limited series on television, but for your ears. I can't say enough good things about it.
— Clint Smith, staff writer
Short Wave, "The Mysterious Ice Worm"
This is a PSA: Ice worms—worms that live inside glaciers—are real, and a recent episode of NPR's daily science podcast is here to tell you about them. Everyone needs a break from the wear and tear of the pandemic, and for me, delightful natural-world-facts podcasts have been an absolute saving grace. I honestly recommend all Short Wave episodes, which cover topics as diverse as discrimination in health care for transgender people and whether your cat actually hates you. But this ice-worm joint is a great encapsulation of what a science podcast can do: inform, delight, and make you wonder about important real-life issues such as why ice worms get fatter over winter.
— Katherine J. Wu, staff writer
Throughline, "Grenada: Nobody's Backyard"
Throughline and Post Reports are two of my favorite shows, so when Post Reports host Martine Powers joined Throughline for a special episode on the history of Grenada, I was all ears. What I got was a showstopping listen: an emotional and insightful look at the story of Black revolutionary promise and brutal American intervention in Grenada. It's a story that is usually told only through the lens of American politics. But here, Martine and the Throughline team prioritize the voices of people whose lives were upended by the turmoil, with striking results.
— Vann R. Newkirk II, senior editor and host of our podcast Floodlines
It's Been a Minute With Sam Sanders, "Brandon Taylor Wrote 'Real Life' and 'Filthy Animals' for His Queer, Black Friends"
Sam Sanders's delightful show has a great mix of humor, thoughtfulness, and existentialism. In his recent interview with the writer Brandon Taylor, Sanders poses the oh-so-small questions: "Do we ever really like our lives? And do we ever really like our friends?" I couldn't help but smile listening to their easy banter, and I loved hearing Taylor explain his artistic philosophy: to write stories that will make the people he loves laugh, cry, and feel seen.
— Morgan Ome, assistant editor
Great Lives, "​​Alvin Hall Chooses James Baldwin"
The great joy of James Baldwin's prose is its rhythm, so he's the perfect subject for a podcast episode. This 2015 episode of the BBC's long-running biography series Great Lives explores his life and work, and provides a great introduction to his unforgettable voice. If you love biography, the Great Lives archive is a treasure chest. (In 2019, I nominated the French queen Catherine de Medici as my "great life.")
— Helen Lewis, staff writer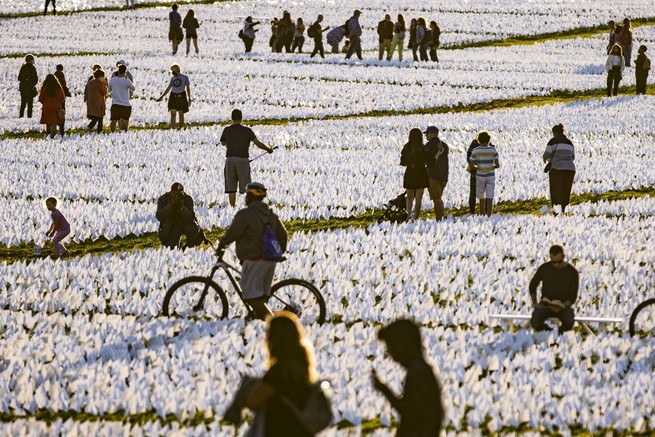 Revisit the week that was. Our senior editor Alan Taylor curates a collection of photography from around the world.
Read. Looking for a short story to dive into? Try "The Missing Limousine" by Sanjena Sathian. Then read our Q&A with the author.
Watch. Jon Stewart is back with an anti-comedy Apple TV+ show. The four-part Amazon series LuLaRich reveals a hole in the American economy that a cult legging company exploited.
Considering starting a new show? Make sure you watch at least four episodes before you give up on it, our culture writer Shirley Li advises.
Appreciate the moon. It's slowly drifting away from us, our space reporter Marina Koren explains.
---
Every weekday evening, our editors guide you through the biggest stories of the day, help you discover new ideas, and surprise you with moments of delight. Subscribe to get this delivered to your inbox.