The Atlantic Daily: The Beginning of the End of America's Pandemic?
A conversation with the staff writer Katherine J. Wu on what the CDC's mask announcement means, in practice, for Americans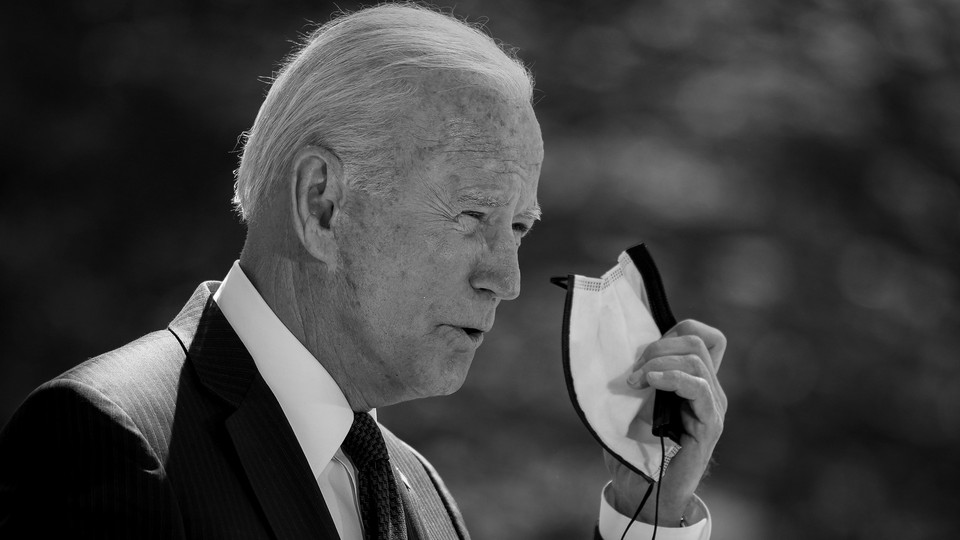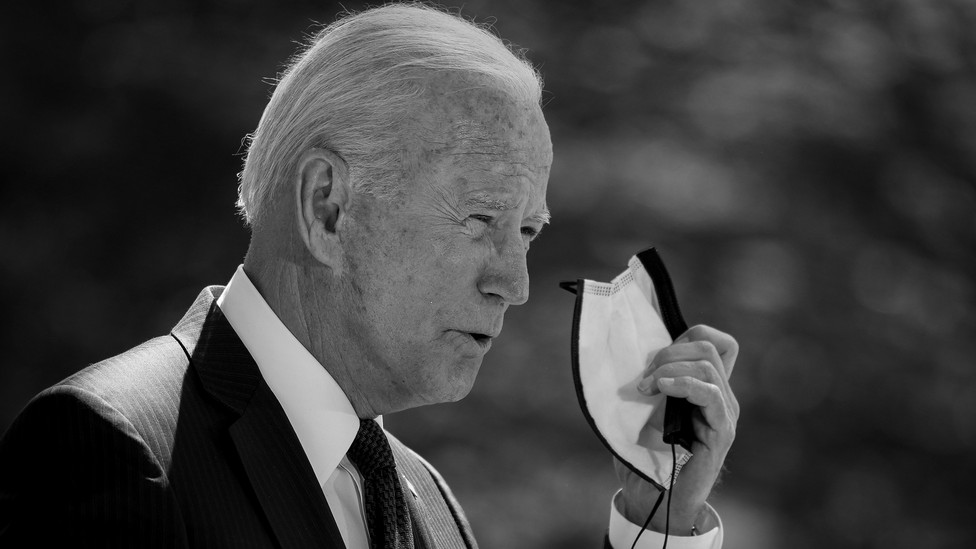 Every weekday evening, our editors guide you through the biggest stories of the day, help you discover new ideas, and surprise you with moments of delight. Subscribe to get this delivered to your inbox.
---
The United States coronavirus outbreak seemed to enter a new phase today with the CDC's announcement that fully vaccinated Americans no longer need to wear masks indoors or socially distance—with a few key exceptions.
"Coming from an administration that has preached caution … the words sounded like a surprisingly abrupt declaration of freedom: Did the CDC just end the pandemic?" our staff writer Russell Berman wondered.
We caught up with Katherine J. Wu, a staff writer who has been covering the COVID-19 vaccine rollout, to discuss what this not-totally-unexpected-but-still-surprising development means. Our conversation has been condensed and edited for clarity.
---
Caroline Mimbs Nyce: What does today's announcement say, if anything, about where we are in the pandemic?
Katherine J. Wu: This does not mean the pandemic is over, or even close to it, especially when we take the global perspective. But it does say we know a lot more about our vaccines and how powerful they are, and I think that means we're at a point in the pandemic where we're feeling good about the tools we're using to combat it.
That said, it's still possible to make a misstep right now, and we'll need to be careful to avoid that.
Caroline: Can you tell me, in ultra-practical terms, what the announcement means? If I'm fully vaccinated, can I walk into a crowded grocery store with my mask off right now?
Katie: In theory, yes. The CDC says, pretty much verbatim, that you can resume activities that you did prior to the pandemic, without wearing a mask or staying six feet apart.
The caveat on that is: There will still be exceptions, depending on local laws. If your grocery store has a sign on the door that says, "Please put on a mask," you'll still have to follow that. The new recommendation does not apply to health-care settings or public transportation. This is not carte blanche to rip your mask off.
Caroline: How are businesses going to be able to tell if someone is vaccinated or not?
Katie: This is really tricky. We can't look at someone and figure out if they're vaccinated. It does kind of open the door for bad actors to just say, Hey, I'm not gonna wear my mask. I'm not vaccinated, but you can't tell if I am.
Caroline: Does the timing of the announcement feel right to you, considering where we are in the pandemic?
Katie: I feel a little bit mixed about this. I do think there is a lot of science to back this idea. But given the sort of sociological, cultural, and health-equity contexts that are the backdrop here, there are a lot of caveats.
We have to keep in mind that only a minority of Americans are fully vaccinated. There are places where people still can't access vaccines, even if they really want them. And there are people who are refusing to get vaccinated for a variety of reasons. And that's left us in a pretty tricky spot. The rate of daily vaccinations has actually gone down in the past few weeks.
In some ways, it feels like a slightly odd time to be unveiling this guidance. But on the flip side of that, I do see an argument for this change possibly being a motivating factor. A lot of public-health officials have been trying to motivate vaccinations as of late, by saying "Here, look at all the things you can do once you're fully vaccinated." This may push some people over the edge. That would be wonderful.
Caroline: After a year of mask wearing, my gut reaction was: This just feels wrong. How can I and other Americans make sense of which caution is justified—and which is just latent trauma from the past year?
Katie: It's really complicated. This guidance was probably going to happen eventually—or at least some version of it. The key here, and something that I've written about before, is that what the CDC is now allowing—or perhaps even encouraging—fully vaccinated people to do, are options, not obligations. If anyone is uncomfortable with this rule, no one is going to take your mask off for you. You control those ear straps.
There are certain subgroups of people who have gotten their shots who may still want to be extra careful, including vaccinated parents of really young kids who aren't yet eligible for vaccinations, or people who are taking immunosuppressive drugs or who are otherwise immunocompromised and for whom vaccines might not work as well, which is something else I've written about.
Guidance like this can sometimes paint with too broad a brush, because we're thinking about the average or typical case in which a vaccine works in a person whose immune system is super well-equipped to handle it. But we do need to keep in mind that there are still vulnerable people everywhere around us, even people who have gotten their shots.
Caroline: That leads to my next question: Who is getting left behind here?
Katie: Not everyone is yet able to get a vaccine, for example, really young kids. There are people who have very legitimate medical exemptions to being vaccinated. Everyone should think about their own situation and act accordingly.
And we should keep in mind that this is great for the U.S., but the world is not vaccinated yet. There are countries where the vaccine rollout is really slow, and sputtering. We're not safe until all of us are safe.
---
The rest of the news in three sentences:
(1) Israeli-Palestinian violence continues to escalate. (2) Vaccinations are now open to American kids ages 12 to 15, which should bolster the country's chances of reaching herd immunity. (3) California Governor Gavin Newsom is fighting off a recall attempt, thanks to a state law that, one writer argues, doesn't make sense in a partisan political climate.
Tonight's Atlantic-approved activity:
Plan for life after the coronavirus. "During pre-pandemic life you might have said, 'I like my job,' and 'I like my social life,'" our happiness columnist Arthur C. Brooks writes. "Maybe you meant it, and maybe you didn't."
Write out a list of the things you want to keep in the new normal—and those you want to leave behind.
A break from the news:
Is Brett Kavanaugh out for revenge?
---
Every weekday evening, our editors guide you through the biggest stories of the day, help you discover new ideas, and surprise you with moments of delight. Subscribe to get this delivered to your inbox.