The Atlantic Daily: 7 Poems to Read This Spring
April is National Poetry Month. Writers from around our newsroom share the poems they're turning to as the nation defrosts.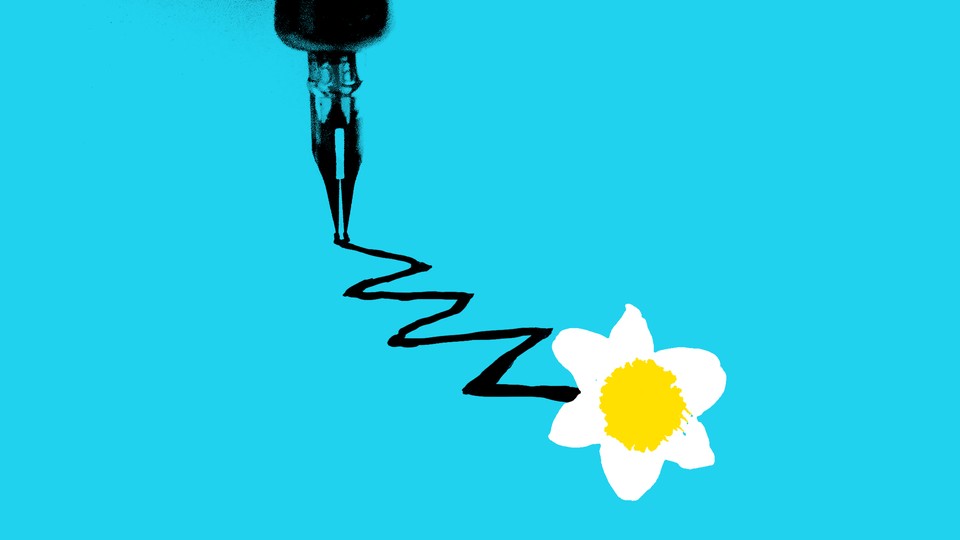 Every weekday evening, our editors guide you through the biggest stories of the day, help you discover new ideas, and surprise you with moments of delight. Subscribe to get this delivered to your inbox.
---
"Uptown, Minneapolis, Minnesota" by Hieu Minh Nguyen
This poem was published in 2018, but Nguyen perfectly captures pandemic spring: the seedlings of joy tentatively taking root, but also the pain that hasn't been—won't be—shed. I've been feeling a lot of different ways about reentering the post-pandemic world, but Nguyen's words make me feel like it's okay to throw my hands up and allow myself to be carried through time. Perhaps spring is here. / Perhaps it will all be worth it.
— Faith Hill, associate editor who helps select our Atlantic weekly poem
"Aubade" by Philip Larkin
Death is inescapable and irreversible. We all know this. But most of the time, the distracting affairs of daily life help conceal this certainty. The past year has been an anomaly and, partly for that reason, a remarkably taxing one. Unresting death, as Philip Larkin would put it, has stood ceaselessly at the door, making all thought impossible. "Aubade" captures the furnace-fear of our ultimate end in a chilling way. Yet in an unexpected twist, it also reminds us that despite overwhelming despair, work has to be done.
— Ena Alvarado, a former assistant editor
"Stone" by Brynn Saito
One day above me / men with bony shoulders came and built the barracks, Brynn Saito writes in "Stone," a poem that bears witness to Japanese internment from the perspective of a rock. Saito often explores Japanese American history through a personal lens, but here, she uses an inanimate object to help readers access the pain—and resilience—of those interned. This year, I've felt that the country has started to reckon more fully with its legacy of racism toward Asian Americans. Like the stone in this poem, I hope that more people will see themselves not as a bystander, but as a listener and an empath.
— Morgan Ome, assistant editor
"Praise Song for the Day" by Elizabeth Alexander
Last week, Amanda Gorman published her spell-binding inaugural poem, and it had me thinking about the tradition of inaugural poems that her's is a part of. One that came to mind in particular was Elizabeth Alexander's "Praise Song for the Day." Alexander is one of my favorite writers, and this poem, written as Barack Obama took office in January 2009, captures the dynamics of that moment in ways that remain resonant. Say it plain: that many have died for this day. / Sing the names of the dead who brought us here. I think of these lines often, and they have been on my mind again recently as we begin to emerge from a year wrought with tragedy and casualties.
— Clint Smith, staff writer and author of the poetry collection Counting Descent
"Draft of a Modern Love Poem" by Tadeusz Różewicz, translated by Magnus J. Krynski and Robert A. Maguire
It's a weird spring. Our freedom depends on our restraint. Until I'm vaccinated, I keep my family and friends safe by staying apart: Lack hunger / absence / of flesh / is a description of love... The Polish Nobel laureate Czesław Miłosz called Różewicz "a poet of chaos with a nostalgia for order"—perfect for a paradoxical April, suspended between a vanished "normal" and the bright unknown.
— Jen Adams, associate director of production
"Facsimile A821/821a" by Emily Dickinson
A great poem tells the truth in a way that is unlike all other kinds of writing. Recently I became aware of The Gorgeous Nothings, a marvelous collection of Emily Dickinson's back-of-envelope scribblings. I love this book because it is a reminder of the tangibility of poetry, and the making of it. Besides, to see Dickinson's ideas in her own jotted-down handwriting is a thrill not afforded by most collections. I've always been drawn to Dickinson's interest in nothingness—and her subversions of the concept of nothing—including in one lovely fragment from The Gorgeous Nothings that I've been rereading all week. It appears across three triangles of paper: Clogged / only with / Music, like / the Wheels of / Birds / their high / Appoint / ment / of / Afternoon and / the West and / the gorgeous / nothings / which / compose / the / sunset / keep.
— Adrienne LaFrance, executive editor
"Spring and All [By the Road to the Contagious Hospital]" by William Carlos Williams
As a poetry fan who also lives with chronic illness, I've always appreciated how William Carlos Williams, a doctor by day, oriented what is unknowable—the whys and hows and how longs of our existence—by way of what is: the things we see. "Spring and All" begins in a place similar to the one we're in now, somewhere between contagion and the world beyond it. We've all experienced loss; as in Williams's landscape, a cold wind has touched everything. But hope is approaching. We don't yet know exactly what this next season will look like; the world, Williams reminds us, changes, at first, slowly. But this spring, more than ever, profound change has indeed come upon us.
— Lindsey Baker, copy editor
---
Every weekday evening, our editors guide you through the biggest stories of the day, help you discover new ideas, and surprise you with moments of delight. Subscribe to get this delivered to your inbox.