The Atlantic Daily: The Art We Turned to This Year
Writers and editors from around our newsroom share the shows, books, and movies that helped them through this enormously challenging year.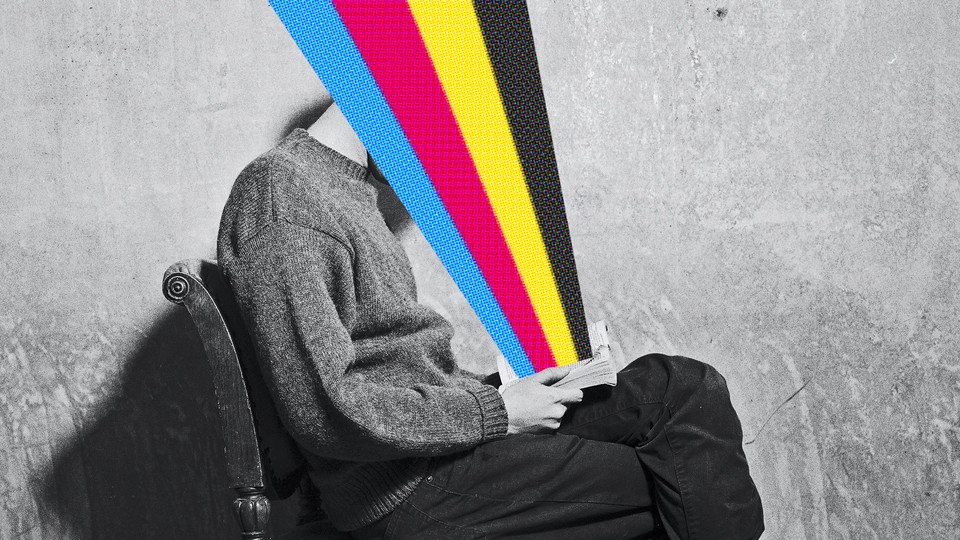 Art has always helped us make sense of the world around us—even, especially, when that world is changing rapidly.
Below, I asked 10 writers and editors from around our newsroom to share the shows, books, and movies that helped them through this enormously challenging year. In the days that come, I'll be enjoying their picks, and I hope you can too.
---
TELEVISION AND MOVIES
DARIA
Until this year, my husband had never seen Daria; I was a longtime fan. It turned out to be the perfect moment to revisit this complex and unconventional heroine whose deadpan wit cut across one millennium to the next. The show is ostensibly a satire about the trials and tribulations of adolescent life, but at its core, it's about the enduring power of female friendships in an infuriating world. During the pandemic, time has alternately felt too fast or too slow. Watching Daria for the first time this decade reminded me of all the growing up I've done, and all the growing up I still have to do.
— Katherine J. Wu, staff writer covering health and science
THE 40-YEAR-OLD VERSION
All pandemic long, Americans have picked up new hobbies. Not me: I've spent the past year in a sourdough-less daze. I feel better about it thanks to The 40-Year-Old Version. The Netflix comedy, both hilarious and genuinely moving, is based on the life of Radha Blank, a 40-year-old New York playwright who refashions herself as a rapper after her career stalls out. No, I'm not about to go drop some rhymes, but even for a cynic like me, it's heartwarming to see other people break through the creative fog.
— Saahil Desai, associate editor
TED LASSO
I don't think I've ever needed comfort TV more than I did this past year, and I cannot overstate how much Ted Lasso lifted my spirits. The title character, played by Jason Sudeikis, is earnest, wholesome, and heartwarming, and though there's some allusion to America being on the decline, at the end of the day, everyone is on the same team.
— Julie Bogen, senior editor
MUSIC
LIFE GOES ON BY CARLA BLEY
Jazz is often tritely used as a synonym for freedom, but that's wrong. Jazz is about finding ways to express oneself within prescribed bounds. Is there any better analogy for surviving COVID-era life? This masterpiece, released on the eve of the pandemic, nimbly balances intricate compositions with deceptively adventurous improvisation, and it's been the music I've turned to for consolation all year.
— David A. Graham, staff writer for our Ideas section
"FIX YOU" BY BTS
BTS's cover of Coldplay's "Fix You" on "MTV Unplugged" was understated, as far as the group's performances go. In place of pyrotechnics, backup dancers, and choreography, we got a light show that felt like watching interstellar flowers bloom and allowed the perfectly arranged vocal harmonies to shine. The Grammy-nominated pop stars offered yet another reminder that intimate art can feel grand, especially now. I rewatch this video any time I want my world to feel a little bigger.
— Lenika Cruz, senior editor covering culture
"OUTBOUND PLANE" BY SUZY BOGGUSS (ORIGINAL PERFORMED BY NANCI GRIFFITH)
I first heard "Outbound Plane" in 2019, at a cramped live music venue in a city I don't live in and had never traveled to before, sitting at a table with four of my closest friends, with whom I haven't shared indoor space in a year. The song's subject matter—the protagonist is considering ending things with a partner and letting them fly off alone—isn't exactly uplifting, but the music is undeniably sunny. For a while, I thought I was playing the song on repeat because it reminded me of airports and travel. But really, I think I can't quit "Outbound Plane" because it makes goodbyes sound easy at a time when being apart from my friends and family has been harder than ever.
— Rachel Gutman, deputy managing editor
INSTRUMENTALS BY ADRIANNE LENKER
There is plenty to be anxious about. As an antidote, I've been listening to instrumental (not to be mistaken with classical) music to help me focus, rest, and heal. Adrianne Lenker's two-song album, Instrumentals, layers simple and natural sounds—and moves in a way that reminds me of a gloomy day turned sunny. The 37-minute production calms my nervous system and lifts me out of stasis.
— Mara Wilson, associate editor
BOOKS
EXHALATION BY TED CHIANG
I'm someone who really has shower thoughts in the shower. Last year wasn't fruitful for the wandering mind (the distracted one dominated). Ted Chiang's collection of short stories rescued me, with several months' worth of non-dystopian science fiction to mull over. Are we looking for intelligent life in the wrong places? What if technology makes us more human? I credit Chiang's work with helping me still feel fascinated by the very act of existence, in a year when many of us have found our lives drained of color.
— Shan Wang, senior editor
PODCASTS
LAS CULTURISTAS
There's a line in a recent episode of the Las Culturistas podcast that captures the special spirit of Bowen Yang and Matt Rogers's venture: "Every week when I listen to you," the guest Rose Dommu says, "it feels like hanging out with friends, like being welcomed into something really intimate." For me, this podcast has filled a pandemic-induced void of catty gossip with friends at a bar and pop-culture debates at overpriced coffeeshops. Here is a place you can hear two gay best friends talk WandaVision, Taylor Swift, and Meghan McCain, or reflect on the futility of having a Hollywood awards season during a pandemic. Good entertainers make you feel less lonely—and this podcast accomplishes just that.
— Christian Paz, assistant editor who covers politics
IMAGINARY ADVICE
If you need a new podcast obsession, I can't recommend Ross Sutherland's Imaginary Advice highly enough. Not only is the sound design beautiful, but the blend of pathos and humor are just great—I never knew I wanted a Street Fighter II–themed zodiac (yes, as in the arcade game!) until I heard this show. As we tough out the (hopefully) last couple months of this outbreak, this podcast offers one way to delve deeply into new worlds.
— A. C. Valdez, senior podcast producer