The Atlantic Daily: The Rioters Got Chillingly Close
Never-before-seen footage of the Capitol riot, shown during day two of the impeachment proceedings, revealed just how close of a call the attack truly was. Then: What if America never reaches herd immunity?
Every weekday evening, our editors guide you through the biggest stories of the day, help you discover new ideas, and surprise you with moments of delight. Subscribe to get this delivered to your inbox.
---
The rioters came just 58 steps away from fleeing senators, and within feet of the hiding vice president. Today's Senate impeachment proceedings told horror stories—and detailed just how close of a call the January 6 attack truly was.
Up until now, the second impeachment trial of Donald Trump has mostly been a big procedural squabble. But today, grainy security footage offered a visceral reminder of the stakes at hand.
There is no defense—only complicity. "The remorseless, crushing power of the House managers' evidence, all backed by horrifying real-time audio and video recordings, shuttered any good-faith defense of Trump on the merits of the case," David Frum argues.

And history will judge Trump's Republican collaborators. Anne Applebaum sought to understand what drove their complicity in her cover story last summer. "We are in new territory here," she tweeted today.

The attack was bad. It was supposed to be worse. As our staff writer Elaine Godfrey, who was on the scene that day, reported last month: "It was easy to miss them with all the coverage of the costumes and poop-smearing and poses struck in Statuary Hall, but they were there, these military-styled men, carrying blunt instruments and fistfuls of zip ties."
---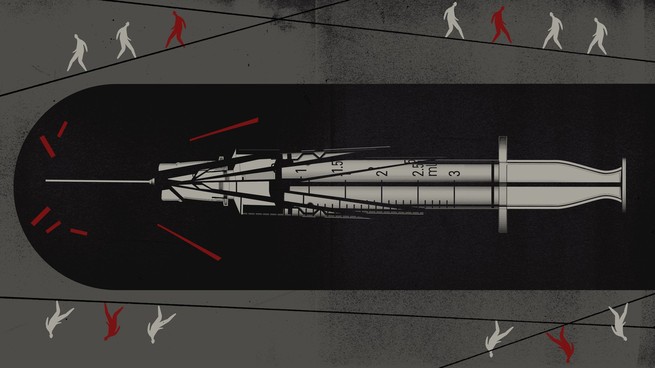 One question, answered: What if we never reach herd immunity?
That may well be the case, our staff writer Sarah Zhang reports in her latest:
A number of signs now point to a future in which the transmission of this virus cannot be contained through herd immunity. COVID-19 will likely continue to circulate, to evolve, and to reinfect. In that case, the goal of vaccination needs to be different. …

The role of COVID-19 vaccines may ultimately be more akin to that of the flu shot: reducing hospitalizations and deaths by mitigating the disease's severity.
---
Tonight's Atlantic-approved isolation activity:
Try a novel that captures the allure of the scam. In Chang-rae Lee's My Year Abroad, the characters "pay exorbitant prices to satisfy their appetites, whether literal or spiritual," our critic Hannah Giorgis writes.
Today's break from the news:
Curt Flood's defiance changed baseball. He belongs in the Hall of Fame, Jemele Hill writes.
---