The Atlantic Daily: The Real Scandal of Ted Cruz's Vacation
A snowstorm revealed a political-leadership vacuum in Texas. Then: Hoping to get a COVID-19 vaccine soon? It'll take you a month, likely longer, to reach immunity.
Every weekday evening, our editors guide you through the biggest stories of the day, help you discover new ideas, and surprise you with moments of delight. Subscribe to get this delivered to your inbox.
---
When the snow came, the state of Texas failed. Its self-maintained power grid stopped working—and its politicians seemed to do the same: Senator Ted Cruz flew to Cancún, Mexico, with his family, only to take a return flight the next day amid outcry.
In the absence of political leadership from Cruz and other state leaders, many Texans continue to face dangerous conditions, their access to power, drinking water, and food threatened.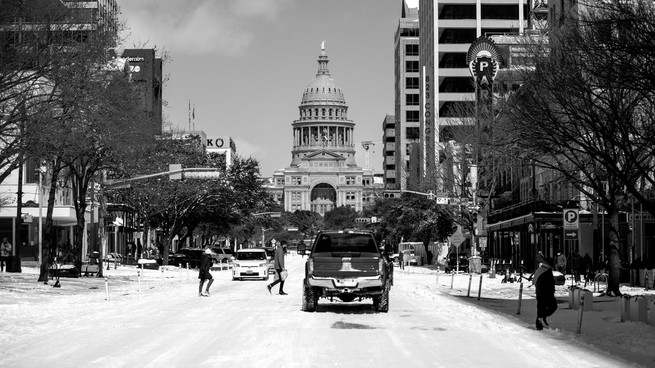 ---
One question, answered: How long does it take to reach immunity after you receive the COVID-19 vaccine?
Our assistant editor Kate Cray lays out the timeline:
Getting a COVID-19 vaccine (once you are eligible) is a vital part of protecting yourself and others, but immunity won't take effect right away. The whole process will last at least a month, and likely longer, depending on which vaccine you get and when your second dose is administered.

For the Pfizer vaccine, doses are administered three weeks apart, and research indicates that full immunity sets in about one week after the second dose. Moderna vaccinations are administered four weeks apart, and the vaccine's full protection takes effect roughly two weeks after the second dose. For both, people may begin to experience some immunity about two weeks after the first dose.

Much remains unclear about COVID-19 vaccination, including the extent to which the immunizations will prevent transmission of the disease to others and how long immunity will last. Even after immunity is established, people should plan to continue to wear masks and socially distance. But vaccination offers new hope.
For the latest on the race to vaccinate, read Katherine J. Wu's story on the precarious state of vaccine-dosing messaging.
---
Tonight's Atlantic-approved isolation activity:
Perseverance has landed on Mars. The NASA rover, designed to search for fossilized alien life, has already beamed home photos of its new digs. See them here. And get your mission debrief from our space reporter, Marina Koren, who explains why scientists are so eager to someday bring a piece of the red planet back home.
Today's break from the news:
Hockey has a gigantic-goalie problem.
---