The Atlantic Daily: The Growing Threat to the Voting Rights Act
Then: Why are vaccines given in the upper arm?
Every weekday evening, our editors guide you through the biggest stories of the day, help you discover new ideas, and surprise you with moments of delight. Subscribe to get this delivered to your inbox.
---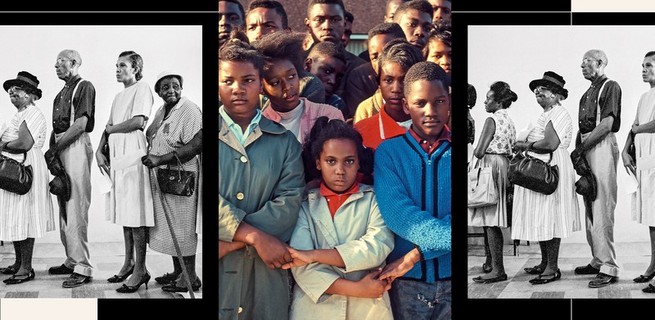 "You were born on July 9, 1964, in Greenwood, Mississippi, delivered into the cradle of white supremacy," our senior editor Vann R. Newkirk II writes in the opening section—addressed to his late mother—of his investigation into the growing threat to voting rights.
A year later, the Voting Rights Act was signed into law—"wielding federal muscle to protect Black voters in a way that hadn't been seen since Reconstruction" and ushering in the first era of "what might be considered genuine democracy in America."
Today, the VRA is under siege, Vann warns. Court losses, coupled with the proliferation of restrictive voting laws, leave the legislation—and with it, true American democracy—in danger of disappearing. Read his piece.
Vann also discusses his mom and the future of the VRA on this week's episode of The Experiment, our new podcast with WNYC Studios. Listen here.
---
One question, answered: Why are vaccines given in the upper arm?
Our staff writer Katherine J. Wu, who recently wrote about why the vaccine's second shot can rile up the immune system, has an answer:
Targeting shots to the deltoid muscle hits a perfect sweet spot for vaccines, distributing their contents quickly, without diluting or destroying the important ingredients. Muscles are rife with blood vessels, which disperse the vaccine's contents throughout the body and provide a conduit for immune cells to move back and forth from the injection site. They are also naturally chock full of "messenger" immune cells, which can quickly grab hold of the bits of the vaccine that resemble the coronavirus and carry them to the rest of the immune system. This baton pass kick-starts the production of antibodies and other disease-fighting molecules and cells.

Injecting a vaccine directly into the blood would water it down too quickly, depriving immune cells of the opportunity to learn from it. Spiking it into a fattier tissue, such as the buttocks, would slow the process down too much because fat isn't laced with as many blood vessels, and is also lacking in many of those crucial messenger cells.

Savor that upper-arm shot: It might ache for a bit, but only because your immune cells are already hard at work.
---
Tonight's Atlantic-approved isolation activity:
Ten years ago, Lady Gaga released "Born This Way," a bombastic anthem that set the table for a decade of culture wars. Revisit the song—and reflect on its place in pop-music history.
Today's break from the news:
---