The Atlantic Daily: 9 Poems to Read This Weekend
Amanda Gorman captivated at President Joe Biden's inauguration—and reminded the nation of the power of poetry. We're rereading her poem, and some other timely works.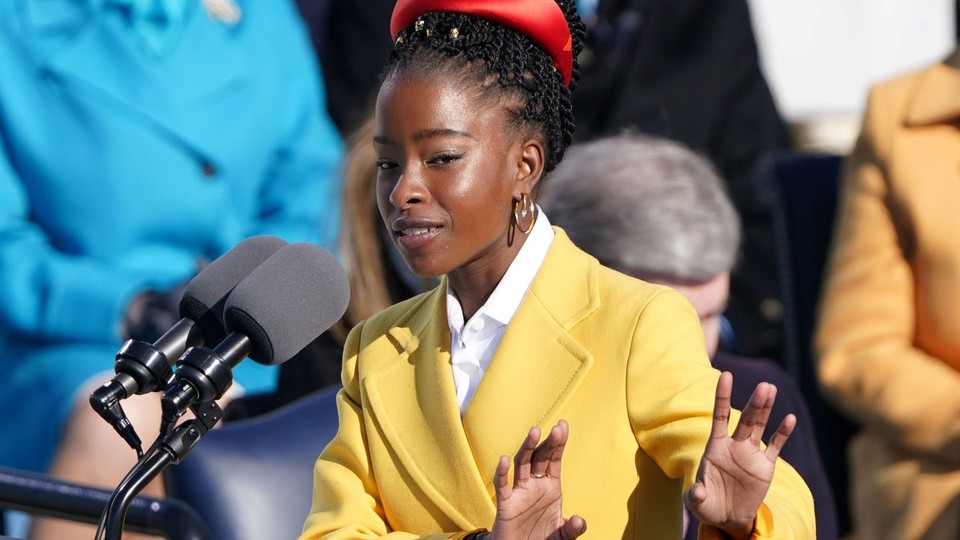 Every weekday evening, our editors guide you through the biggest stories of the day, help you discover new ideas, and surprise you with moments of delight. Subscribe to get this delivered to your inbox.
Amanda Gorman stole the show.
In his piece on the performances at this week's presidential inauguration, our Culture staff writer Spencer Kornhaber maintained that "the signature art-statement of the day came from a newcomer."
"It was Gorman's delivery—flowing with tidal grace, accentuated by symphony-conductor hand motions—that cast a spell in the manner of great music," he writes.
Her recitation of "The Hill We Climb" is worth rewatching this weekend.
If you're feeling inspired—and looking for more poems to help you make sense of this moment in American history—keep reading. Below, eight writers and editors from around our newsroom share the poems they've been turning to at this juncture.
"PRAISE SONG FOR THE DAY" BY ELIZABETH ALEXANDER
The stitching of hems, the patching of tires, the making of music—"the day" as a banality and "the Day" as an exultation. "Praise Song," written for Barack Obama's first inauguration, thrillingly convenes the American quotidian and the American sublime. Notes of the poems I've loved sometimes whisper back to me, as I'm going about the business of my own little life: Audre Lorde's ancient and familiar sorrows, William Butler Yeats's ceremony of innocence, and, as of Wednesday, Gorman's a nation that isn't broken / but simply unfinished. It's one of Alexander's lines that has been echoing most loudly, though, in this moment of horror and hope: What if the mightiest word is love?
— Megan Garber, staff writer covering culture
"A NEW NATIONAL ANTHEM" BY ADA LIMÓN
While I listened to Amanda Gorman on Wednesday, I was struck by how gracefully she captured the country's dual states of celebration and mourning, anxiety and hope. I was reminded of Ada Limón's "A New National Anthem," which also reflects on America's contradictions, exploring how our flag and anthem can be sources of both shame and pride: a weapon and a match being lit / in an endless cave. As we enter a new chapter in our history, I find Gorman's and Limón's words uplifting, not only because they gesture toward healing, but also because they invite the reader to actively be a part of that process.
— Morgan Ome, assistant editor
"A BIRTH" BY MURIEL RUKEYSER
With the coming of a new era, it may be tempting to want a blank slate. The urge to forget unwelcome memories—or, at the very least, to hope they are finally a thing of the past—is a familiar one. Yet, as Muriel Rukeyser reminds us, not by evasion but by coming through can we celebrate what may be true beginning. I have found in her words the best counsel one could ask for in a moment of change.
— Ena Alvarado, assistant editor
"POEM WHERE NO ONE IS DEPORTED" BY JOSÉ OLIVAREZ
I think often about a Percy Bysshe Shelley quote that the poet Natasha Trethewey mentioned when we spoke about her memoir last year: "Poetry is the mirror that makes beautiful that which is distorted." More than any other form, poetry can rewrite painful truths or accepted parts of life by giving voice to different possibilities—to alternate futures, even. This poem by José Olivarez is a beautiful example of that remarkable power.
— Hannah Giorgis, staff writer covering culture
"BOOT THEORY" BY RICHARD SIKEN
Sometimes, when things feel bleak, I seek out art that makes me hopeful. Other times, I just want to see my own despair reflected back. For those times, Richard Siken's "Boot Theory" is perfect, full of nightmarish visions of everything spiraling, nothing making sense. He captures the way that mundane life—the simple but incessant accumulation of days—can be absurd and exhausting. And then the second boot falls. / And then a third, a fourth, a fifth.
— Faith Hill, assistant editor who helps select our Atlantic weekly poem
"COMMENCEMENT SPEECH, DELIVERED TO A HERD OF WALRUS CALVES" BY MATTHEW OLZMANN
My children, like all toddlers, are utterly fascinated by animals. Every day they wake up with a new favorite. Lion. Tiger. Zebra. Iguana. Penguin. But one that has particularly captured their attention is the walrus. We have read books about walruses, watched videos of walruses, and annoyed our neighbors by making too many walrus noises. So when I came across Matthew Olzmann's "Commencement Speech, Delivered to a Herd of Walrus Calves," I found it particularly resonant. Olzmann's poem is equal parts profound and hilarious, speaking to the precarity of navigating a world fraught with danger while writing in a voice that centers levity rather than fear.
— Clint Smith, staff writer and author of the poetry collection Counting Descent
"OUR BIAS" BY W. H. AUDEN
I went on a little W. H. Auden kick this week, and found myself returning to his poems about the nature of time. There are many of them, but one of my favorites is "Our Bias," which points out the peculiarity of the human obsession with the past and the future. Auden sets forth the idea that the natural world is glorious because it does not suffer over time's passage; and yet the human world is beautiful precisely because of this unique suffering.
— Adrienne LaFrance, executive editor
"THE END AND THE BEGINNING" BY WISŁAWA SZYMBORSKA
Someone has to clean up. After a life's worth of turmoil in her native Poland, Wisława Szymborska wrote of the unexpectedly precious dullness of peace, and the unglamorous work of restoring a functional society. Following years of daily outrage, Americans must roll up their sleeves to duty. Szymborska also flags the need to keep a clear memory of how we arrived here, to avoid the end rhyme of repeating history. Things won't / straighten themselves up, after all.
— Jennifer Adams, associate director of production
---