The Atlantic Daily: 9 Recipes That Brought Us Comfort in 2020
Writers and editors share the recipes, habits, and cooking lessons that have helped us make it through the year, one meal at a time.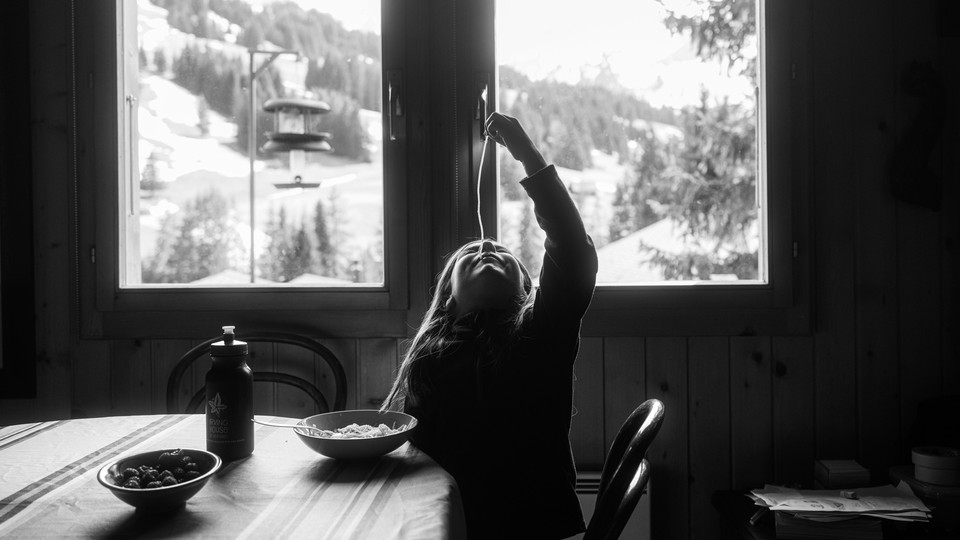 Every weekday evening, our editors guide you through the biggest stories of the day, help you discover new ideas, and surprise you with moments of delight. Subscribe to get this delivered to your inbox.
---
Even when you love to cook, being responsible for feeding yourself—and others, especially children—is never a simple duty. And this year, as many of us spent more time inside our homes than ever before, cooking took on a new layer of complication: What do you eat when every day feels the same? What meals do you prepare when the only people you'll be sharing them with are the ones living in your own household?
Of the innumerable things taken from us in 2020, the ability to gather friends and family around a communal table has been an especially intimate loss. But people still found ways to connect with one another through food. And some of the most heartening moments of an otherwise bleak year have been these instances of collective care: In 2020, we've joined mutual-aid networks and donated to food banks, fed crowds amid growing unrest, and supported local restaurants hit hard by the pandemic. We've checked out virtual food festivals, dropped off dishes on loved ones' doorsteps, and shared holiday meals with family via Zoom.
Below, Atlantic staffers share the recipes, habits, and cooking lessons that have helped us make it through the year, one meal at a time.

Tteokbokki
Cooking in a quiet kitchen can make the holiday season feel extra lonely, so I've been pulling up YouTube chefs to keep me company. Maangchi, the Korean YouTuber and cookbook author, always teaches me new tips and tricks, but it's her positivity and warmth that have made me a fan. Her tteokbokki is the perfect spicy and sweet dish for cold winter days, and watching her videos makes me feel like I'm with family.
Chard cakes
I made these Ottolenghi chard fritters (from his cookbook Plenty) for the first time this spring. They came out beautifully that first time, when I used the recipe more or less as written, with just a few COVID-times substitutions (mozzarella for the cheese, mint and parsley for the sauce). But the real fun of this recipe is that it's more of an approach than a prescription, and lends itself well to whatever ingredients you have on hand—a necessity during a time when, at least for my family, grocery-shopping is a rarity. Don't have the ingredients specified? Use any hearty greens. Use whatever cheese you have. Invent your own sauce. This recipe has never failed me, no matter what tinkering I've done.
Midnight pasta
This "midnight pasta" recipe (also here) is so easy (spaghetti, olive oil, red-pepper flakes, and anchovies are all you really need), so delicious, and so filling that I've made it dozens of times since March—for a midnight snack (occasionally), for dinner (often), for lunch (even more often), and for breakfast (at least twice). In a year that's thrown so much into chaos, the simple, consistent pleasures of this recipe—the punch of umami from the anchovies, the warming kick from the garlic, the fact that it takes barely 15 minutes to make—are a blessing.
— Dan Fallon, insights editor
Dan bing hack
You're probably familiar with the scallion pancake—known for taking hours and patience to produce a perfect swirl and char. In Taiwan, street-food vendors have perfected its eggy cousin, the dan bing. My hacked "recipe" is as delicious as it is simple: Scramble an egg with some chopped scallions (and a few drops of soy or fish sauce), then pour it into a greased frying pan. As it starts to bubble, lay a flour tortilla on top, cook, then flip the whole thing to brown the other side until it's crispy. Fold it in thirds and serve it the "traditional" Jan-family way: with Sriracha and ketchup. This year, my partner and I were unable to celebrate our wedding with extended family in Taiwan, where we would have gorged on these at the spot across the street from my grandmother's home. In the meantime, this version is tiding us over.
Devil's food cake with chocolate-ganache frosting  
One of the best antidotes to monotony is a special occasion, and this year I've decided that most special occasions deserve cake. A cake is a science project, an arts-and-crafts activity, and, ultimately, a delight to eat, even (or especially) if you don't have a big crew to share it with. Zoom birthday party? Bake this three-layer beaut, indulge on camera in honor of the far-flung celebrant, then enjoy having all the leftovers to yourself. I've been making it with chocolate-ganache frosting instead of buttercream, which I highly recommend.
Dosa
Baking your own sourdough is sooo March. Let me tell you about the best DIY bread: dosa. The savory South Indian crepe stuffed with spice-flecked potatoes has saved me from the boringness of quarantine cooking more than once this year. All it takes is soaking some rice and lentils until they soften (urad is the go-to, but anything works), throwing them in the blender, and letting the batter ferment for a day or so until it gets foamy. It's delicious, but most important, I don't have to worry about killing the sourdough starter.
Espresso coffee cake
Coffee and cake are just about all that got me through this year, so it makes sense that my favorite new recipe I made—again and again—was a coffee cake. Really the Pecan-Chocolate-Espresso Coffee Cake (I have looked past the redundancy of espresso coffee cake) from a delightful little book called Baking for Breakfast. It's quite literally the perfect breakfast food, if you believe, correctly, that cake can be breakfast. If you didn't believe in breakfast cake before 2020, you probably do now. And if you still don't, you will after you try this one.
— Janice Wolly, copy chief
Carrot soufflé
Every year, someone in my family makes my aunt's carrot-soufflé recipe, which is literally written down on an old piece of paper and sent around via photograph in a text message or email. This year, I made it at home, alone, while juggling my eight-month-old daughter as my doctor husband worked the COVID-19 ward. I was able to share the final product with the aforementioned aunt (and uncle) during a physically distant lunch in their backyard. It brought me such immense pride to have made something during such a lonely and difficult time. The recipe is a family secret, but here's an extremely similar one from Food52.
Creamy corn pasta
"It's not about the pasta!" one reality-television star famously yelled during an argument with a castmate. He was wrong: Everything is, and has always been, about the pasta. In 2020, home cooks in our newsroom found that, even in the toughest of years, the ties that bind are bow ties. We bonded in our #cooking Slack over a single New York Times recipe for farfalle tossed in a blended corn sauce. Please make it, and tell us how it goes.
---
Did someone forward you this newsletter? Sign up here.